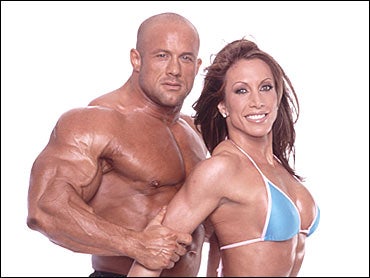 48 Hours Mystery: Vegas Heat
This story originally aired on Nov. 6, 2008. It was updated on Sept. 18, 2010.
Produced by Chuck Stevenson and Chris O'Connell
On an early December morning outside Las Vegas, firefighters responded to a report of a possible brushfire. But what they found instead was a burning car, with the body of a woman inside.
Who was this woman and what led to her murder? Correspondent Peter Van Sant reports for "48 Hours Mystery."
The Clark County Coroner's Office had a mystery on his hands: a charred corpse with an unrecognizable face, discovered inside a car on Sandy Valley Road.
Clark County Coroner Mike Murphy said medical examiners could tell the victim was female, but they had little else to identify her. "Fingerprints were not a possibility because of the burning of the body, facial recognition was not a possibility."
He named the body "Sandy Valley Jane Doe" after the desert area where it was found. It would take weeks to make a positive identification.
"It was found the face was covered with duct tape…so the next question why would that occur?" Murphy says. "I can tell you there was evidence of some type of an accelerant being used."
To investigators, it appeared that an accelerant, like lighter fluid, had been used to start and spread the fire.
It was dawn on Dec. 14, 2005, that Las Vegas Homicide Detectives Robert Wilson and Dean O'Kelley came upon the smoldering car.
"This is as it was. The whole dash was burned away. The steering wheel was completely consumed. Fire investigators that came out to the scene told us that we were lookin' at a fire in excess of 1,200 degrees," O'Kelley explains, looking at the burnt-out car. "I certainly believe that the objective is not to destroy the vehicle, but to destroy the body in the trunk."
The plates checked back to a Kelly Ryan. Detectives headed to her house expecting to find out that the body in the car was Kelly Ryan's, and that's when Detective Wilson got his first surprise: "So I just went ahead and knocked on the door. She says, 'Well I'm Kelly Ryan,'" he recalls.
Kelly Ryan is one of the most famous fitness athletes in the world, whose nickname was "Flyin' Ryan."
Megan Foley trained with Kelly and was her best friend. "She was 'Flyin' Ryan.' She would fly through the air, do crazy different things in the air that nobody else could do," Megan remembers.
Kelly was born to be a star. She had once been on the U.S. gymnastics team, trained by legendary Olympics coach Bela Karolyi.
In a 1996 interview, Kelly described what helped make her a champion in her sport. "You can be athletic," she said. "And there's a lot of passion in this sport. I think that comes through in our routines and the way we carry ourselves on stage."
Back at Kelly's house - still trying to figure out who was in that trunk - Det. Wilson was in for another surprise: Craig Titus, Kelly's muscle-bound husband.
A champion in his own right, Craig Titus was known as the bad boy of bodybuilding. Craig was such a star, he was hired by Motley Crue lead singer Vince Neil to whip the hard-partying rock star back into shape for a special that aired on VH-1.
After meeting Craig, Wilson asked Kelly if she knew where her car was. "And she said, 'No, I don't. I think maybe our assistant took it,'" Wilson remembers. "And that was the first time that we heard anything about someone named Melissa."
"Melissa" was Melissa James, Kelly and Craig's 28-year-old live-in assistant.
Kelly told detectives that Melissa had just left Las Vegas the day before, heading to New Jersey to spend Christmas with her mother.
Maura James, Melissa's mom, went to Newark Airport to pick up her daughter, but she wasn't there when the plane landed on the morning of Dec. 14.
Meanwhile, Melissa's friend Samantha Anderson was trying to reach her best friend. Desperate, she called Maura. "And she [Maura} said, 'She [Melissa] didn't get off the airplane!'" Samantha remembers.
Melissa was missing.
Three days had passed and Maura was growing frantic. She'd been told about the body in the car, but it still had not been identified. Then, Craig Titus called. "He said that the police had come and talked to him and that he didn't even think it was her in the trunk," Maura remembers.
Craig told Maura he was sure Melissa was alive. "But then I thought, 'Who's in the trunk then? And where's Melissa?'" she remembers.
The morning after her car was found burned in the desert, Kelly continued to insist to police that she didn't know where Melissa was.
So police tried to find out more about Melissa.
Samantha was Melissa's close friend. "She's always been the type of person who can walk into a room full of 20 people and not know a single person and walk out with 15 of 'em… And they're best friends."
Everyone knew that Melissa loved dance. "She had danced her whole life and that was her dream, to grow up and teach people, these children, how to dance," Samantha remembers.
At just 19, Melissa opened her own dance studio. She was in her mid 20's when she first met Craig in 2001 at a bodybuilding competition in Panama City, Fla.
Melissa was fascinated by the bodybuilding world. She was also attracted to Craig.
Samantha says they began a long friendship. "She was very proud that she knew him. He was impressive to her-here was this guy, he's wealthy, he's big. He's from Vegas, he's got talent," she says.
But in 2005, Melissa fell on hard times and lost her dance studio. Craig invited her to Las Vegas to help run a new clothing store he and Kelly wanted to launch.
Melissa moved in with the bodybuilder and his wife. Samantha worried Melissa was being drawn into life in the fast lane. "I know that the person she was, she started changing when she met them," she says.
Everyone knew Craig used steroids, and he shared them with clients, like Motley Crue lead singer Vince Neil. "He would shoot me full of steroids and human growth hormone, all that stuff. So obviously, he was really into that," Neil says.
But Craig and Kelly were also known to use illegal drugs - cocaine and painkillers. And Samantha believes Craig introduced Melissa to a world of drugs.
Months went by in Vegas. The clothing store Melissa was going to manage never opened, and tensions began to rise between Melissa and Kelly.
"Kelly and Craig's marriage was definitely on the rocks and they were having issues left and right. And obviously, a lot of that comes down to the fact that Melissa had moved in," says Kelly's best friend, Megan Foley.
Kelly was already insecure about her looks, and at Craig's insistence had multiple plastic surgeries, dramatically changing her appearance over the years.
"You see this athlete that's so strong and wonderful, yet when it comes to her marriage, she was the weakest person on the planet. She would just roll over and allow him do anything that he wanted," Megan says.
Including bringing a beautiful, younger woman into their home. There were whispers of an affair between Craig and Melissa, and Kelly was at her breaking point.
Asked if Melissa ever talked about arguing with Kelly, Samantha says, "Not really. But it was getting a little weird towards the end, and she was ready to come home."
But Melissa never made it home, and now Craig and Kelly accused her of stealing their Jaguar - the very same car found burning in the desert.
And that's not all: the couple led detectives into Melissa's messy room to show them a debit card, which they claimed Melissa was using to steal from them.
"They said this is the card that Melissa had. They were really intent in me focusing on the card, and lucky for us, because that card later in our investigation would become be very significant," Detective Wilson says.
Asked what he was thinking after the leaving the Titus' house, Wilson says, "Now I'm thinking that Melissa James is the one that's probably in the trunk of that car. And I'm thinking either one or both of them may had had something to do with Melissa's death. We were a long way away from proving it at that point."
After detectives left, Craig and Kelly left as well. They locked up their home and went into hiding.
Jeff Schwimmer, a wealthy businessman who retired young in Vegas, was a close friend of Craig, and the couple came to him after the police left.
Asked if Craig ever told him there was a jealousy between Kelly and Melissa," Schwimmer says, "Yes, Kelly did not like Melissa. According to Craig, she did not like Melissa at all."
Schwimmer wouldn't allow them to stay the night, so Craig and Kelly moved on to another friend's house.
Mandy Polk was a fitness athlete who sometimes trained with Kelly; she was renting a house from Craig. "She said, 'Homicide was at our house. They found our car burned in the desert.' I was trying to put two and two together. 'What does homicide have to do with your car? How did it get there? Why are you crying?' It was very strange," Mandy remembers.
As Craig and Kelly were figuring out their next move, detectives got a break: they discovered Kelly's debit card was last used at Wal-Mart. The purchase? Seven bottles of barbeque lighter fluid.
Kelly then took the purchase out to her Jaguar, which would soon to go up in flames. Helping Kelly was someone who looked a lot like Craig.
With Craig and Kelly on the run, police began building a murder case against the couple. The DNA tests were still out, but police believed the body in the car had to be Melissa. The most startling piece of evidence came from Megan Foley, Kelly's pal, who went to police with an astonishing story.
Megan told investigators she was invited to the Titus house the night Melissa went missing.
Megan said the couple began to talk about their problems with Melissa, accusing her of stealing from them. But Craig said the problem had been solved. "He started joking around. 'Oh she's not going to bother us anymore, she's not gonna hurt us anymore.' I'm like, 'What do you mean?' 'Oh she's just not, she's gone, we shipped her back to Florida,'" Megan remembers Craig saying.
But minutes later, says Megan, Kelly pulled her into a bedroom closet, out of Craig's earshot. Kelly then whispered that an argument with Melissa had spiraled out of control, and that she had reached for a Taser gun which they kept in the house.
"And Kelly was standing right there, and she pulled out the Taser gun and tried to use it on Melissa-she told me 'I didn't have it turned up high enough,' so then she turned it up on her and shot it again," Megan says.
Asked what happened then, Megan says, "And then Melissa took it from her and that's when Craig ran up the stairs, grabbed Melissa, took her downstairs and said he body slammed her."
Then, Megan says Kelly told her Craig pinned Melissa down, while Kelly injected Melissa with narcotics.
Megan then went on to tell police that Craig barged into the closet with a disturbing tale of his own. "And then he said… 'It's really funny… if you ever want to know how you can kill someone by choking them…I can show you,'" Megan recalls. "And I'm like, 'What do you mean?' And he went behind me and put my head in there and went like this and squeezed his bicep on me."
All Megan wanted to do was get out of that house. As she was leaving, Craig pushed a black gym bag into her hands.
Megan says Craig told her the bag contained fitness equipment and a Taser gun.
Frightened, Megan took the bag home. She had her attorney call police, who went back to Craig and Kelly's house with a search warrant.
When a Taser is fired, it also shoots out dozens of tiny dots similar to confetti. The dots have identifying serial numbers, which can be seen using a magnifying glass. The numbered dots can thus be traced to the cartridge they were fired from.
The dots found inside the Titus home matched the Taser gun Craig had given Megan.
And Megan wasn't the only friend who was implicating Craig. "He said he finally got to see what somebody looks like when they get hit by a Taser gun. And he said you should have seen this girl flop," says Craig's friend Jeff Schwimmer. "He thought it was funny."
With all that evidence, police put out a warrant for the arrest of Craig and Kelly, but first they had to find them. Nine days after Melissa's disappearance, the FBI tracked the couple to Boston. Kelly was arrested in a beauty shop while having a pedicure, while Craig was waiting in the truck outside. They were charged with murder and arson
Police now had a theory of Melissa's final moments. It started with a violent fight in the house between the two women.
"We know there were tensions between the two. In this marriage there was the freedom to involve themselves sexually with different partners, threesomes, ménage a trios. I'm sure it was a jealousy issue," Detective O'Kelley says.
Twenty one days after the body was found, it was officially identified as Melissa James.
But getting justice for Melissa might be difficult: the coroner said the body was so badly burned, he couldn't determine exactly how she died. The coroner could not say it was murder.
And Craig decided to fight back, hiring a defense attorney Marc Saggese; Saggese's partner, Michael Cristalli, is defending Kelly.
"The fact that there was a body found in the trunk in the desert that was burned does not mean Craig Titus and Kelly Ryan committed murder," Cristalli says.
"I had heard about it on TV and I thought, 'Wow this is pretty horrific, but I am a defense attorney and I understand that there's always two sides to every story,'" Saggese adds.
More than two-and-a-half years since Melissa's body was found in a burned out car, Craig Titus tells his story for the first time. He insists it wasn't murder, and says it all began when he walked into his house and saw a shocking sight.
"My wife's on the ground with Taser darts in her leg. There's blood on her face and her shirt. Melissa's standing there with the gun in her hand," Craig says. "I struck Melissa. I threw her to the floor, and I went to help my wife. And then, 'whack,' she's hitting me in the head with the Taser gun."
Craig says the fight started when Kelly accused Melissa of stealing and she became enraged. "She jumped on my back. Then I grabbed her on the neck, strangled, chocked, held, restrained. And I'm screaming, 'Stop! Calm down! Stop! Calm down! F this. F that. Calm down. Stop. Just pack your s…, get out of my house.' Kelly screamed, 'Stop!' And then it stops. That's it. It's the end of it," Craig says.
According to Craig, Melissa ran into her bedroom and slammed the door. He then went upstairs with Kelly. About 40 minutes passed.
"It quieted down. We went downstairs, and she was dead," Craig says. "And I tried to revive her, which seemed like a long time. And I couldn't."
Craig claims that he and Melissa and Kelly had been getting high on cocaine, painkillers and crystal meth for days leading up to the fight. And afterwards, he says Melissa took things too far.
"She OD'd. She'd been shooting those drugs for days," he says.
In fact, the autopsy revealed there were enough drugs in Melissa's system to kill her, including a fatal level of morphine. But how did it get there? There's Craig's story that Melissa OD'd, and then there's Megan Foley's statement to police that Kelly had shot morphine into Melissa's leg, while Craig held her down.
Craig calls those allegations "ridiculous."
He insists everything that happened after they found Melissa dead - from the burning of her body to their fleeing across country - occurred because they were scared.
Yet Craig and Kelly had enough sense to plant the debit card, buy the lighter fluid, burn the Jaguar and falsely accuse Melissa of stealing money from them.
"That doesn't sound like two people that are panicked. Sounds like you are meticulously thinking this through," Van Sant points out.
"Well no, we were terrified and still doing drugs and continuously doin'. And it was all bad," Craig says.
"You lied to cops. You've lied to Melissa's mother. Why shouldn't I think you're lying to me right now, Craig?" Van Sant asks.
"I don't know why you shouldn't think I'm lying right now," Craig replies.
Now it's up to prosecutors Josh Tomshezk and Robert Daskas to build their case. They begin with that duct tape around Melissa's head.
Asked what kind of person duct-tapes a dead body, Tomshezk says, "A murderer."
Their biggest challenge is the coroner's legal finding that Melissa's cause of death is "undetermined."
"You know, I don't know that it hurt our chances," Daskas says. "When you have defendants who beat and Taser and inject and duct tape and burn a body, it's a little tougher for a pathologist to say, 'Here's exactly what happened.'"
But the defense says if prosecutors can't say exactly how Melissa died, how can they prove a murder occurred?
"If you look at the medical evidence in this case, and you separate it from the events that occurred after she had died, the state will not be able to prove their case beyond a reasonable doubt that a murder occurred," Christalli says.
Saggese says Craig and Kelly are guilty of a panicked cover-up, but not murder. High on drugs, they tried to dispose of Melissa's body any way they could. "There was no use treating that situation with kid gloves. It became barbaric because it didn't matter once she was dead. And so for wrapping duct tape around her head, she is dead. It's just - now we're deceiving. Now we're engaged in the activity necessary to cover this up," Saggese says.
Prosecutors say the panic story is nonsense. Craig and Kelly cleaned up the crime scene, and even tried to get rid of all the Taser dots. "There's a substantial number of Taser dots in the canister of the vacuum, indicating they were cleaning up and covering their tracks," Daskas says.
Craig and Kelly also tried to dispose of that Taser. But inside the gym bag Megan Foley provided to police, investigators discovered yet another weapon: a leather sap.
Police say they had the sap tested for DNA, finding Craig's DNA on the handle end, and Melissa's DNA on the striking end.
The motive for all this? Prosecutors believe it's the oldest one in the books: sex and jealousy. "That was a recipe for disaster. You've got three people involved with drug use. You've got the potential of Kelly believing that Craig's having a relationship with Melissa. And so, in all likelihood there was a confrontation between Kelly and Melissa. That's probably what started the whole thing," Daskas says.
Prosecutors want the jury to remember that even though Melissa was not perfect, she did not deserve to die the way she did.
But as trial was about to begin, everything suddenly changes: Craig and Kelly end their claims of innocence and accept a plea deal.
Craig pleads guilty to second degree murder arson and kidnapping, while Kelly gets off easy, pleading guilty to battery and arson. But before he's sentenced, Craig tries to take it back by going on local TV to say he did not kill Melissa.
"I took the plea bargain and admitted to something that did not happen so that my wife could go home," he told a reporter.
"So you took a plea deal to a crime that you did not commit?" the reporter asked.
"Yes sir," Craig replied.
Craig tells 48 Hours he never interned to murder Melissa.
In court, a furious Judge Jackie Glass demands to know if there is a deal or not. "The moment I saw that on the news I had concerns about whether your plea was really freely and voluntarily given. So before we go through this I'm here to find out from you, is this what you pled guilty to? And is this what you did?" the judge asks.
"Yes, ma'am," Craig replies.
Melissa's mom, Maura and best friend Samantha, have traveled across the country to be in court.
Kelly, almost unrecognizable from her cover-girl days, speaks for the first time to the court and Maura. "For the past two years and seven months, through prayer, soul searching and many hours of reflection, I have questioned my own actions and my very soul. I am truly, truly sorry for this. I ask forgiveness from both this court and Melissa's family. I take responsibility for what I did," she says.
Legally, Craig admits to murder, but personally he refuses to accept true responsibility for his actions. "I am ashamed, and I am sickened at my actions after Melissa passed away. It was all drug induced, it was all ridiculous. I am so sorry this happened, I don't know where her mom is," he says in court.
Then, it's Maura's turn to speak. "From the moment Melissa failed to arrive on her flight on December 13, 2005, Craig Titus told the kind of lies that pierced a mother's soul. As long as I live, I will never hear her voice, never see her face, never experience the joy of seeing her married nor see the birth of her first child. All of the passages of Melissa's life are forever halted because Craig Titus and Kelly Ryan said so."
Craig receives the maximum sentence, 21 to 55 years. Kelly, who was at Craig's side the day Melissa died, gets six to 17 years.
Beneath a beautiful desert sky outside Las Vegas, Maura and Samantha begin constructing their own memorial to Melissa at the very spot where she was abandoned in a trunk and left to burn.
"She was such a beautiful, vibrant person and they took that away from her. She will never get the chance to do anything that she should have been able to have the chance to do," Samantha says.
"It's about Melissa," Maura says. "It's about celebrating who she was and what she meant to us. She didn't deserve this."
Craig Titus asked the court to reduce his sentence or let him stand trial; the request was denied.
Kelly Ryan divorced Titus last year.
Thanks for reading CBS NEWS.
Create your free account or log in
for more features.