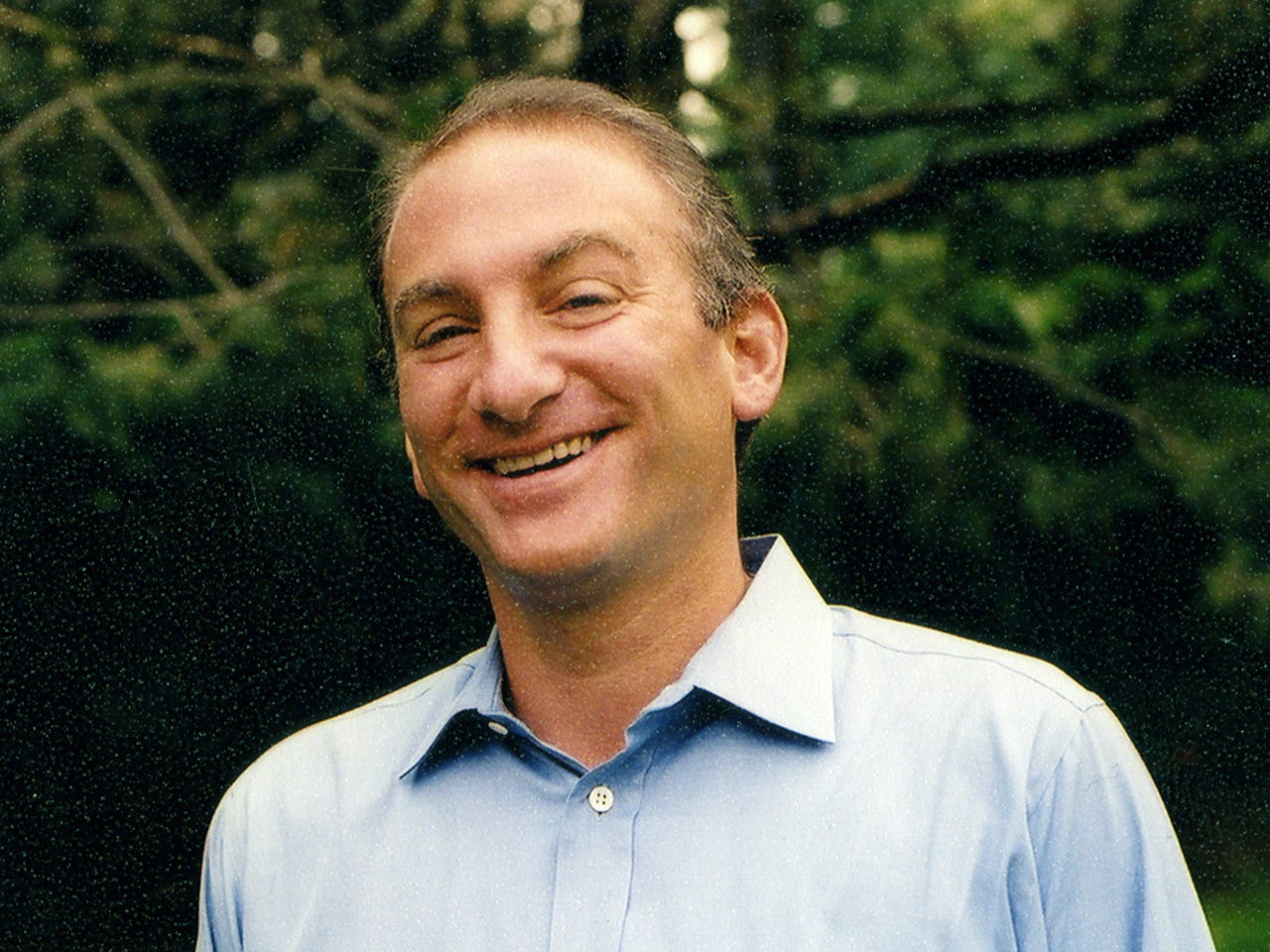 48 Hours Mystery: The murder of Andrew Kissel
Produced by Lisa Freed and Gail Zimmerman
Greenwich, Conn., is one of the ritziest zip codes in the nation.
"Some of the richest, wealthiest people in America live in Greenwich. And, you know, Andrew wanted to ... play the part," says FBI special investigator Steve Garfinkel.
It's where 46-year-old Andrew Kissel hoped to make his name in real estate. Instead, in 2006, he became the community's most infamous murder victim.
"I was shocked. I was stunned," says Phil Russell, Andrew's attorney.
Russell says his client was just days from pleading guilty to bank fraud in court.
"It was a complete surprise that this would happen to him," Russell tells "48 Hours Mystery" correspondent Erin Moriarty.
"This is a man who had hurt a lot of people," Moriarty notes.
"But it was money," Russell says. "And for a bank fraud case to have this type of violence is just unusual."
Andrew was found dead the morning of Monday, April 3, 2006. He and his family were in the process of moving. Andrew had stayed behind in their rented mansion; the movers discovered his body.
"I went up there," Garfinkel says. "The crime scene unit was up there."
Police brought in the FBI special investigator to identify Andrew's body.
"How often are you asked to I.D. the body of a homicide?" Moriarty asks.
"I'm a white collar guy," Garfinkel replies. "This was the only time this happened in my career."
Kissel's body was in the basement.
"The first time I met Andrew Kissel was when I saw him layin' there in his boiler room," says Greenwich Police Detective Pasquale Iorfino. "He was bound and gagged. There was a lotta blood all over the concrete floor."
Andrew's hands and feet were bound. He was blindfolded and stabbed multiple times.
"I believe the final blow may have been to the jugular, he bled out. He bled out a lot," Iorfino says, calling the scene "very brutal. No one wants to die that way. Extremely brutal."
There was no sign of a struggle and no forced entry. Police quickly concluded this was not a random crime.
Andrew Kissel, they discovered, had a long list of enemies.
"He told me, 'A lot of people hate me,'" says Carlos Trujillo, Andrew's long-time driver and personal assistant. Trujillo says his boss may have had a premonition.
"He told me many times, you know, a lot of people - you know - want to kill him," he tells Moriarty.
Andrew Kissel's violent death brought to an end a life once brimming with promise. He grew up in New Jersey, the oldest of three children in an upwardly mobile family.
"He came from a good family, a loving family ... an educated family," says Carol Horton.
Horton dated Andrew's kid brother, Robert in high school and knew all the Kissels.
"I never saw any problems. I saw a happy family," she recalls.
Their father, Bill Kissel, was a successful businessman who had high expectations for his sons.
Asked if he was tough on the boys," Horton tells Moriarty, "Yeah, he was. ...He set down rules and expected them to be followed."
"Do you think that things came as easily for Andrew as they came for Rob?"
"No. I think Andy worked a little harder," Horton says. "He had a very monotone personality type. You know..."
"As opposed to Rob..."
"Yeah, who was just very gregarious, very loving, very outspoken. They were two totally different people. They were night and day. Night and day."
Danny Williams lived just around the corner.
"I remember playing basketball here on this driveway. We'd also play wiffle ball here everyday," he says. And games of Monopoly, where the brothers chose the very roles they would later assume for real: Robert the future financier.
"If it was Monopoly he had to be the banker," he says. [Always?] "Always and Andy would have to be the real estate guy."
Even as a young man, Andrew was already building an image.
"He always wanted to impress, he liked to show off what he had, you know...Status, he liked to show status," says Williams.
By 1990, Andrew was an up and coming real estate developer in New York City.
"He was successful financially when he started. And, he had a nice life sorta laid out in front of him. All he had to do was stay on the path," explains Russell.
He had married Hayley Wolff, a financial analyst from a prominent family, who had been a world champion skier. Ten years later, he had it all: Two children, a ski house in Vermont, and an apartment in a New York co-op where he served as treasurer.
"Everybody kinda wanted to kiss up a little bit to Andrew," Brian Howie says. "So I got the impression Andrew was pretty important."
Andrew soon had his hand and cash in everything: Horses, an olive oil business. He even invested in a play produced by Howie.
"I thought he had good taste, which - which was flattering to me on a on a creative level," he says.
Andrew spared no expense to amuse himself and his friends and was living large.
Howie says Andrew had 85-90 foot yacht, a couple of jet skis and "30-some" cars.
"That seemed like a guy who just - was looking for things that - to do to have fun with his money, like he couldn't spend it fast enough," he continues.
As Andrew's spending and behavior spiraled out of control, some friends blamed his actions on a tragic event 8,000 miles away in Hong Kong.
"It's an unbelievable tragedy," Russell says. "It's just lightning striking twice in the same place."
The competitive Kissel brothers had each found success. Andrew was a real estate developer in Greenwich, Conn. His younger brother, Robert, was a high flying investment banker in Hong Kong.
By 2003, Robert Kissel was one of Merrill Lynch's top guys in Southeast Asia.
Frank Shea was Robert's friend.
"He was - one of the best out there, and he loved his job," says Shea.
He was earning millions. Robert, his wife, Nancy, and their three children lived in a sprawling apartment in a luxury complex overlooking Hong Kong.
"Nancy seemed very happy. ...She always tried to please Rob. She was always very proud of what he achieved, says Trudy Samra, a neighbor who became a close friend. "On the outside world it appeared she had the perfect life."
But in early November 2003, Robert suddenly disappeared.
"And she said to me, 'Something terrible has happened," Samra recalls. "...but she sounded distraught. She sounded very upset."
A colleague at work reported him missing. Police went to the Kissel's apartment to investigate. When they searched the family storage unit, they found boxes of bloody items and a rolled up carpet.
Inside the carpet was Robert Kissel's body. He had been bludgeoned to death; his head bashed five times.
Police investigators quickly focused on Nancy, and within hours she was arrested and charged with murder.
"They said that she had murdered him. I - I just couldn't believe that. Not the Nancy I knew. She wouldn't do that," insists Samra.
As investigators soon discovered, Robert Kissel's life, much like his older brother Andrew's in Connecticut, was nothing like it appeared.
In Robert's case, it was during the SARS epidemic when his wife and children fled to Vermont that he began to suspect something was wrong with his marriage. Robert hired private investigator Frank Shea to spy on Nancy.
"Rob thought there was - something going on between Nancy and someone," says Shea.
Robert was right," says Shea. Nancy was having an affair with a local TV equipment installer.
"Rob Kissel was devastated," Shea says. "All he wanted to do was get his marriage back together."
Nancy returned to Hong Kong, but Robert discovered she was still secretly in touch with her lover.
"The last time you talked to Robert Kissel, was he planning on obtaining a divorce?" Moriarty asks Shea.
"Yes," he replies. "He said that - the marriage was over."
According to friends, Robert intended to tell Nancy that on Nov. 2, 2003 - the night he was murdered.
The case captivated Hong Kong. Albert Wong covered the story for the English language daily, The Standard.
"I think it really hit home with a lot of people in Hong Kong," he says. "It was a glimpse of a world that they - that they're not used to."
Robert Kissel's stylish blond wife was almost unrecognizable as a brunette when she went on trial in 2005.
"Nancy Kissel was always dressed in black," Wong says. "A typical widow look as it were."
The prosecution's theory was simple: "They say it was a cold-blooded murder. That this was no accident," explains Wong.
There was evidence Nancy had been researching and stockpiling various sedatives - and they had a witness. Just hours before Robert was murdered, Andrew Tanzer, a journalist and neighbor, says Nancy made the two men a special milkshake.
"It had some strange taste ... which I could not recognize," Tanzer tells Erin Moriarty.
"Do you think Nancy Kissel added drugs to your milkshake?"
"Oh, that I'm pretty certain," he says.
In fact, an autopsy would reveal five different drugs in Robert Kissel's system, including Rophynol, known as the date rape drug.
"What do you believe happened the night that Rob Kissel was killed?" Moriarty asks Shea.
"I think he was drugged," he replies. "I think that he went into his bedroom. I think he passed out. I think Nancy Kissel, then, took a bronze statue and murdered him."
When Nancy took the stand she told a different story: she said it was self-defense.
"She really thought he was gonna kill her," Wong says. "He came at her with a baseball bat. There was a struggle. He turns her around. And it's at this point that she just swings back. And he kind of sits back and looks at the blood and says, 'You bitch.' And then charges at her with the baseball bat. 'I'm going to kill you. I'm going to kill you.' And she said, then she just blanks out."
Nancy testified that for years Robert had subjected her to physical and sexual abuse. Trudy Samra remembers seeing suspicious injuries.
"[The] first time she had a rib injury," she recalls. "And one time we had a girls' night here. She came in. And I said, 'Wow, what happened to you?' And she had a big, big blue eye."
But Nancy never told Samra she was being abused and Frank Shea doesn't buy Nancy's defense.
"Do you believe that Robert Kissel abused his wife?" Moriarty asks Shea.
"No, not for a second," he says. "In fact ... given the amount of drugs that were in his system ... there is no way he could've defended himself - no less attacked somebody."
It took the jury eight hours to convict Nancy Kissel of murder. She was sentenced to life in a Chinese prison.
Andrew Kissel, who briefly attended the trial, was clearly devastated by the loss of his only brother. But things were only going to get worse.
Andrew Kissel's friend, Brian Howie, says Andrew never recovered from his brother's death.
"What happened to his brother really affected Andrew tremendously," he says. "His life just went on a different course from there ... it just changed where his priorities lay. He said it - it was, you know, more about, 'I need to be happy right now.'"
Andrew was trying to buy his happiness.
"He was shelling out, you know, $50,000 for his friends to have a good weekend," Howie says.
Indulging in extravagant parties on his yacht that Howie says was "fully stocked with any kind of food and drink and crew and everything you wanted."
But where was the money coming from? While Robert had played by the rules, for years, Andrew had been taking illegal shortcuts. He began in 1996, in New York City, where he and his family lived in a luxury high rise and Andrew was the building's treasurer.
"You just don't think your neighbor's gonna steal from you," says Peter Chamberlain.
Chamberlain, new to the board of directors, was puzzled by some of Andrew's reports.
"No one could account for how a hallway project could cost $2 million or $1 million," he says. "All the receipts, all the bills, all the contracts were in Andrew Kissel's possession."
An investigation revealed that Andrew had secretly transferred building funds into his own accounts. He was caught red-handed.
"He left the building in a very unsophisticated way," Chamberlain says, "jumping in the service elevator, out the garage door ... literally running down to Second Avenue."
To avoid legal action, Andrew agreed to pay back the nearly $4 million he owed.
Chamberlain says, "We all wondered, well, where does somebody who had to steal $4 million come up with $4 million to give back?"
For Andrew Kissel, the answer was simple: Another scam in another state. He moved his family to Greenwich, Conn., where he had been buying and developing expensive homes as investments.
"Greenwich is probably the wealthiest town in Connecticut, in terms of value of property," says Nancy Walkley - a title search attorney who had processed some of the mortgage applications Kissel submitted to develop those multi-million dollar properties.
In 2005, while reviewing routine paperwork, she noticed something fishy about the signatures.
"The 'A' in the Andrew looked very similar to the 'A' in the first name of the gentleman who signed that Astoria Federal Mortgage," says Walkley.
A quick check with the bank confirmed her fear.
"The color must have drained out of my face," Walkley says. "I thought, 'Oh my. I can't believe what I think is happening is happening.'"
It appeared that Andrew had forged a bank executive's signature, indicating a $5.5 million mortgage was paid off when it wasn't.
Walkley stopped the deal. As it turns out, it wasn't the first time Andrew had bilked banks with forged documents. He had been doing it for years.
The FBI was called and Special Agent Steve Garfinkel led the investigation.
"He borrowed money," Moriarty says. "Filed a fake release of that saying that he no longer owed that money, then would borrow again. They would think that the land was free and clear."
"Correct," Garfinkel says. "And then he'd go to a third bank and get a mortgage. Do the same thing."
"So how much money was Andrew Kissel able to obtain by this kind of fraud?"
"It was over $30 million," Garfinkel says. "I was impressed with the scheme in the simplicity - how easy it was to do
It was the era of easy money.
"The banks want to lend the money... They want these deals to go through," Moriarty notes to Walkley.
"They do ... and when they think they have a viable, successful builder-buyer, they will fall over themselves to lend money," she says.
Facing federal fraud charges, Andrew sought advice from attorney Phil Russell.
"This plan had to crash and burn at some point," Russell says. "He described to me what had gone on. And I told him, 'Yeah, you're in trouble.'"
"He's upset he was caught," Garfinkel says. "No remorse. No self-flagellation. None of that."
But Russell says Andrew did feel remorse and was willing to come clean... just not completely clean.
"Wait a minute, so, was Andrew Kissel trying to con the FBI?" Moriarty asks Garfinkel.
"Yes," he replies with a laugh.
The FBI uncovered another multimillion-dollar scam in another state.
"He was a serial fraudster. He just engaged in one fraud after another," says Garfinkel.
This time it involved apartment complexes in New Jersey. Here, Andrew Kissel had ripped off his investors by forging their signatures, secretly selling the properties and pocketing all the profits.
"There were some people who - put their entire - retirement savings into this limited partnership, and put their IRA money in..." Garfinkel explains.
But in this scheme, the investors he was ripping off were people he knew: His father-in-law and dead brother's estate each invested $500,000.
"The people in New Jersey didn't know that these properties had been sold," Garfinkel says. "But what he did... he continued to pay them a quarterly dividend."
"And what was their reaction to find out that Andrew Kissel had been ripping them off all those years?" Moriarty asks.
"They felt totally betrayed," says Garfinkel.
"[He was] a very troubled guy," Russell says. "Sooner or later, it was gonna explode. And it did."
While Andrew's material world was crumbling, his personal life was already in shambles. His wife, Hayley, discovered he had forged her signature to get a fraudulent loan on their ski house. He was cheating her and cheating on her with other women.
"She knew that he was having affairs," says private investigator Vito Colucci.
She wanted him followed, according to Colucci, who says he met with Hayley a year before Andrew was murdered.
"I said, 'Well, you know, Hayley, I have to tell you. I've seen a lot of cases. I've seen a lot of couples go back together,'" he recalls. "And she looked at me, and she just said, 'I want him dead. I wish he was dead.' Hayley didn't need any Kleenex. Trust me, she didn't need any Kleenex that day."
Hayley didn't hire Colucci. In 2005, she sued Andrew for divorce and $7 million.
"There was no love lost there," Garfinkel says. "This was not a friendly divorce."
By the first weekend in April 2006, Andrew's family was gone. He was alone and under house arrest - wearing an electronic ankle bracelet - and just days away from admitting his guilt and going to prison for bank fraud.
"Everybody left him ... Nobody want to be a friend anymore," says Carlos Trujillo, Andrew's loyal assistant of six years, who stayed by his side.
Asked why, Trujillo says, "I love this guy and I owe a lot to him. He help me a lot. "
Just before 6 p.m. on Sunday, April 2, Trujillo went to see his boss, making Carlos the last known person to see Andrew Kissel alive. Fourteen hours later, Kissel was found dead.
"Carlos, are you worried that if the police don't get a suspect that at some point they may arrest you?" Moriarty asks.
"Yeah. I worry every day," he replies.
So worried, Trujillo hired attorney Lindy Urso.
"Andrew Kissel had a lot of enemies. But Carlos surely wasn't one of 'em," Urso says. "He would have to be - probably the coolest customer you would ever see. If he really had any involvement in this."
"He says he loved him," Garfinkel says. "But, you know, friends sometimes kill each other, too."
Attorney Lindy Urso describes Carlos Trujillo as a decent, hard working guy.
"All the guy wanted to do was work. That's all he wanted to do," he says. "He's the person who would least wanna see Andrew Kissel dead."
But Carlos Trujillo was the last known person to see Andrew Kissel alive. The Colombian immigrant who was Andrew Kissel's driver and confidant became the prime suspect in his murder.
"Did you kill Andrew Kissel?" Moriarty asks Carlos.
"No, I didn't," he replies.
"They decided on the Colombian helper early on...and they reverse engineered their entire investigation to focus on him," says Urso.
Defense attorney Lindy Urso says Greenwich police didn't fully investigate other possible suspects - like the dozens of wealthy investors swindled by Kissel.
"We know Hayley Kissel's father was one of the biggest losers in that scam. He lost about half a million dollars," says Urso.
And Hayley herself had told people - including her sister-in-law - that she wanted her husband dead.
"Once they decided that the wife had an airtight alibi, they turned their attention to Carlos. And that's where it stayed," says Urso.
"Did the police ask for fingerprints?" Moriarty asks Carlos.
"Yeah," he replies.
"Did they ask you for DNA?"
"DNA," he affirms.
"Did you give it to them?"
"I give it to them."
Carlos allowed investigators to search his car, his residence and a storage unit he had rented. He even took a polygraph, which he was told he failed.
"At this point, I feeling like a suspect - like a criminal. They treat me like a criminal," Carlos tells Moriarty.
"I thought Carlos was a very smart, calculating individual," says Det. Pasquale Iorfino.
But the detective couldn't charge him.
Lead investigators Iorfino and Pierangelo Corticelli lacked evidence and the investigation stalled for more than a year.
Video: Hear from Capt. Mark Marino of the Greenwich Police Dept.
"There was really no viable case against Carlos until Lenny Trujillo was uncovered," says Prosecutor Paul Ferencek. "And that broke the case."
What broke the case was a new witness: Lenny Trujillo, a 21-year-old petty thief and Carlos' own cousin.
Lenny told investigators that Carlos paid him $11,000 and a computer to commit a murder.
"He told us, 'Hey, that computer came from Carlos Trujillo. That--that computer was given to me as payment towards killin' his boss,'" says Iorfino.
But why would Carlos Trujillo want to kill his boss? A bizarre theory was circulating that Andrew Kissel, broke and heading to prison, had enlisted Carlos to have him killed - a suicide for hire. One last scam so his children could collect his $15 million life insurance policy.
"If Andrew Kissel had taken a shot - one shot to the head ... I might think that there was some credence to that claim," says Ferencek, who doesn't buy the theory at all.
The prosecutor points out that Andrew Kissel's hands and feet were tightly bound with plastic ties and that he'd been stabbed five times.
"It was a painful, painful death. No one would - would wanna go the way he went," says Ferencek, who has no doubt that Carlos was involved.
"Andrew Kissel would not have let anyone in the house that he didn't know," he says. "Whoever killed him, he knew. So, I have no doubt that it was Carlos Trujillo."
That's why, says Det. Iorfino, Andrew Kissel was blindfolded and gagged.
"It's a personal reason," he explains. "You just don't wanna hear him, and you don't wanna look into his eyes when you're killin' him, because you usually know that person."
Investigators still didn't know the motive, but they did have enough evidence. They arrested both Carlos and his cousin.
And finally, on Nov. 30, 2010, four-and-a-half years after Andrew Kissel was stabbed to death, Carlos Trujillo went on trial. He was charged with murder for killing Kissel and attempted murder for planning it.
The star witness against him is his now 24-year-old cousin.
"How important is Leonard Trujillo to the state's case against Carlos?" asks Moriarty asks Mark Sherman, Lenny's attorney.
"He is the state's case," he replies.
The judge wouldn't allow Lenny's testimony to be videotaped, but Sherman says Lenny only helped Carlos plan the murder; He didn't actually do the killing.
"Lenny had an alibi. He was at work ... very early that morning in Western Mass... hours away from Greenwich, Connecticut," says Sherman.
In return for his testimony, Lenny got a deal: Twenty years in prison instead of life.
"Without Lenny Trujillo, I had no - I had no case against Carlos," Ferencek says. "If he did not cooperate, Carlos was gonna walk - walk out the door."
Defense attorney Lindy Urso says having his own cousin testify against him puts Carlos in a very tough spot.
"It would take a minor miracle to overcome that hump with this 20-year stupid deal that his cousin took," Urso says. "If he goes to trial and loses, he's gonna get life."
The case against Carlos is circumstantial but damaging.
"They bought stuff. They planned it. They discussed it. Money was exchanged," says Iorfino.
There were 52 phone calls between the cousins during a four-month period.
"They didn't have any - any interaction but for the planning and conspiracy of this murder," says Investigator Pierangelo Corticelli.
Lenny says he made two trips to Connecticut to meet Carlos and there are Amtrak and motel receipts.
"Attached to the desk card was an original ... receipt indicating that the room charge had been charged to a MasterCard in a name of Carlos Trujillo," says Corticelli.
"But why would Carlos use his own credit card, if he was using this trip as part of a surveillance to plan a murder?" Moriarty asks.
"People do stupid things all the time," says Ferencek.
"Everybody makes a mistake when they're committin' a crime," adds Iorfino.
During one of those trips, Lenny says they went to a Home Depot and bought plastic cable ties.
"This is one of those things that only the killer or killers would have known," says Corticelli.
"And how close is this type of cable tie to what was used on Andrew Kissel?" Moriarty asks.
"This is the exact same make, model as the one used on Andrew Kissel," Corticelli replies.
"How would he have known all that?" Ferencek asks. "The fact that he was able to describe the cable ties, and where they were bought was - was major."
And it turns out that there may have been a motive after all: Carlos Trujillo had always been the trusted aide, living on the fringes of Kissel's lavish life.
Bank records show that when the feds froze all Kissel's assets, Carlos and other Trujillo family members helped him launder money through their personal bank accounts. In the process, more than $200,000 of Andrew's money mysteriously disappeared. Maybe the trusted aide wasn't so trustworthy...
"None of that money was found to have been returned to Andrew Kissel," according to Ferencek.
He was murdered just four days before he was scheduled to formally plead guilty to bank fraud. Did Andrew Kissel threaten to turn Carlos in to the feds if he didn't return the money?
"I firmly believe the-- the motive of Andrew, most likely, was gonna roll on Carlos's entire family tree," says Iorfino.
"And you think it was money that was the motive?" Moriarty asks Iorfino.
"Well, money and of course the fear of goin' to jail, sure," he replies.
Adds Ferencek, "I mean, people have killed for a lot less."
Attorney Lindy Urso has been fighting for Carlos Trujillo for more than four year and he's feeling the pressure.
"Obviously I'm up against it, but I feel good," he tells Erin Moriarty. "The stakes are huge - whether it's 15 years, 20 years or life it's a long time. ...But the stakes are that much higher when you really believe your client's innocent."
Since there's no physical evidence tying Carlos to Andrew Kissel's murder, the state is counting on their star witness: Lenny Trujillo.
"The biggest evidence against Carlos is Lenny," notes Moriarty.
"It's the only evidence against Carlos, says Urso.
Urso says Lenny Trujillo is a liar who made up this entire story.
"Do you believe Carlos even attempted to hire him at all?" Moriarty asks.
"Not in the least. Not in the least, not for a split second," says Urso.
Urso claims Lenny implicated Carlos to keep his family from being harassed by law enforcement. But prosecutor Paul Ferencek scoffs at that.
"Why would you - implicate yourself - in a murder? Why would anyone do that?" he asks.
Steve Garfinkel, who now handles investigations for an international security company, says Lenny's story is too detailed to be made up.
"I believe - Carlos was involved," he says. "It's a believable story. ...why would he plead guilty and agree to go to jail for 20 years, if it was not true?"
So to establish reasonable doubt, Urso plans to poke holes in the story and make the jury question Lenny's credibility. "He takes a little bit of the truth and he spins it into a fantastical story," he says.
Of those 52 phone calls between the cousins, records show it was Lenny making most of those calls.
"If Carlos was hiring him to do the murder; you would expect Carlos would be the one calling him," says Urso.
But what about Lenny's most damaging claim that he and Carlos bought plastic ties at Home Depot? It turns out the receipt doesn't match the date that Lenny told police he was with Carlos in Connecticut.
"This guy has no credibility, I mean, zero. He lies and lies and lies," says Urso.
"If Lenny were lying, there's no way he would know all of this information," Investigator Pierangelo Corticelli explains. "There were too many specifics that he gave us which were never reported, which he could not have possibly known.
After a 10-day trial, the case goes to the jury:
"Now the heart starts beating ... 'cause this man's life is in our hands," Frank, the jury foreman, explains. "And we'd go around the room and say, 'What do you think?' And 'where are you?' And everybody would give their - you know ... we would take votes all the time.
Jurors talked with "48 Hours" about their deliberations:
Keith: It all came down to Lenny's testimony and if - who believed Lenny's testimony and who didn't.
Judy: It was not proven beyond a reasonable doubt that the two of them purchased those zip ties.
Sabrina: I live in Norwalk. I - we own cable ties. How do I not know that that's not me buying it that day?" ...There was no proof that that was actually Carlos buying them.
Frank: Did he just make up this story? ...Plus, he and Carlos, while they are related, they haven't talked to each other in years. And all the sudden ... they make 52 phone calls together. ...I personally firmly believe that something was goin' on, that they were plotting something.
Keith: This guy Lenny, he pled guilty to this crime. And if he wasn't involved at all, why would he sign that paper? Why would he say, "OK, I'm guilty. Put me in jail for 20 years?"
Judy: When it comes down to it, it's not about what you believe or what you even feel in your gut. ...The evidence has to be there to support beyond a reasonable doubt. And you have to apply the law.
Video: Jurors on Lenny Trujillo
After four days, the jury finally comes back. The first charge of murder could send Carlos to prison for life.
Frank: Being the foreman, [the judge] had me stand up ... And Carlos is right there and I'm trying not to look at him.
Sabrina: We saw the hands drop, the hands by the side and the hands started shaking. ...We knew that it was gonna be very emotional for him."
Jurors find Carlos not guilty of murder.
"Carlos--finally cracked, showed some real emotion," Urso says of Carlos hearing the verdict.
"You told Carlos it was going to take a minor miracle to get him off on these charges," Moriarty points out. "Is that what happened?"
"Not quite," he says. "I wouldn't call it a minor miracle. I would say it was - when we pulled one out against some - heavy odds - but I don't think a minor miracle."
There's still the charge of attempted murder. But on this, the jurors were deadlocked, which means Carlos isn't off the hook yet. Paul Ferencek wants to retry him.
"I never wanna give up," he says. "And I felt that we did have a strong case on the attempt."
But there will be no new trial. Three months after Carlos was acquitted of murder, the man who said he loved Andrew Kissel agrees to plead guilty to attempted murder.
"Carlos Trujillo has been saying for five years he was innocent and then he goes in front of a judge and takes a guilty plea?" Moriarty asks Urso.
"Yeah, well, he's still saying he's innocent," he replies. "It's clearly just a decision of practicality. ...it would have been a crazy decision to go to trial."
If convicted, Carlos Trujillo faced 20 years.
"He's agreed to take six years in jail with credit for time served," says Urso, which means Carlos will only spend three more years in prison.
"He got off easy, but ... he didn't get away with murder," Ferencek says. "He is now a convicted felon. ...So, we got satisfaction from that. There is justice."
Andrew Kissel, who had so much in life, died with nothing... not even all the answers.
"Do you think we'll every really know what happened that night?" Moriarty asks Iorfino.
"No, I really don't. No," he says.
"It's still kind of a mystery," says Moriarty
"It is a mystery," says Ferencek.
After serving his six year sentence, Carlos Trujillo will be deported to Colombia.
Thanks for reading CBS NEWS.
Create your free account or log in
for more features.