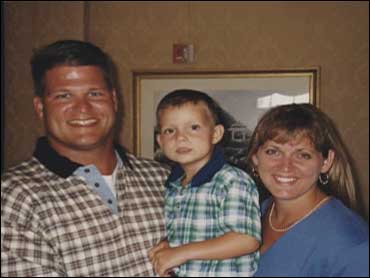 48 Hours Mystery: The Guessing Game
This story first aired on Dec. 6, 2008. It was updated on Feb. 20, 2010.
In January 1999, Belinda Temple, the pregnant wife of a popular high school football coach, was found murdered inside a closet of the family's home.
Police soon suspected David Temple had something to do with the murder, but had no physical evidence to tie him to it. But after years of piecing circumstantial evidence together, police arrested him.
What would follow was a courtroom clash of legal titans, with a hard-charging prosecutor on one side, and a legendary defense attorney on the other.
Did David really murder his expecting wife, as the prosecutor charges, or is he innocent and unjustly accused.
Even while he called 911 for help, David knew his wife had no chance - she had taken a shotgun blast to her head. There was also no hope for the baby that Belinda Temple was just weeks from delivering.
David and his three and a half year old son, Evan, were now alone.
Asked how he broke the news to Evan, David tells correspondent Richard Schlesinger, "I told him the next day. You just lay down in the bed with him and told him that some madman had broken into the house and momma's heart stopped and she's gone to be with Jesus and she won't be with us any more."
Suddenly a single parent, David turned to his parents, moving into their home, and finding comfort in good memories.
The Temple family was well respected in Katy, a Texas town near Houston. David was a gifted athlete and became a star defensive linebacker for Katy High School. He was a force to be dealt with when he played.
David won a football scholarship to Stephen F. Austin State University, and on the field became known as "The Temple of Doom," thanks to his imposing stature.
But off the field he was a bit of a romantic, especially when it came to an attractive physical education major named Belinda Lucas.
Before long, David asked Belinda's parents, Tom and Carol Lucas, for her hand. With her parents' blessing, David proposed to Belinda in the most sentimental setting he could imagine. "So we walked down and got went out on the field I took her down to the 50 yard line. And got down on my knee and told her how much I loved her and asked her if she'd marry me," he remembers.
They married and both ended up working with children. Belinda taught special ed at Katy High, where her husband had ruled on the football field.
Debbie Berger, who taught in the same classroom, was a close friend. "You could tell in her voice, very direct, but yet very loving and warm."
David landed a job in a nearby town, teaching and coaching alongside Wade Luker, who had coached a rival team when David was in high school.
By all accounts, David and Belinda were devoted to their son, and by January 1999, the birth of their daughter was just one month away. "January 10th, we were a happy threesome as anybody in the country. Being at the zoo. Her fryin' chicken for me, which is my favorite meal, when we got home. That weekend was perfect," David remembers.
It was also the last weekend of Belinda's life. On Monday, Jan. 11, just like every day, Evan was in daycare while his parents were at work. But he was sent home early that day with a fever. David came home to watch him.
When Belinda returned around 4 p.m., David says she went upstairs to rest. David took Evan out to play. "We went to the park in our neighborhood, which we spent a lot of time at. He loved to go to the park," he remembers.
After that, he says, they made their trip to the grocery store and then to the Home Depot, never imagining what awaited them at home. When they got back, David says he saw the back door broken, dropped Evan off at a neighbor's, then ran up the stairs, where he found Belinda's body sprawled on the floor of the bedroom closet.
Crime scene investigator Dean Holtke was surprised that a burglar would be so violent. "How many burglars do you think walk around carrying a shotgun? In broad daylight?"
Holtke followed standard procedure, and asked to test David's hands for gunshot residue. He says he explained to David for what it was for and that he didn't resist.
David also agreed to go with the police to give a statement. Asked what was going through his mind at that moment, David says, "Totally shocked. Sometimes it feels like an eternity and sometimes it feels like it went really quick. I could remember having trouble just walkin' out to the cruiser. To even make your legs move."
Belinda's parents remember getting the phone call. "I dropped to my knees," her father Tom remembers. "I not only lost my daughter, I lost a granddaughter that I'm sure was beautiful as her mama. And I never got to see."
This was no ordinary crime scene. It affected even veteran homicide detective Tracy Shipley. "It was one of the few cases we have where you have a completely innocent victim. She had lived a low risk lifestyle. She was a teacher. She was a mother. She was a wife. She didn't have any bad habits, and to find her dead in her house was very heartbreaking."
In the following days, Detective Shipley began canvassing the neighbors. But police would soon learn that one young neighbor lied about his whereabouts that day, and he had had a run-in with Belinda before.
The night Belinda was murdered in January 1999, David told police he had no idea who did it, but, later, he wondered about one of her students, the Temples' next door neighbor, Riley Joe Sanders.
At the time, he was 16 and perpetually truant. Belinda had reported him to his parents. Asked if he thinks he Riley killed Belinda, David says, "I honestly don't know."
Sanders told a reporter he was in school all day, but later admitted to police he cut out to smoke pot with friends. He was known to use his father's twelve-gauge shotguns without permission; his friends had stolen shotguns a few weeks earlier. Sanders was in the area around the time that other neighbors heard a sudden and startling noise.
Growing up, Ed and Herman Roberts lived in the house behind the Temples. Police spoke with them shortly after the murder.
The boys say they are sure they heard one gunshot. But when exactly did they hear that bang?
The brothers happened to be watching Dr. Doolittle at the time, and nine years later they remember the exact point in the film when they heard the bang - a scene 24 minutes and 50 second into the movie.
With that information, the police could calculate when the boys heard that noise.
They were dropped at the bus stop around 3:45 p.m., came home, did what they estimated to be 10 to 15 minutes of homework, horsed around a little, and started the video. It the boys are right, it means the shot was fired around 4:30 p.m.
That was the time that David was out shopping. He and Evan were caught by a surveillance camera at the grocery store.
Within days, police discovered that Riley lied about where he was and asked him to take a lie detector test. He agreed, and failed at least twice.
But there was no way to link any of the shotguns Riley and his friends had to the crime, and there was no other evidence to put him at the scene. What's more, police had another suspect in their sights.
Dean Holtke looked at the Temples' broken back door. Something about the way the pieces of glass fell seemed odd to him. "You would expect the glass to go in the direction of the break. Yet the glass in this one was inside the house, further into the living room."
He took a lot of pictures, and a lot of what Holtke saw that day made him wonder if a burglar had really broken into the home. The TV was down on the floor, but was not unplugged. "If you're there to steal a TV, first you'd unplug it, right?"
He started to think the scene had been staged. "There's jewelry out in the open," he remembers.
And there was more: detectives were troubled to learn that David Temple had become a little too close to a fellow teacher named Heather Scott. David had neglected to tell police how close they were. "We started e-mailin', flirtin' through the e-mails, talkin' just about goin' to Happy Hour, callin' her sexy. It's nothin' what I would call nasty or provocative," David says.
Police questioned Heather twice. The first time, she said that although she and David had never been alone, they had what she called a "casual romantic relationship."
But Det. Shipley took a second statement from Heather, given after Heather consulted a lawyer. "She said, 'I just need to explain our situation a little more. He was at my house for New Year's Eve,'" Shipley says.
And this time, Heather said the relationship was somewhat more than casual. "She said that they had had sex," Shipley says.
Temple admits he spent that New Year's Eve at Heather's apartment, and that he had told Belinda he was going hunting. But he insists Heather meant nothing to him. He says it wasn't love, just a "physical" thing.
"You left your wife while she was pregnant to be with this other woman. And you felt nothing for her?" Schlesinger asks.
"I enjoyed the attention," David says.
He says he was happy with Belinda. "I loved my wife very much. Would have laid my life down for her. What I did was wrong."
But Heather's signed statement says that just three days before Belinda was killed, "David said something like 'I think you know I have totally fallen in love with you.'"
David denies saying that. "I didn't want to be with Heather. Heather knows that."
Whatever the relationship was, it was not a secret anymore. And David knew that put him under suspicion.
Three months after the crime, a grand jury was convened. In the end the jury indicted nobody - not Riley Joe Sanders, the neighbor who police all but dismissed as a suspect, nor David Temple, the man police believed committed the crime.
With no hard evidence connecting anybody to this murder, the case went cold. David got on with his life, and went back to teaching.
A year and a half later, he remarried. His new wife? Heather Scott.
Asked when he fell in love with Heather, Temple says, "It'd be hard to pick a day."
It's an important detail, because no matter what the grand jury thought, investigators were convinced Temple fell in love with Heather before Belinda was killed.
Despite Temple's apparent alibi, police believed he was responsible for his wife's murder pretty much from day one. "Did I have an opinion that it was a staged crime scene? Absolutely," Holtke says.
But years passed and no one was charged with the crime.
Belinda parents suspected David after they found out he betrayed their daughter. They did all they could to keep the case alive, paying for a billboard next to a busy highway and taking TV crews to their daughter's grave.
But nothing changed until November 2004, more than five years after the murder, when the Scott Peterson case in California caught the nation's attention.
Peterson was convicted of killing his pregnant wife Laci. The Lucas' saw parallels to their case and contacted prosecutors once again. This time the case landed on the desk of one the toughest DA's in the nation, Kelly Siegler.
Siegler had no murder weapon to work with, no incriminating fingerprints or DNA, and no eyewitnesses. What did evidence did she have?
"A story that he told that never made any sense," Siegler says. "The story was, according to David Temple, at the very time he was out with his sick son running errands that didn't need to be run, a random burglar just happened to break into his house and shoots Belinda Temple in the back of the head when she's eight months pregnant while David Temple is having an affair with a woman he was madly in love with."
Siegler has a theory: she believes Belinda was killed around 4 p.m., about a half an hour before David was seen by the surveillance cameras at the stores. Whatever the Roberts brothers heard around 4:30 p.m., Siegler says it was not the fatal shot.
"I have no idea what they think they heard," she says. "They're good kids. I just don't think they know what they heard."
Besides, Siegler says since Belinda was shot in the closet, the sound would have been muffled by clothes. Once Belinda was dead, Siegler says Temple went right to work concocting his alibi.
Siegler says David planned to be seen on camera, but did not expect to be seen in a different out-of-the-way part of town. A witness, who recognized David from his glory days as a high school football star, saw him.
Siegler may not have had the gun, but she did have some new ammunition - fresh evidence. After more than three years of laboratory delays and snafus, a critical FBI report came back: gunshot residue was found on a jacket of David's that was lying on a bedroom chair.
Finally, the prosecutor had hard some forensic evidence. She took the case to a new grand jury and got an indictment.
On Nov. 29, 2004, nearly six years after his wife was killed, David Temple was arrested. "I dropped my son off at school, like I did every day. An officer pulled me over just like I thinkin' it was routine traffic stop. Handcuffed me and put me immediately in the back of the detective's car," he remembers.
One of the detectives in that car was Dean Holtke. "The only thing I'd asked him the entire time was, 'You know what this is about, right?' And he says, 'No, what?' I said, 'Belinda,'" Holtke remembers. "He's like, 'You gotta be kidding me, man. That was like, six years ago.'"
To go up against the hard-charging prosecutor, David turned to Dick DeGuerin, a legendary Houston attorney every bit as tough as Kelly Siegler. The two lawyers had clashed many times before.
DeGuerin immediately went gunning for what might be Siegler's best evidence, the gunshot residue found on the jacket. "It's really junk science," he says. "The jacket could be expected to have gunshot residue because it's airborne. It could get on anything in that room and probably was on just about everything in that room."
Even before the trial begins, the judge agrees with DeGuerin and throws out the evidence.
So this is now a purely circumstantial case, and DeGuerin says circumstances point more directly to Temples' troubled teenaged neighbor, Riley Joe Sanders.
Asked if he thinks Sanders killed Belinda, DeGuerin says, "My opinion is that he's much more likely to have done it."
But Siegler says there's nothing in the evidence that makes him a true suspect.
DeGuerin believes Siegler is ignoring Sanders, and is hell-bent on convicting Temple.
In October 2007, Siegler unloaded her evidence against David Temple in front of a jury. "The defendant says to Heather Scott, 'You know I'm fallin' in love with you.' Three days later, Belinda Temple was executed in the back of the head in the home where she lived with this man."
He got away with murder for nearly nine years, she says, and that's long enough.
But DeGuerin says he thinks, in his mind, there wasn't enough evidence to take this case to trial. In his opening statement, he comes out swinging, blasting investigators for letting the real killer get away. "The evidence will show that they ignored other leads."
But Dean Holtke says the evidence shows that Temple's claim that his house was broken into is impossible. "You would expect normally to find the glass directly away from the point of impact. That's not we found here. There was actually a couch a few feet away from this door, there was no glass on it at all," he explains, talking about the broken door.
Asked what that is consistent with, Holtke says, "The door being open when the glass was broken."
DeGuerin argues those pieces of glass flew out when David barged into the house looking for his wife. "David had to push it aside when he ran full bore into the house. When it stopped suddenly, the shattered glass that was remaining would have then been propelled out."
For two weeks, Siegler calls 23 witnesses. 48 Hours was not allowed to record any of their audio. DeGuerin has answers for everything. The witness who claims he saw David at that out of the way intersection? DeGuerin says the man is mistaken about the date.
The state meanwhile contends that an intruder could not get past Temples' dog, Chaka, who was in the yard. But DeGuerin says Chaka was locked up.
DeGuerin insists there is no real evidence against David, and furthermore, he says, Siegler knows it.
Judge Doug Shaver has his hands full - he has to keep the trial moving and keep the lawyers from each other's throat. The judge admits it was difficult for him, "I believe someone could say good morning and the other side would've objected to it."
Siegler continues to fight - not just with DeGuerin - but with everyone on David's side, especially one of the most reluctant witnesses, David's current wife, Heather.
David and Heather have always said their early relationship was not serious. But DeGuerin admits it complicated his defense.
Siegler doesn't buy that the relationship was casual, and grills Heather, who, blurts out a less than flattering account of sex with David, saying it was not memorable.
When DeGuerin gets his turn, he launches an aggressive defense. He calls most of David's immediate family to paint a picture of David as a good father and loving husband. He also has the Roberts brothers testify about that loud bang they heard when they were children.
DeGuerin believes the best witness for David is David himself.
David says he wasn't afraid of Kelly Siegler, but knew it was a risk. "I look mean. I'm not. My eyes are sunk back in my head. You look like a football player. You look like you could be aggressive. Some things work against you."
When the defense rests, DeGuerin hopes the jurors will look past David's appearance and focus their suspicion on the Temples' former neighbor Riley Joe Sanders.
DeGuerin believes Sanders and his friends may have staked out the Temple house.
But Siegler tackles DeGuerin's theory head-on, and calls Riley Joe Sanders to the stand as a witness for the prosecution. "Riley Joe Sanders admitted, 'Yeah, I smoked dope. Yeah I cut school 100 something times," Siegler says.
He denies under oath that he had anything to do with Belinda's murder, but there was that polygraph.
Siegler says the jury did not hear about the polygraph test. "I just think it's important for everyone to understand that that's not admissible evidence," she says.
"It's an investigative tool. How did he do on the polygraph?" Schlesinger asks.
"Not well," Siegler says.
Riley declined to be interviewed, saying he did not want to discuss false allegations against him. Siegler hopes that Riley Joe Sanders will not distract the jurors from her case against David Temple, but she knows better than to underestimate her rival.
Dick Deguerin's job, as he begins his closing argument, is to focus the jury's attention on the boy next door. "There is more circumstantial evidence against Riley Joe Sanders than there is against David Temple," he tells jurors.
He wants the jury to remember that Sanders had lied. "At first he denied having cut school that day. Why?"
And he argues that while Temple was wrong to be unfaithful, he is guilty of nothing more than adultery. "The circumstances do not lead to the inescapable conclusion that David Temple murdered Belinda. They simply don't," he argues.
Siegler gets the last word, and one last chance to make her case. "The lies that this man told and the things that he chose not to say are the little pieces that are the truth," she tells the jury.
After only eight hours, the jury has its verdict: guilty.
David Temple was sentenced to life in prison. Evan, who is now 14, lost his father eight years after losing his mother. He is now being raised by Heather. "He knows he has a mother here and he has a mother in heaven. And that's the way he talks about it," Temple says.
Not surprisingly, DeGuerin plans to appeal. "This case is stuck in my craw, and it'll stay there until I get it over with," he says.
It's partly personal. He's lost to Siegler before, but this time, he believes is different. "Kelly Siegler has finally convicted an innocent man. David Temple did not kill Belinda Temple," DeGuerin says.
But she says, "That's funny because I've had four cases with Dick and he's said that on all four defendants, that they were innocent."
But this case was tougher than most, and Siegler says that's probably why every prosecutor before her passed it up. "It's real easy to do with cold cases. You just say what everyone who's gone before you says. 'Not enough here. Maybe one day.' And keep a family's hopes strung out forever."
Belinda's family believes justice was finally done, but they are still left with questions, questions they believe can only be answered by David Temple. "I don't know how you could've done that to my daughter," Carol says. "I'll never be able to see her again. Did you ever hear of divorce? Just why did you have to do it like that?"
David Temple has appealed his conviction. He is waiting for the decision.
Produced by Gail Zimmerman and Jenna Jackson
Thanks for reading CBS NEWS.
Create your free account or log in
for more features.