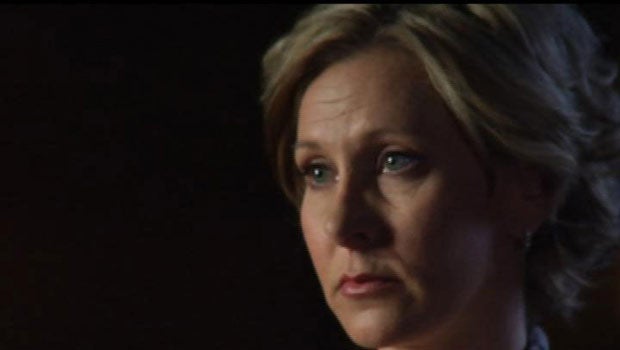 48 Hours Mystery: Escape from a serial killer
Produced by Katherine Davis
[This story originally aired on Oct. 23, 2010]
On Sept. 27, 1992, Jennifer Asbenson was 19 years old and working at a home for crippled children.
"I was working the night shift there from 10 p.m. until 6 in the morning... I went to the bus stop to catch the bus to go to work. I had run in the store to buy something and I saw that the bus had left without me, so I came running out in a panic. I knew that was the last bus for the night. I had no way to get to work.
"Somebody pulled up in a car and just said, 'Hey, do you need a ride?'"
The man, she says, looked "totally harmless."
"And I didn't feel any sense of fear. When I got in the car he was so nice and so charming."
"That's what makes him evil is that you don't see it right away," says Cook County Prosecutor Jim McKay of the man in the car. "He is smarter than you average serial killer. He learned as he killed..."
McKay says the man was waiting for Jennifer when she got off of work the next morning.
"Well, the next morning when I saw him, I wasn't scared," she tells "48 Hours Mystery" correspondent Susan Spencer. "My thought was, 'This guy is not dangerous. If he wanted to do something to me he had his chance last night.' And he said, 'Let me give you a ride home.' I opened the door and I got in the car."
The pleasant stranger who'd picked Jennifer up had suddenly snapped.
"When I was just in the middle of talking... he just grabs me by the hair and he just shoved my head into the dash. He had a gun to my head... And the whole time I was saying, 'Is this a joke? Is this is a joke?' And all he would say was 'Shut up bitch. Shut up bitch.'"
"He's angry. When he gets angry the evil side comes out," McKay says. "An explosive temper... a hater of women... and as violent and as evil as you will ever see."
"And he had a knife. And he pulled out twine... wrapped the twine around my hands," Jennifer continues. "Then I just saw telephone poles. Each telephone pole that went by I just got more scared and more scared, 'cause we were going further and further and deeper into that desert. And I just felt doomed. I didn't know what was going to happen."
Now, an apparent madman held her hostage in the California desert.
"I was just in a state of shock. And so I tried to think, 'How can I get out of this situation?' And I had no answer.
"I knew he was gonna to hurt me. Rape, definitely. Definitely I knew that... And then he, uh, finally parked and shut off the car. He used the knife to cut my shorts off of me. Then he cut my underwear off. He climbed into my seat. And he just started punching me in the head."
The man beat her and then forced her to perform oral sex. He tried to rape her, but couldn't.
And then he just told me to tell him that I loved him. Of course I was gonna, if that would save my life. So I said 'I love you,' and he smacked me across the face and said, "You're lying bitch. Say it like you mean it." And I said "I love you," and he said "You're lying. Say it like you mean it."
"And he grabbed my underwear and he shoved them in my throat," she recalls, crying at the memory. "His whole fist went in my mouth and he's yelling at me, 'Tell me you love me! Tell me you love me!' And I just started crying."
"You felt like if you could say it right that he might stop?" Susan Spencer asks.
"Yeah," Jennifer replies. But says she knew he wasn't going to stop.
"So now he's mad. He grabs me by the throat and he starts strangling me. And then suddenly I couldn't see anything. And I felt like I heard music and it was just white. I thought I was dead."
Moments later, she was jolted back to reality.
"He was trying to revive me. He was bashing me around, pushing my chest. And I just came back into it like you do when you think you fall asleep and then wake up. And I just thought, 'Oh gosh, I'm back in this nightmare again!' And I wanted to die because there was no other way of getting outta there."
But then suddenly, she says, there was a way out.
"He opens my door and he tells me to get out. And I just thought, 'Run!' The next thing I knew I was flung onto the ground by my hair. And he pulled me by my hair all the way back to the car."
With that, Jennifer lost all hope and even begged her attacker to put her out of her misery.
"I just wanted it to end. I said, 'Kill me," she says, demonstrating how he put the gun to her head. "And he pulled the thing back and I went - I was getting ready- and nothing happened. And then I just started screaming at him, 'Kill me moron! Just kill me!'"
But he toyed with her like a cat with a mouse; dragged her to the back of the car and opened the trunk.
"He threw me in there and shut it. And he started driving down the road. And then I was thinking, 'He's done this before. He knows exactly what he's doing.'"
What Jennifer didn't know at the time, was that in fact, her attacker had done this before.
Six years earlier, on the evening of Jan. 18, 1986, a popular, outgoing 23-year-old named Robbin Brandley was working as an usher at a jazz concert at Saddleback College in Mission Viejo, Calif.
"She just was always, like, willing to just lend a hand for anybody," says Robbin's brother, Jayeson Brandley.
Robbin's brother and her parents, Jack and Genelle Reilley, agree Robbin was a go-getter with big dreams.
"She loved to make people laugh. She was intelligent, inquisitive. She had a lot of friends," says Genelle.
"She ultimately, I think, wanted to work in the entertainment industry," says Jayeson.
"She was bound and determined," Jack says. "She was gonna make a mark."
After the concert that January night, Robbin walked toward her car, but she never got there. In the dark parking lot, someone was waiting with a knife.
"She was found by a security guard at the college. And he noticed something that he believed to be a mannequin laying by a car. And, of course, at closer inspection is when he found Robbin," says Helen Moreno, who was a supervising investigator with the Orange County D.A.'s Office. "She had been stabbed 41 times it was later determined."
Forty-one stab wounds to the back, neck, chest and hands.
"It was so unexplained and it was so random and it was so brutal," Moreno says. "And there was no evidence at all that there was any robbery. ...her purse was there. Her keys were laying right there by the scene."
Early the next morning, a police officer knocked on the Reilley's door.
"He said, 'She's been murdered.' And it was just a total shock," Jack recalls. "And I said, 'Well, who did it?' And he said, ''We have no idea.'"
Orange County Deputy D.A. Howard Gundy says there was nothing at the crime scene that was of any help in terms of identifying a perpetrator.
"So he basically came in from the darkness of the night, attacked quickly, suddenly, violently. There was no way that she could resist," Gundy says. "And then he went back into the darkness of the night."
Unfortunately for investigators, there were no witnesses. Months passed, then years. Robbin's parents tried desperately to keep her story alive.
"We figured we'd have to solve the case ourselves," Jack says.
They hired a private investigator - even believed the murderer might be a fellow student - but nothing at all was found.
Over the years, Robbin Brandley's sadistic killer would go on to kill again and again. But, of course, no one knew that as Jennifer Asbenson lay, terrified, in the stifling trunk of that same killer's car.
The stranger had forced her into the trunk of his car, but Jennifer Asbenson had no idea he was taking her to his favorite killing ground.
"When I was in the trunk, it was pitch black," she says. With her hands bound, she says, there was nothing she could do.
"He's gonna either torture me or put me in a dungeon somewhere, or whatever the most horrible thing I could think of."
Jennifer's fear was justified. In fact, after murdering Robbin Brandley, her attacker went on a killing spree. Before he was finished, four other California women would die.
The women were all prostitutes, dumped in the windswept desert just outside the city.
Julie McGhee was the first in the summer of 1988.
"She had been picked up in Palm Springs, taken out to this area of town that's - that's pretty much abandoned... and [was] shot and killed," says Palm Springs Lt. John Booth. "He left virtually no evidence behind."
The next year, Tammie Erwin was killed.
A few years after that, Denise Maney was tied up with twine and tortured.
In the meantime, in nearby San Diego, a fourth prostitute, Mary Ann Wells, was shot dead.
Four victims and similar crimes, but no one who investigated any of these crimes spotted a pattern. No one connected them - not to one another - and certainly not to a serial killer.
Photos: Serial killer's victims
"After exhausting all the leads, we still were nowhere," Lt. Booth tells Spencer as they drive in his patrol car.
"You almost can't help but wonder whether or not those women had any inkling of what was about to happen to them," notes Spencer.
"Yeah. I mean, you know, if you could rewind Monday morning quarterback, you'd say to yourself, 'Don't get in that car,'" he says.
But Jennifer Asbenson had gotten in that car. And as its driver was barreling down the highway, she lay in the trunk, terrified.
"I just laid there and just thought about how I was gonna die."
Desperate, she did the one thing that could bring some comfort.
"And that was pray. And I just started crying, saying, "God, if there's a God and you know that I'm in this trunk right now and you know that I'm about to be cut up into many pieces, please take my life or let me get away."
She thinks that what happened next was - pure and simple - divine intervention.
"And I just suddenly got hysterical strength... and I just started hearing all the twine busting behind my back... And I just busted it off. It was a miracle... But then I have this twine off. Now what?"
In the total darkness, with her life on the line, Jennifer discovered a confidence and ingenuity that surprised even her.
"When I was in that trunk, all I had to do was reach from one corner to the other corner and say, 'This is the width of the trunk.' And then I went like this [slaps her hands together]. I thought, 'That's where the lock is. So the mechanism to unlock the trunk is on the inside. It's with me.'"
Working only by feel, she ripped away carpet, yanked on wires and poked her fingers around the metal frame.
"And then I felt this thing. It just felt like a little lever. And it clicked and I saw light just coming in everywhere... And I just went, "Oh, my God. I can get out.' And then I got so excited that I lifted it even more."
Suddenly, her assailant was shouting and swearing; he'd just realized the trunk was open.
"He pulled over. And he came around. I grabbed the trunk and pulled it down. And [he pushed down] on it to make sure it was shut... So then he got back in the car. And he pushed the gas on all the way to the floor and he got stuck."
It was her only chance. "I just flipped it up and jumped out."
Barefoot and naked from the waist down, she ran for her life down the road.
"I was running like I was in the Olympics... And there was one car coming alongside of me."
Sprinting alongside the car, Jennifer begged the older couple inside for help.
"And the woman beat her husband with her purse or something and said, 'No! No! Go!'"
They sped up and drove off.
"Right after they took off, I looked back and he was chasing me with a machete. And I just started running faster.... And then I saw a truck coming."
Gasping for breath, this time Jennifer ran straight toward the oncoming truck.
"And then, I just heard their wheels screech."
The two startled men in the truck, both Marines, opened the door.
"I just started screaming, 'That guy, he - he tried to kill me," she recalls. "I said, 'The car - the car, right there.' And the car was gone."
Her attacker already had sped off.
She had survived. But over the coming weeks, that brought her little relief. Jennifer's life soon began to unravel.
"It was the beginning of a downhill journey for me," she says. "I just started getting so out of my mind and so scared by everything... And he knows my name, he knew where I lived. He knew a lot about me."
But police knew nothing about him. They had no suspects, no witnesses and no leads. Interest in Jennifer's case began to fade, as did the scars on her wrists.
"That was my only opportunity to try to tell somebody what happened to me," she explains. "So I actually took a razor blade to them and I opened them all back up... And then, I just remember waking up in a mental hospital strapped to a bed. And that's where I would live for the next three-and-a-half to four years - in mental hospitals."
It was the only place where she felt safe. Her attacker had disappeared in the desert dust... but Jennifer knew that somewhere he was still out there.
Jennifer Asbenson had managed an astonishing escape from a sadistic serial killer, but she hardly felt lucky.
"My life just spiraled downhill because he was on the loose," Jennifer tells Susan Spencer. "It was like I had saved my life and then I felt like, for what? Everything that I looked at, I looked at differently. I saw no beauty in anything... Everything just seemed evil."
Confirmation of that evil would come from halfway across the country when her attacker went back to work.
"It was the afternoon watch in August, early August. And I was paged. They said that there was a body floating in Wolf Lake," says Chicago Homicide Det. Don McGrath.
On a hot day in 1996, Det. McGrath responded to what's called a "body dump" at a desolate lake outside the city.
"There was, in fact, a nude female body floating face down about 20 feet off the shore," he says.
It was obvious she'd died a violent death: shot three times and had 29 stab wounds.
"I'd never seen anything quite like that before," McGrath admits. "And I was quite disturbed... This was very unique in and of itself, showed a lot of emotion, a lot of rage and a lot of anger towards the victim."
Police soon identified the woman as Lynn Huber, a local prostitute. As to who killed her, one piece of that puzzle fell into place quickly.
"When I got back to the office, the buzz was already this was a second body in Wolf Lake," McGrath explains.
Four months earlier, it turned out, the naked body of another prostitute, Laura Uylaki, had been found floating in the same lake. McKay says she had been shot in the head and the chest.
And one month before, the body of a third prostitute, Cassandra Corum, was found dumped in the Vermillion River, just an hour from Wolf Lake.
The case fell to Cook County Assistant State's Attorney Jim McKay. He says investigators could find no real link among the three murders until they checked ballistics.
"The bullets found in those women's bodies were fired from the same gun, the same .38 caliber revolver," he says.
But unfortunately for police, "there's a ton of them out there," McGrath says of the gun. So without the actual gun, the case went cold.
Then, in April 1997, Indiana police contacted McGrath with a tip. A prostitute had called them from a seedy motel. They said she and her customer, a man named Andrew Urdiales, were having a fight, partly over his unusual requests.
"When they learned what Andrew Urdiales wanted to do to her and where he wanted to do it, they focused on Urdiales," says McKay.
He wanted to duct tape and handcuff her, the prostitute said, and take her in the back of his pickup truck out to Wolf Lake.
"She knew what had happened at Wolf Lake?" Spencer asks McGrath.
"Yes, she did," he replies. "And she wasn't having any part of that."
Andrew Urdiales, 32, was a security guard at an Eddie Bauer store on Chicago's tony Michigan Avenue. Urdiales had been arrested months earlier in Indiana for illegal possession of a firearm, which police had confiscated.
McGrath says, "the curious thing was the weapon was a .38 revolver, Smith & Wesson, one of millions."
Strictly on a hunch, McGrath and his partner retrieved the gun just a week before it was scheduled to be destroyed. They raced it to the Illinois crime lab.
What McGrath calls "a shot in the dark" hit its mark: tests proved Urdiales' gun had fired the bullets that killed the three women.
Photos: Serial killer's victims
When asked if he was surprised when the gun came up as a match, McGrath replies, "I don't think surprised is the correct word. We were astonished. It was incredible. What a stroke of luck."
On April 22, 1997, the detectives set up surveillance outside the working-class home Urdiales shared with his parents.
"[At] 9 o'clock in the morning or so, a guy comes out the back door starts walking down the alley," McGrath explains. "We approached him. We identified ourselves."
"He's nonchalant about this?" Spencer asks.
"Absolutely," says McGrath. "He's dressed in his guard uniform with his little brown lunch bag, heading to work... And we said we had a few questions. He only asked when we were done if we could give him a lift back to the train so he could get to work."
Once they got to the precinct, Urdiales was just as helpful - downright chatty - volunteering that he was an ex-Marine once stationed in California.
"He didn't seem to have a chip on his shoulder or an attitude," says McGrath. "He was very cooperative with us."
"First he was asked if he knew Laura Uylaki, Cassandra Corum or Lynn Huber. He was shown pictures of all three of these ladies. He denied knowing these girls," McKay says. "Then he was asked about the gun that he was arrested with."
"We asked him if he had ever loaned the gun out. And he said 'no,'" adds McGrath.
In fact, Urdiales bragged that he'd always been careful to keep the gun locked up in a tackle box in his basement and no one else had a key.
"What are you thinking when you hear this and realize that he's just getting in deeper and deeper?" Spencer asks McGrath. "Bingo. Gotcha," he replies.
"Then the police lay the bomb on him," McKay says. "That that gun, to the exclusion of every gun in the world, was the murder weapon that killed these three women in Illinois."
"He just looked down and loosened his tie and he said, 'I guess I won't be going to work today.' And I said, 'Well, you got some 'splaining to do," McGrath says with a laugh.
But Urdiales had a shocker of his own.
"He said, 'Well you might wanna call California,'" McGrath explains. "And I said, 'OK, why would we want to call California?' And he said, 'Yeah, there are some open homicides that they probably would like to know about.'"
Within hours of learning about Urdiales' confession, Palm Springs Lt. John Booth and Orange County Investigator Helen Moreno arrived in Chicago.
"[It] wasn't until we got there and we were briefed... then the magnitude starts, starts setting in," Moreno says. "And you think, 'Wow, you know, this guy is a prolific serial murderer.'"
"When you walk into that room, what is going through your mind?" Spencer asks Lt. Booth.
"To be honest with you, 'don't screw this one up.' This... is as big as it gets. Don't screw this up," he laughs.
In a cramped room at the precinct, Lt. Booth sat down to chat with Andrew Urdiales, who declined all offers for a lawyer.
Booth describes Urdiales' demeanor as "very matter of fact... He wasn't scared. He wasn't upset."
Urdiales told investigators he had grown up in a close-knit family with loving parents. But he admitted that other relationships never had come easily.
"He really did not have close friends. He was a loner," says Moreno.
After a frustrating stint in the military, he was honorably discharged and moved back home to his parent's home in Chicago. He took a job as a security guard and was even voted union representative.
McKay says there's no doubt Urdiales was leading a double life.
"When he wasn't at work, when he wasn't at home with his family, he was out trying to pick up prostitutes," he says. "And God forbid if they did anything to piss him off. They were gonna die."
To investigators, Urdiales matter-of-factly described exactly how they died; how he tortured and killed eight women.
Urdiales: I walked her toward the desert... and then she turned around. This time I took the knife out. I started stabbing her for some reason.
Lt. Booth: Do you remember where you stabbed her?
Urdiales: Just in the body several times. In the chest, maybe stomach.
Urdiales: The next thing I know I had the .45 was pointed at her. And it just exploded and went off.
"It just seemed like we'd opened the faucet and he was draining the tank," says McGrath.
Booth says Urdiales remembered everything.
"We're talking years and years and years later and remembering what she said, what color of flip flops she had on, what color underwear she was wearing.
Urdiales: I remember she was wearing like a one-piece, like a jumpsuit, short-sleeved and short here... She had on like a bunch of necklaces on her neck.
Booth says all the details about what the victims were wearing and where he dumped them were spot on.
"He went down to the shoes and said, "They weren't leather tennis shoes, they were cloth tennis shoes," Booth says. "Tammie Erwin. That's exactly what they had. Exactly. She had cloth tennis shoes on... My feeling was because he knew it so well, he probably has relived this several times. It's etched in his brain."
"I was creeped out," Booth admits. "Granted I am eight inches taller than him and I'm 100 pounds heavier than him... And I was creeped out.
Robbin Brandley's murder at Saddleback College in 1986 was his first, Urdiales said. He was a Marine, stationed at Camp Pendleton.
He said it began with some unexplained incident at the base... something that set him off. He got in his car and just started driving.
Video: Urdiales confesses to the murder of Robbin Brandley
Urdiales: I don't know, I was just getting aggravated. Pissed off about something. I was just driving around that area and I noticed a sign that said Saddleback College so I stopped and I just parked my car. I was walking and I had my knife with me. I don't know why.
When he spotted Robbin Brandley walking to the parking lot, he hid behind a car.
Urdiales: I started walking towards her, behind her, and she turned around and looked but didn't say anything... But then she saw the knife and she screamed briefly and I put my hands over her mouth...I think I said I wanted her purse. The next thing I know the knife went into her back once, twice, several times [sighs]. She fell...
Moreno says she is convinced that Robbin Brandley was just in the wrong place at the wrong time.
"He wanted to hurt somebody that was weaker than him. He wanted to hurt somebody that was vulnerable," says Cook County Prosecutor Jim McKay. But he says there is no answer to that big question of "why?"
"You'd have to get inside the evil mind of Andrew Urdiales to figure that one out," he continues. "There was a great deal of hatred and rage certainly behind every one of those stab wounds. He didn't even know her. She didn't do anything to him."
That rage surfaced again and again over the next few years, McKay says, as Urdiales became a smarter and more methodical killer.
"He planned a lot of these murders," McKay says. "He prepared himself not only to kill, but to get away with it."
Urdiales was so prepared, that in the years after he'd left California, he kept equipment for his killings in a storage locker near Palm Springs; his special "murder kit".
McKay says the murder kit contained a .45 caliber pistol, ammunition, a machete, masks, license plates from Illinois, shovels, twine and duct tape. "All types of items he used if he needed to."
Orange County Deputy D.A. Howard Gundy says Urdiales would fly in, rent a car, grab his murder kit then pick up a woman and kill her in the desert.
"You think he came back from Illinois specifically to kill somebody here?" Spencer asks.
"I think that he came out here, he was on vacation and he was looking to do what he enjoyed doing when he was on vacation," Gundy replies.
It was a vacationing Urdiales who picked up Jennifer Asbenson at the bus stop in September 1992. As with all the women, Urdiales remembered every last detail.
Video: Urdiales confesses to the attack of Jennifer Asbenson
Urdiales: And I looked over and I pulled down the window and asked her, "Do you need a ride?" And she didn't really hesitate - she got up and she got in the car.
Urdiales: "She was a very pretty girl. Had her hair tied up in the back.
Det. Booth: Do you remember what she was wearing?
Urdiales: Well, I remember she was wearing a gray sweatshirt.
Det. Booth: OK, what else?
Urdiales: She had on white, you know, like sandal-type shoes.
His story matched Jennifer's exactly.
Urdiales: I told her to turn around and I tied her hands behind her back...
Det. Booth: OK, then what happened?
Urdiales: Suddenly I had my hands on her neck. I just started squeezing her, choking her with my hands...and I put her in the trunk... But then suddenly before I could get out there I seen the hood kind of popped open and she had her hands free at the time. ...and she went screaming"
He admitted he was furious at her escape.
Urdiales: "I just got in the car... and sped off. I just left a big cloud of dust. So that was the last time I saw her. "
But he will see her again...his only surviving victim will confront him in court.
The savage attack that nearly took her life continued to haunt Jennifer Asbenson.
"I didn't know if he was around me," she says. "I was very panicked all the time."
Then in 1997, five years after her attack, a police officer knocked on her door and asked her to come down to the station.
And he said, 'I'm gonna put 10 pictures on the table and I want you to tell me if anybody looks familiar.' And my eyes went right to him. I said, ' He's right there!' And he picked up the picture and he said, 'Do you know who this is?' And I said, 'It's the man that attacked me, that tried to kill me.' And he said, 'This is a man that killed eight women, and you are the only one that got away.'"
Three weeks later, Jennifer came face-to-face with her attacker at a pre-trial hearing in Chicago. She was brought there by a syndicated TV show.
"What was it like the first time you actually saw him again?" Susan Spencer asks Jennifer.
"It was just sickening," she replies. "After the hearing was out, I tried to get answers from his family... And I was screaming in the streets of Chicago, 'Why? Why did he do this? You had no idea that he was a maniac like this? You had no idea?'
"And then they got across the street and then I saw his sister stop," Jennifer tells Spencer. "And then she turned around and she just started hustling back across the street and I got kind of nervous."
"We don't even understand this ourselves," Urdiales' sister says to Jennifer, giving her a big hug. "I'm really sorry. That's all I can say to you. That's all I can say to you. I'm sorry."
"I was so relieved when she hugged me," Jennifer continues. "That's all she had to do... It was a sign that they cared."
Five years later, Andrew Urdiales finally went on trial for the murders of two of the Illinois women. Jennifer took the stand.
"It was hard," Jennifer says of testifying with Urdiales sitting there. "I would look at him - he was never looking at me... And he would have no emotion to anything that I said."
In agonizing detail, she told the jury how Urdiales had sexually assaulted and tortured her.
"How did the jury react when you testified?" Spencer asks.
"They cried," Jennifer tells Spencer. "I wasn't just speaking for me. I was speaking for eight other women that needed justice. It - it wasn't about me. What he did to me was - was minimal. What he did to them and their families is gonna be forever and he needs to pay."
The jury agreed and rejected Urdiales' claim of insanity, sentencing him to death - which has not changed California's determination to also try him for the five murders he's been charged with there.
"Why is it necessary for California to even bother with this?" Spencer asks Orange Co. Deputy D.A. Howard Gundy.
"What happens is that - that there are folks here that have lost a child and that's something that these people have to - have to live with," says Gundy.
"You feel an obligation to them."
"Yeah, I do."
That trial can't happen soon enough for Robbin Brandley's family.
"The pain is never closed. The missing her - that's never closed," says Robbin's mother, Genelle Reilley.
"And I wish she was around to see my kids," adds Robbin's brother, Jayeson Brandley. "And I wish, you know - she was around to show me her kids that she would have had."
But the fact that Urdiales is finally paying for what he did has confirmed Jennifer's faith and given her a new appreciation for the joys of life... one 13-year-old joy in particular.
"My daughter, Augusta is... my little miracle," Jennifer says. "She gives me hope."
Jennifer has talked with her daughter and says she "knows the whole story."
When Spencer asks Augusta what she thinks about her mother's escape, she replies, "I think that's amazing... When I think about it, it kinda... just brings my faith stronger. And...I know that I can do anything once I set my mind to it. And I have the confidence that I can."
"Because you know what she did?" Spencer asks.
"Uh huh. And I think it's just like, what you think is impossible isn't always impossible."
Jennifer says a day doesn't go by when she does not think about what happened to her.
"Really, I just wake up every day wanting to do something remarkable. And if I don't, I go to sleep at night and wake up the next day just wanting to do something remarkable again."
"Because you were the one who got away?" Spencer asks.
"Yeah. I'm just grateful to be alive."
In March 2011, Illinois abolished the death penalty. Andrew Urdiales's death sentence was commuted to life in prison.
Urdiales will be extradited to stand trial for the five murders in California. He could still face the death penalty.
Thanks for reading CBS NEWS.
Create your free account or log in
for more features.