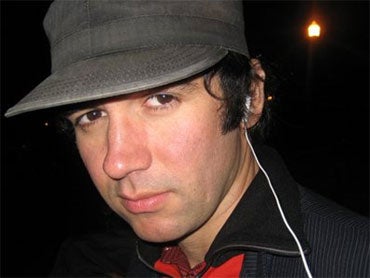 48 Hours Mystery: A Case for Murder
For San Francisco Fire Department paramedic Shannon Stabile, June 2, 2007, started out like any other.
"It was just a typical San Francisco day, where the fog is really dense but the air is really crisp and clean. Saturday morning, typically what you do is you find your open coffee shop, go grab a cup of coffee," she said. "Then the tones go off. OK. We gotta go. So we grabbed our coffee and off we went."
"It was kind of foggy and I'm always a little foggy in the morning. I remember enjoying the coffee," added paramedic Kris Moore. "I think we even said to each other it was time to wake up."
Stabile said police tape was already up when they arrived at the scene.
"As we were walking up to the house, the wind started to blow. As soon as I hit the door, the smell was very distinctive, because blood smells like iron. It hit me like a wall. And there was so much of it," she said. "It was just unbelievable the amount of blood. I had never seen anything like that… I couldn't imagine what his last moments were like."
"We were only in the house - I'm not even sure we were there for a minute. And it was kind of hard to put together what had happened," said Moore.
"You can see when he started to pass out, because the hand prints and smears are going down the wall because he's falling backwards. It was very sad because you could tell he was grabbing at anything," Stabile said. "That was the most unusual crime scene I had ever seen. And I did deem it as a crime scene."
News report: 36-year-old Hugues De La Plaza's family and friends refuse to believe he killed himself… de La Plaza, a French-American citizen, was stabbed three times after coming home from a neighborhood bar… His door was locked, no sign of a struggle, no weapon was found.
"Hugues was the love of my life," said Melissa Nix, a former girlfriend of Hugues de la Plaza. "Once you fall in love with somebody, there's always a part of you that loves that person."
"Walking into that crime scene, anyone with any kind of experience would not ever think that was a suicide," Nix told "48 Hours Mystery" correspondent Maureen Maher. "The Medical Examiners report determined that Hugues died of stab wounds. She was not able to determine whether they were self-inflicted or if he was stabbed by somebody else."
"I did not call this a suicide at the scene," said Assistant Medical Examiner Dr. Venus Azar. "In fact, I remember saying, 'This is a homicide.' I've been swayed back and forth because none of this makes sense. Who would want to kill this guy? What's the motive? It wasn't robbery. There's no evidence of a struggle."
"My gut tells me it's a crime of passion," Nix said. "Hugues was dating a lot of different women and maybe not using a lot of discretion about who he dated."
"Things that you wouldn't expect to happen can and do happen. People can spontaneously decide to kill themselves," said Azar.
Said Nix, "Hugues De La Plaza was murdered."
Two years after the death of Hugues de la Plaza, Melissa Nix is a woman consumed.
"When you love somebody, they don't die on your watch," she said. "I loved Hugues. If I could have protected him, if I had made sure that he was OK, if I was still in his life, maybe he would still be alive."
Since the day Hugues de la Plaza was found dead inside his locked San Francisco apartment, Nix has been fighting for answers as to how and why he died.
She refuses to accept that the man she loved could have possibly died by his own hand… a theory raised by the San Francisco Police Department.
"I knew Hugues and I knew that he did not commit suicide," Nix told "48 Hours Mystery" correspondent Maureen Maher.
He was, she said, too full of life. "His smile was something that everyone talks about."
Hugues' smile is what caught her eye when Nix first met him at a party.
"He was also pretty handsome," she said. Well, that and his French accent.
"So I just went over and introduced myself and I asked him out," she explained. "He was cosmopolitan. He loved art, music. He traveled a lot. He challenged me. He really stimulated me, made me think about things. He was so many things that I wanted in somebody."
Nix and Hugues dated for four years. Even after the relationship ended, they still had strong feelings for each other.
"And he was gentle, he was really gentle," Nix said. "The kind of connection that I feel to Hugues is invaluable."
So when he was found stabbed to death, she felt she owed it to him to find out why.
"My way of mourning him is to take action," she said.
Nix, a journalist by trade, began to piece together the last day of Hugues' life: June 1, 2007.
"In the morning he was fine. We went and had lunch together, played pool for the last time," said Neil Zarama, who worked side-by-side with Hugues at LeapFrog, an educational toy and software company where Hugues was a top sound engineer.
"I didn't actually really like him at first, I mean he was French," Zarama joked. "It was funny, 'cause he had this thing with French music - everything French was better. But as we started working together on projects, we became pretty good friends."
Mark Colacito was their boss and friend. He had watched how Hugues would bait women with his unusual name.
"Hugues enjoyed playing this game of being the Frenchman and he liked being French in American bars," Colacito explained. "When he would introduce himself, he would pronounce [his name] with the thickest French accent. It would become almost like 'Oog. Ooog.'
"A twinkle would come into his eye when women would ask him about French kissing. It was fun. It was playful."
And true to his reputation, Hugues de la Plaza had a date that fateful evening with one of the many women he had met online.
"He said the date didn't go too well.'We're just gonna be really good friends,'" recalled Zarama.
Afterwards, Hugues went to meet Zamara at a club - Underground SF - to celebrate his recent job promotion.
Friends Marin Thompson and Rey Osburn were also at the club. All agree that Hugues was in a great mood.
"He was laughing, he was smiling, he was hitting on girls. Classic Hugues," Thompson said. "He came up to me [and] gave me a hug, a kiss on the cheek."
"Saw him at the bar talking, smiling, laughing," said Osburn.
"He's had three whiskeys. He's happy and smiley," said Zarama.
"He did get a little drunk as we all were, and I tried to get him to dance with me and he wouldn't," Thompson recalled.
They passed around a camera that night, capturing a final photo of Hugues.
Soon, it was closing time. Hugues left, but not before making specific plans with Zarama for the next day.
"'I'll see you tomorrow,' because we were supposed to go on a motorcycle ride. Like, 'OK, cool. Call you tomorrow,'" he said.
On his way out of the club around 1:45 a.m., Hugues de la Plaza joked that he was going to look for a woman to sleep with. The last time any of those friends saw him alive, he said good night, heading alone towards his apartment.
According to Nix, "His walk is not through the best of neighborhoods."
At 2:06 a.m., a security camera captured an image that Nix and others are convinced is Hugues.
"And it was Hugues. It was his shadow, but I recognized his silhouette," she said.
He was still alone, steps away from his apartment.
The next day, Hugues had those plans to ride with Zamara.
"I ended up going by myself because he didn't answer his cell phone," he said. "I recall stopping and looking around and just calling him and cursing him. 'Where are you? I can't believe you are missing this. It's great out here.' Then I did the same thing the next day. I called him and he didn't answer."
On Monday, Hugues never showed up for work.
"I went to his house. And I saw, you know, the yellow tape. There was still blood outside. There was blood on the street as well," said Zamara.
"And what was your reaction?" asked Maureen Maher.
"I mean it was shock," he replied.
Nix was on the East coast when she heard the news.
"I can't describe the pain. It was piercing to know that he was dead. That he was so young. I put on my journalist's hat and I called the police department in San Francisco to confirm that he was dead. I screamed, I screamed."
Desperate for details, Nix immediately hopped on a plane to San Francisco and tracked down the inspector in charge of the investigation.
She said, "He wouldn't talk to me" and that he had no questions for her, either.
"There's something strange here" Nix said. "I have a sense there's nothing being done… that the San Francisco Police Department was not investigating this."
Her grief would soon turn to anger. Frustrated, Nix called a local crime reporter and asked "are you reporting this case?"
She was stunned by his response. "He said, 'Oh, I don't report suicides.' I said, 'How can you call it a suicide?'"
It's a good question, given all the blood that was found outside Hugues' apartment.
"So, I said to this reporter, 'Why would some one commit suicide and go outside?' It doesn't make a lot of sense."
Still reeling from the news of her ex-boyfriend's death, Melissa Nix had one more painful call to make.
"It was probably one of the worst things I've ever had to do," she said of the call to Hugues' parents, François and Mireille de la Plaza, living half a world away on the coast of France.
"I woke them up at four in the morning and François said, 'Oh, Melissa, it's so nice to hear from you. Why are you calling?' So in broken French I said, 'You know, Hugues est mort. He's dead.' François said, 'No. Ce n'est pas vrai. Ce n'est pas vrai. It's not true.' You know, 'Je ne sais quoi pas. I don't believe it. How can it be?' You know? And his mother was on the other line. And she got off the phone. And I could hear her screaming in the background."
The sudden loss of their only child was devastating.
François said he and his son were "extremely close. We used to phone each other when he was in the United States at least once a week, or e-mail contact each other."
"That must have been terribly shocking to you," said Maureen Maher.
"It was extremely strong," François said. "It was unimaginable."
Compounding their anguish was the fact that their son had been dead for two days before they had been told.
"San Francisco police never called?" Maher asked Nix. "No," she replied. "Not even the homicide detective to ask questions?" "No."
It was 8:20 a.m. on June 2, 2007, when Hugues' body was discovered by police in his Linden Street apartment, about 6-and-a-half hours after he had left the Underground SF. Collecting his morning paper, a neighbor noticed what appeared to be blood on the landing outside Hugues' apartment and called 911, triggering an investigation that is still at the center of an international debate.
Fire department paramedics Shannon Stabile and Kris Moore arrived shortly after Hugues' body was found.
"There was blood everywhere. I mean everything in the house had blood on it," Stabile said. "You could trace his footsteps through the apartment - like, watch how he traveled. And you can see his bloody handprints as he's sliding down the wall."
"The body was on this side, right next to this wall," Moore explained while looking at a photo. "And I distinctly remember his hands were kinda up a little bit."
The situation seemed pretty clear cut to Assistant Medical Examiner Dr. Venus Azar when she arrived about an hour-and-a-half after the 911 call.
"He was lying face up and I could see the areas of the stab wounds," Dr Azar said. "And I moved his shirt and I could see the stab wounds through the shirt, to the clothing."
Yet the more she saw, the less certain she was.
"You've been to a lot of crime scenes. How would you describe this one in comparison to others that you had been to?" asked Maher.
"Oh, it was unusual. In total, after looking through the whole scene and thinking about it, it was unusual," Azar replied.
"Unusual," because despite having the appearance of a homicide, Azar said the scene was a collection of contradictions, starting at the front door.
"That was found dead bolted. The back door to the kitchen, that door was locked as well," she explained.
"Did you see any sign of anyone else that may have been in there at the time that he was stabbed?" Maher asked.
"At the time I didn't know," Azar said. "It looked like there was some struggle with the TV overturned and there was broken glass, and his watch was broken."
"You did see his watch was ripped off?" asked Maher.
"When we moved him, his watch was under him."
"And did that say anything to you?"
"It looked like a struggle, I mean, that part."
But Azar said the blood evidence did not show any signs of a violent struggle for survival.
"I remember me and the crime scene people walking through and saying, 'Well, that's weird. He didn't really move very fast.' You know, literally, looking at the blood drops," she said. "There wasn't any evidence of any high-velocity blood stains; didn't look like he was in a fight or in a hurry to do anything."
Maher asked, "What would have been an indication of him moving around more quickly?"
"The blood stains were circular on the ground. They were greatly rounded," Azar explained. "And if he was running, the blood would have more of an elliptical shape with them, some tails to them. They would have a different appearance."
"The fact that he walked around slowly bleeding - that was the part of the scene that didn't make sense," said Azar.
And something else didn't make sense to Dr. Azar. "There was a cellular phone on the coffee table which he never picked up to use. No 911 calls were made from that. He walked by it."
Azar said there were no bloody handprints on the cell phone.
"There had been no call to the authorities for any kind of emergency assistance at the time," according to Inspector Antonio Casillas.
A 30-year veteran of the San Francisco Police Dept., Casillas has led the de la Plaza investigation since he first arrived at the scene at 10:28 a.m.
"And I walk up to the patrol officers and identify myself… I asked them what did they think happened. And they said, 'Well, we think somebody killed the guy.' I can see the blood on the sidewalk, on the stairs, on the stoop, on the railing. And I say to them, 'Any evidence of a blood trail leading away?' And they said to me, 'No.'"
"Can you see evidence of somebody who may have walked away from whatever happened who might have been injured?" asked Maher.
"Right. It is not uncommon at the scenes of stabbings, violent stabbings, for an assailant to injure themselves," said Casillas.
But the security camera never captured an image of an assailant or anyone else that night. It wasn't long before investigators began to wonder, could Hugues have done this to himself?
"Who would want to kill this guy? What's the motive?" Azar asked. "It wasn't robbery. His wallet and keys were there."
"I knew Hugues… and I knew that he did not commit suicide," stated Nix.
"It was totally inconceivable, it was unthinkable," said François of the notion.
It might be easy to dismiss the protests of Hugues' family and friends as a passionate reaction to the loss of a love one, except for one very significant fact: Casillas said no weapon was found near the body.
"There's no weapon. There's no weapon in the house," Nix said. "He was obviously murdered and the murderer took the weapon with him."
Within hours of Hugues de la Plaza's body being discovered, Inspector Antonio Casillas interviewed Hugues' neighbors, Orion Denley and Gitanjali Bhusan.
"I heard some people talking about, like, what's all this blood out here from? And then someone knocked on my door. And it was a police officer," Denley said. "The first thing I remember hearing was a really loud thud."
The couple told Casillas that around 2:38 a.m., shortly before the time Hugues was believed to have died, they were awakened by a disturbance outside their window.
"It sounded really loud the way they were opening the door," Denley said. "A little while later, I heard the door open and close again. And it sounded like somebody ran down the stairs. And then someone - it sounded like - they sat down and fell over. It was pretty loud."
Three days later, Dr. Venus Azar performed an autopsy on Hugues' body and documented three significant wounds: a puncture in his abdomen, a puncture in his chest, and a deep vertical wound in the left side of his neck, which severed major blood vessels and punctured his left lung.
The wounds were so severe, it seemed like they would have to be from an attack. But in Dr. Azar's expert opinion, they could have been self-inflicted.
"He's right handed. The wound to the neck goes from right to left and downward. The wound in his chest goes right to left and downward. The wound in his abdomen goes straight in," she explained.
Azar also found other injuries which could be considered defensive wounds.
"He had a superficial, sharp-force injury on his left forehead," she continued. "He had about a two-inch bruise on the front of his right forearm."
With no definitive clues from the autopsy, investigators looked to the physical evidence recovered at the scene to tell them if anyone else was there. But the only blood, hair and DNA they found belonged to Hugues.
"We knew that there were shoe prints. They did match his - Hugues' shoes. And nobody else's shoe prints were ever found in there."
There was other critical evidence to test. Two knives were collected from the kitchen. Investigators wondered: could Hugues have used one of them to kill himself?
"Those two knifes could have inflicted those injuries. They're not inconsistent with having been the knives used," Azar said.
When those knives were tested, no blood was found.
"Would you expect, if there is a knife that is consistent with the wounds, that it would have blood on it?" Maher asked Casillas. "Yes, I would be. I would."
Investigators have an explanation for that, as well. They believe it's actually possible that after Hugues stabbed himself three times, he then washed the knife clean.
"So if someone is in the mind to commit suicide and then stabs himself… is dying, bleeding everywhere, and goes back and washes the knife?" an incredulous Nix said of the theory.
And another theory they considered was that after critically wounding himself, Hugues walked outside.
"They said, 'We believe that Hugues could have hidden or buried the knife that he used against himself or thrown it out the window,'" Nix said.
But Casillas and Azar said the theory of suicide was never seriously explored until Casillas talked to an unlikely source.
"The real notion of a suicide started with Melissa Nix," said Azar.
"I know that specifically, very specifically, it came out of my conversation with Miss Nix," Casillas confirmed.
Casillas and Nix talked four days after Hugues' death; their conversation was recorded for police records. While "48 Hours Mystery" was not permitted to hear it, Dr. Azar was, and shared it with us.
"She was telling him that he was into Japanese culture. And that he would - watched a lot of Samurai movies. She says, 'Can I ask you one thing. Was this a hara-kiri? Did he go into his stomach?' She asks him that," according to Azar. "The person that allegedly knew him the most said, literally… would not be surprised if the investigation concluded he had done this to himself. She literally says that."
"It has been out there that you were the one that first told San Francisco Police that maybe it was suicide. Is that true?" Maher asked Nix.
"There were questions that were very leading on the part of Detective Casillas," she said.
When asked if he felt like he led Nix into a discussion of suicide, Casillas said, "No. If I wanted to ask her, 'Did he commit suicide?' I'm very capable of asking those kinds of questions."
"And did you ask those questions?" asked Maher.
"I don't recall I asked those questions," he replied. "I don't - I didn't ask her, 'Did he kill himself?'"
But Hugues' neighbors said they were questioned by Casillas about the possibility of suicide within hours of his body being discovered - days before Casillas spoke with Nix.
"He asked if we thought he seemed suicidal. And we were - we both, like immediately… said 'No,'" Denley recalled.
"He was asking us things about Hugues," Bhusan said. "Whether or not he took drugs. Whether or not he associated with prostitutes. Whether or not he was depressed."
Maher asked Nix, "Why do you think you're getting labeled as the one, then, who brought up this whole notion of suicide?"
"Because they don't actually want to take responsibility for their lack of investigation," Nix replied.
One of the charges made against the investigators is that the crime scene was never properly processed.
"Do you feel confident that all of the pertinent DNA evidence was collected at that scene that day?" asked Maher.
"No," Casillas replied. "I think in hindsight, there's a lot more that could have been done and it wasn't. And that's probably true for any crime scene."
"I think they knew right away it was gonna be workload that was more than what they wanted to do. So they just tried to say it was a suicide and move on with their lives," said Denley.
"It just - it doesn't make sense to say it's a homicide," Azar said with a sigh. "And it doesn't make sense to say it's a suicide, based on what I know."
And for that reason, Dr. Azar said she had no choice but to classify Hugues' manner of death as "undetermined."
"There are rare cases where that makes the most sense. And this, in my opinion, makes the best sense," she said.
Read the Medical Examiner's report
But that's a conclusion Hugues' father refused to accept. Instead, he took matters into his own hands and hired a private investigator.
"Do you believe, definitely, that Hugues was murdered?" Maher asked private investigator John Murphy.
"Yes. Absolutely," he replied. "Somebody killed Hugues De La Plaza."
With 25 years of experience as a private investigator, John Murphy knows the streets of San Francisco.
"He's walking alone in a neighborhood, dark. It's at night, and there's a bunch of bad guys walking around. It's not safe," he said.
And Murphy knows the kind of attention Hugues may have attracted on his way home from Underground SF.
"After 2 a.m., you have the night people. You have drug dealers, pimps, hos. It's not a safe place to be."
Murphy was hired by François de la Plaza eight days after his son's death.
"I immediately went to the scene. I started interviewing neighbors, just knockin' on doors," he said. "And then I come to find out after a day, that there was three stab wounds in Hugues de la Plaza. But there was no murder weapon. That's not a suicide."
Murphy spent hundreds of hours chasing leads and interviewing contacts. He said he could only come to one conclusion: murder.
Investigators know Hugues arrived home safely, had a bite to eat and used his laptop to cruise some dating and sex websites. At this point, Murphy believes, for some reason Hugues opened his front door and walked outside.
"I think he stuck right at the first landing," observed Murphy.
Based on the blood evidence outside, Murphy and François de la Plaza believe they know what happened to Hugues.
François demonstrated their theory outside on the steps of his son's apartment:
"So here's the attacker. I'm the victim. He stabs me. I lean forward and then he hits me twice more on the upper parts of my body. We think this attacker remained outside and my son went back into the apartment by way of protecting himself."
But if Hugues was murdered, who did it and why?
"There's two sides to Hugues," Murphy said. "There was the worker [who] got up every day. Then there was the after hours. He loved music. He loved drinkin', hangin' out with his buddies. And he loved women."
As a fellow ex-pat, Christophe Schuhmann was one of Hugues' best friends. "He was dating a new woman every night. And I said to him, 'You are going to burn yourself out.'"
When asked if Hughes would date someone else's woman, Schuhmann replied, "Oh, yes, of course." And what if she had a boyfriend or husband? He said, "He didn't care." And what if it was Schuhmann's girlfriend? "He didn't care."
Schuhmann said his friend was just looking for sex.
"There are several themes in every case," Murphy said. "In this case, there was the theme about the jilted lover or the husband or the boyfriend that found out, and lay in wait and killed him. I didn't find it."
Something else Murphy didn't find were any signs in Hugues' life that he was suicidal.
"Hugues had money in the bank. He had friends. He had plenty of girlfriends. He was livin' the life," he said. "There was no suicide note and no reason for him to kill himself."
"Things that you wouldn't expect to happen can and do happen," Azar said. "People can spontaneously decide to kill themselves. That happens."
"Is it possible from a physiological standpoint that he could have been stabbed, and if he was even in a slightly inebriated state, not have an understanding of what was going on, of how seriously wounded he was?" asked Maher.
"That doesn't make any sense," Azar replied. I've talked to two surgeons, trauma surgeons. That doesn't make sense to them. You don't walk around in a daze when you've just been attacked. A dying person will - they'll call out."
Murphy decided to get a second opinion. "I'm told by physicians and other experts that he's in a state of shock; he doesn't know what he's doing. He can't do anything logical 'cause he can't think logical. He's unable to make any kind of rational decision."
At one time, investigators believed drugs could be the reason why Hugues may have acted irrationally that night.
"Early on, I was told by unnamed police officers that it will come out that he was high," said Murphy.
"Casillas tried to convince us that Hugues picked up some sort of psychotic drug on his way home from SF Underground - was high off of his mind, used a steak knife in the kitchen to stab himself," Nix explained.
Later, toxicology reports put that theory to rest.
Murphy said there were no drugs at all. "No amphetamine. No heroin. No cocaine. Nothing."
Having lost all faith in the San Francisco Police Dept., François de la Plaza called French authorities for help. Acting under a rarely-used treaty, they got right down to business.
"They interrogated all the witnesses, all the friends - the interrogated more than 50 people in San Francisco," François said.
"I was interrogated by the French police, I was a suspect," Schuhmann said. He told Maher, "I loved it, because I was really certain that those people were doing a real police work."
The French reviewed all the investigation materials and retested all the evidence. According to François, they made a remarkable discovery: unknown DNA was found on Hugues' watch band.
"It wasn't Hugues' DNA on the watch. Hugues always wore his watch on his right arm," François explained. "We think that maybe he tried to protect himself with that arm, and at that moment, the watch broke and it fell off - and maybe has the DNA belonging to the attacker on it. So this could be a proof that there was actually a struggle."
After nine months of work, the French issued their findings in a 2,000-page report, which had a very simple conclusion.
"They're 100 percent sure that without any doubt that it's a homicide," said François.
Azar said it's just an opinion. "The cause of death and the manner of death are opinions. They're my opinion. You can have a different one."
When asked if the French report impacts his investigation in any way, Casillas said, "Not in a truly material way."
That's because the San Francisco Police Department's official position is that Hugues' death has always been treated as a homicide.
"We would not have been there if we didn't think it was a homicide," said Casillas.
Of the San Francisco Police Department's initial investigation, Murphy said, "They dropped the ball."
"That week, there were five death cases that were assigned to the homicide detail for investigation," Casillas explained. "I got three of the five that week. There's always going to have to be a balancing between the demands of the situation and the resources available."
Spurred on by the results of the French report, Hugues' family and friends are taking their fight to city hall. In February 2009, François de la Plaza offered a $100,000 reward for information leading to an arrest.
There is one thing everyone agrees on: someone somewhere knows what really happened to Hugues de la Plaza.
Two years after his passing, Hugues de la Plaza's friends held a vigil in his honor.
"It is so painful to wake up every morning and not know what happened to the love of your life, to your baby boy, to your best friend," said Melissa Nix.
"There hasn't been a day in two years that I haven't thought of my best friend," said Christophe Schuhmann.
In 2008, Nix asked the Office of Citizens Complaints to conduct an independent investigation. She accused the San Francisco Police Dept. and Inspector Antonio Casillas of neglect of duty in their work on the de la Plaza case. Seventeen months later, she received surprising results.
"The OCC report actually said that there was a failure for the first time in a public manner - this was an announcement, a public announcement that there was a failure," Nix said.
The report found no misconduct, but detailed how the investigation fell short: basically, it was too little, too late.
"They found that there was a lack of resources and there had been a lack of cooperation between the medical examiner, the crime lab, and the SFPD homicide detectives," Nix said.
"Do you take any responsibility or feel a sense of responsibility for some of the things in this case that may not have been done correctly from the beginning?" Maher asked Casillas.
"As a lead investigator, I am responsible for everything that was done or failed to be done. I am responsible," he said. "Nobody held a gun to my head when I took this job."
In August 2009, San Francisco got a new police chief, George Gascon, who made the de la Plaza case a top priority.
Gascon took the unusual step of asking an outside agency, the Los Angeles Police Department, to evaluate the case. "I recognized it was important for us to have a third-party reviewer," he said.
Gascon also met behind closed doors with Nix and Hugues' parents. And out of that meeting came a bombshell.
He confirmed that the San Francisco Police Department had quietly commissioned an outside review of the case. They received the report in February 2009.
"It's unbelievable that we just happened to find out about this," Nix said. "There's something about this is really fishy. Something smells bad to me."
An independent medical examiner from Marin County concluded, "The death of Mr. Hugues de la Plaza is a homicide."
"Of course its homicide," Nix said. "The shock is that this report has been hidden for as long as it has."
"48 Hours" obtained a copy of the report by Dr. Michael Ferenc, who saw evidence that Hugues was attacked.
Read the report
[Note: The date in the report, 11 February 2008, is a typo. It should be 11 February 2009.]
On the outside wall adjacent to the staircase he found "…blood consistent with cast off from the arm movements of a knife being plunged and removed…"
Ferenc also observed what may be an abrasion on the palm of Hugues' right hand that could represent "what is typically called a defense wound."
He also concluded that blood loss from the neck injury was so severe… Hugues would "expire in a matter of a minute or two." This could explain why he never called for help.
"So we have the French national report - homicide. Dr. Ferenc, Marin County Examiner - homicide. It's plain and simple, a murder," said Nix.
And yet, despite the fact that now two outside reviews have labeled Hugues de la Plaza's death a homicide, Dr. Azar continues to stick to her conclusion of undetermined.
"What would you need to changed Hugues de la Plaza's death from undetermined to homicide?" Maher asked Azar.
"Somebody that steps forward and says, 'I know what happened,'" she replied. "Someone told me they stabbed him, this was a drug deal gone bad, this was a wife's husband - someone that knows something."
Whatever the classification, police continue to investigate this case as a homicide, but to date not a single suspect has been named.
"Is there ever a time you will be able to just walk away and say 'We just won't know?'" asked Maher.
"This is something you can't walk away from," Nix said. "You can never get away from this."
"We would not be honoring our son if we walked away," François replied.
"Hugues might be up in Heaven saying, 'Have some champagne. Relax, go to the beach,'" Nix said. "But it's unbelievable painful to never know what happened."

---
The San Francisco Police Department and French authorities are continuing their investigations into the death of Hugues de la Plaza.
If you have any information, please call the San Francisco Police Department's Anonymous Tip Line at 415-575-4444.
To learn more about the case, click here
Produced by Josh Gelman, Doug Longhini and Shoshanah Wolfson
Thanks for reading CBS NEWS.
Create your free account or log in
for more features.