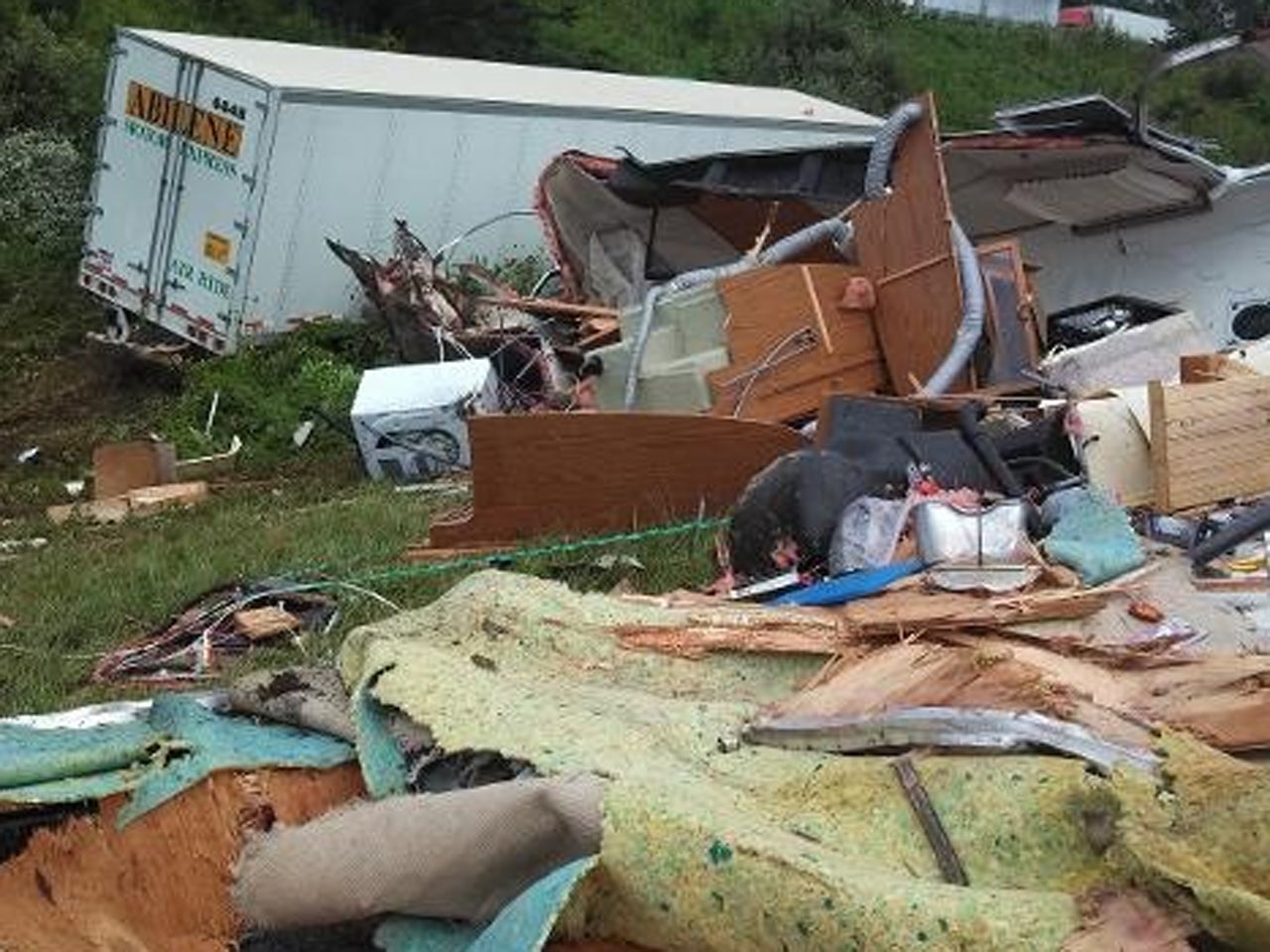 41 vehicle pileup injures at least 10 people in Va.
Updated 4:24 p.m. ET
LEXINGTON, Va. A two-car accident on Interstate 81 in central Virginia combined with blinding rain and speed as factors in a weekend pileup of 41 cars, trucks and other vehicles that injured 10 people, state police said.
Some tractor-trailer trucks from Sunday's pileup near Lexington remained overturned by the roadside Monday along with a crumpled camper, said State police Sgt. A.D. Nicely. Crews were planning to try to remove remaining vehicles safely once traffic eased up later in the day.
Nicely said witnesses and victims interviewed by police indicated a two-car accident preceded the pileup. One car came to rest in the median, partially blocking one lane while the other vehicle partly blocked another lane, both in the same direction, according to police.
Then a "torrential downpour" began as cars were trying to thread between the two cars, Nicely said. Witnesses reported blinding rain had limited visibility to 20 feet or less. He noted that speed also is believed to have been a factor.
"Everything came together there at one time," he said.
In all, six tractor-trailers were involved in the pileup involving the other vehicles and all southbound lanes were closed for hours. Traffic backed up for five miles before the interstate fully reopened late Sunday night.
None of the injuries was life-threatening, though two of the 10 injured were airlifted to hospitals, Nicely said.
State police at the scene tell CBS Roanoke, Va. affiliate WDBJ-TV those airlifted included a woman and a child.
The officer said some truck drivers veered off the road and overturned to avoid hitting other vehicles, likely saving lives.
"I believe that decision on their behalf saved us a lot more injuries or fatalities," Nicely added. "You don't know what would have happened when you start having 80,000-pound vehicles slamming into 2,000-pound vehicles."
Interstate 81 is a heavily used trucking route that, in Virginia, stretches from Bristol in the southwest part of the state to Winchester in the northwest part of the state. Much of the interstate in Virginia runs along the Appalachian Mountains chain.
Thanks for reading CBS NEWS.
Create your free account or log in
for more features.