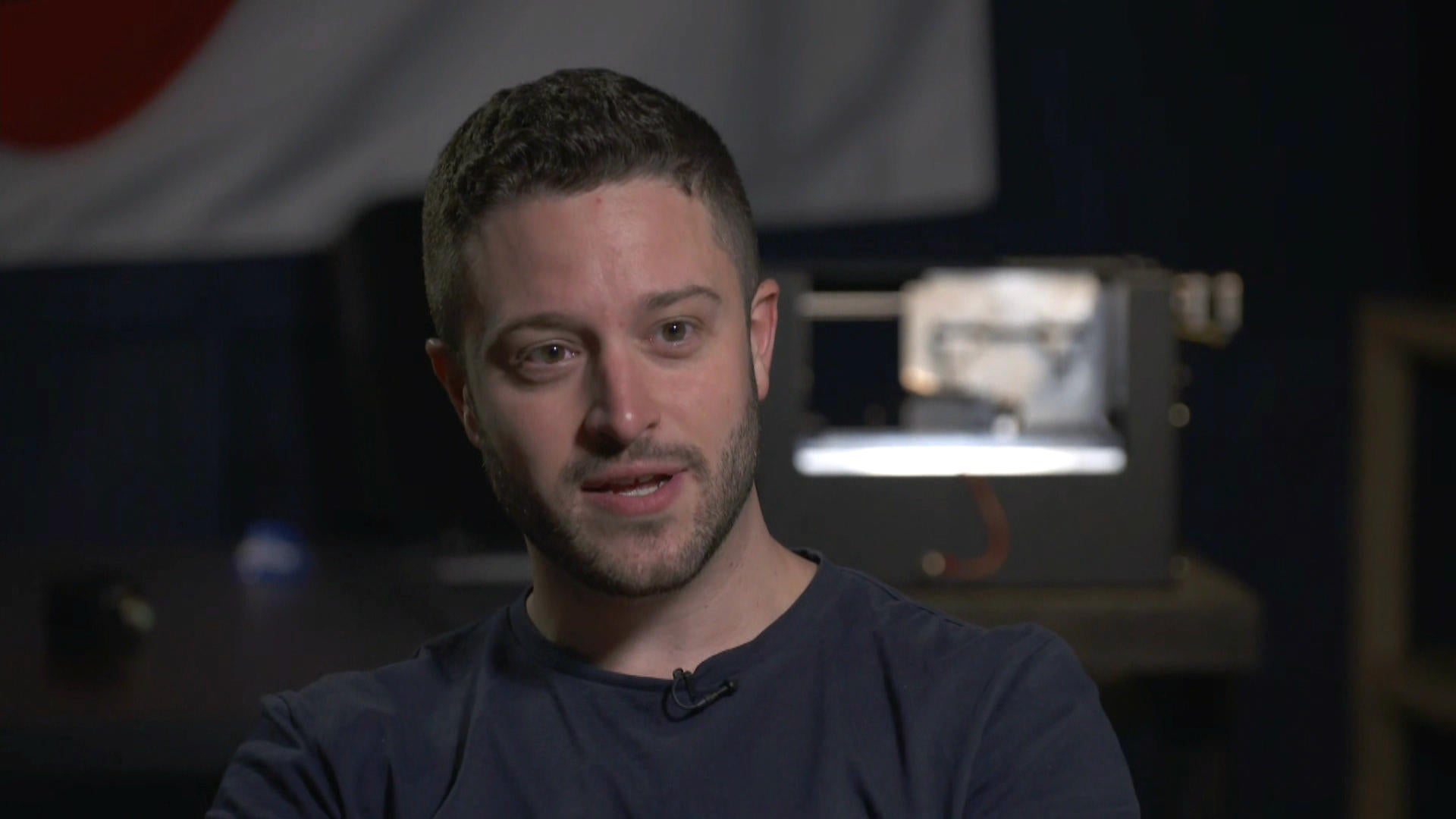 3D-printed gun blueprint maker Cody Wilson says "the debate is over"
A federal judge in Seattle is temporarily blocking the release of blueprints to make untraceable and undetectable 3D-printed guns. A group of eight attorneys general sued to stop a Texas-based company, Defense Distributed, from making the designs available online. The company reached a settlement with the U.S. government in June that allowed them to make the blueprints public.
Cody Wilson, the founder of Defense Distributed who has a tombstone outside his office that says "American Gun Control," believes that everyone in America has a right to build their own guns arsenal, reports CBS News correspondent Tony Dokoupil. In 2013, he built the world's first working plastic firearm. Now he's fighting to publish gun designs online – including AR-15 style rifles and handguns – so people can build them on their own.
Dokoupil spoke to Wilson hours before the judge's ruling came down, but he was clear with us: he believes he's already won.
"I believe that I am championing the Second Amendment in the 21st century," Wilson told "CBS This Morning."
"You think that's good for the safety of Americans. You think that's good for American families. You think that's good for American streets," Dokoupil said.
"Yeah, yeah," Wilson said, adding that he thinks it's "unquestionably" good for the future.
"I think access to the firearm is a fundamental human dignity. It's a fundamental human right," Wilson said.
Wilson's dream of a downloadable library of gun blueprints – and a world where anyone can easily manufacture a deadly weapon at home – stalled Tuesday. A Seattle judge blocked Wilson from publishing new gun files and questioned whether the Trump administration should have granted his company permission in the first place.
"It makes no damn sense. No damn sense at all to make those available," said Bob Ferguson, Washington state's attorney general.
Ferguson, who led the lawsuit by eight attorneys general, argued 3D-printed plastic weapons are dangerous because they're untraceable, often undetectable, and require no background check.
"What I'm doing is legally protected. ... I will go to the appellate level. I will go to the Supreme Court. I will waste all my time," Wilson said.
Wilson already published 10 blueprints as of last Friday, including files for AR-15 style rifles and handguns. The AR-15 schematics alone have been downloaded thousands of times.
"There is nothing good that can come with Defense Distributed uploading these files," said Po Murray, chairwoman of Newtown Action Alliance, a gun control group created after the massacre at Sandy Hook Elementary in 2013.
"It's a dangerous slippery slope into our future and our laws and our policies have to keep up with the changing advancements in technology," Murray said.
Wilson argues that it's already impossible to police 3D gun technology and he believes he has a free speech right to publish the designs.
"I'm talking about files. I'm not talking about the guns. I'm not a licensed gun manufacturer. I don't make guns at this location. I have data, I can share the data," Wilson said.
"When somebody downloads a gun from your website with your blueprints and kills somebody with it, how are you going to feel personally?" Dokoupil asked.
"I don't believe that I provide you with anything other than the general knowledge of what an AR-15 is," Wilson said.
But to fund his legal fight, Wilson's company sells milling machines, which come pre-loaded with design files that allow anyone to make their own AR-15 or 1911 handgun in about two days – with no serial number and no screening. They retail for $2,000 and there's a three-month backlog.
"Defense Distributed is still winning this legal battle, to be clear," Wired senior writer Andy Greenberg said. He has followed Wilson since 2012. He said in the long run, Tuesday's ruling is insignificant compared to the agreement Wilson already reached with the federal government.
"Defense Distributed now has the ability to post whatever files they want and no one has successfully been able to stop them permanently from doing that," Greenberg said.
"What makes you comfortable with a world where people can pump out guns in their garage any time they want to?" Dokoupil asked Wilson.
"What's going to make me comfortable... is when people stop coming into this office and acting like there's a debate about it. The debate is over," Wilson said, adding, "The guns are downloadable. The files are in the public domain. You cannot take them back. You can adjust your politics to this reality. You will not ask me to adjust mine."
Wilson said he follows all required laws and regulations and even screens people who are looking to buy his milling machines. He also said he won't publish any new blueprints on his website until September while the case works its way through the courts.
Thanks for reading CBS NEWS.
Create your free account or log in
for more features.