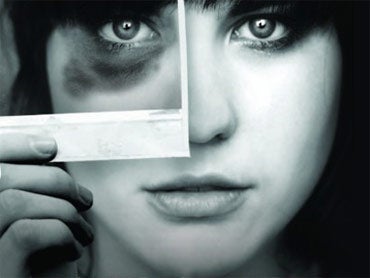 30% of Teens Report Abuse in Relationships
CBS Evening News Anchor Katie Couric reports that an alarming number of American teenagers have experienced abusive relationships.
"All I remember was landing face first on the floor," said Tina, 18.
Tina - disguised for her safety - says the violence spiraled out of control during her six-month relationship with her 17-year-old boyfriend.
Get Help
National Domestic Violence Hotline: 1−800−799−7233
National Teen Dating Abuse Helpline: 1-866-331-9474
"It's Time to Talk" - Learn the Signs of Abuse
"I remember he got on top of me and he was slapping me back and forth," Tina said. "And he said, 'next time you walk by me, acknowledge me. Say that you love me.'"
Raped, beaten and berated on a regular basis, she stayed with him, believing the abuse was part of a normal relationship.
"A Thin Line" MTV's Initiative to Stop Digital Abuse
"I knew my aunt went through it so I thought, you know, if she stuck it out with him, with her husband for years, that I should just do the same and keep my mouth shut," she added.
When another 15-year old - who did not want to be indentified - met a cute boy in one of her high school classes - she was smitten.
"We had the same friends, we like the same things. So it was good at first," she said.
"And then what happened," Couric asked.
"We would fight a lot. He was very controlling," she replied. "He would always want to know where I am, what I'm doing."
"It's upsetting to you to even talk about it," Couric said.
"When someone does that to you, you feel a loss of yourself," she replied.
The controlling behavior eventually turned violent. Things got so bad that she began skipping classes and avoiding work. Then he started stalking her.
"I was always locking my doors," she said. "We had a house alarm, always turning that on. Always looking behind my shoulder to see who it was," she added.
Start Strong: Building Healthy Teen Relationships
These two stories illustrate an alarming trend of escalating violence in teen relationships. Calls and emails to the National Teen Dating Violence Hotline went up nearly 600 percent from March of 2007 to March of this year. And a recent survey shows that even twenty-five percent of 'tweens' say they're experiencing physical violence in their romantic relationships.
They're growing up in a world where violence is everywhere. Where teens are constantly bombarded with pop culture images objectifying and degrading women.
"In this generation, it's hard to resist violence and it's probably influencing the number of abusive relationships," said 15-year-old Emily Santes of Rhode Island's South Kingston High School.
Add to that the evolving high-tech frontier. Relentless texting, constant instant messaging, and virtual mind games played out on social networking sites are all becoming tools of choice for abusive teenagers wanting to control their partners.
Rosalind Wiseman on Teen "Sexting"
"Teens are primarily using technology and that has changed the dynamics in term of the abuse that we're seeing," said Sheryl Cates, CEO of the Texas Council of Family Violence.
Tragically for some, this cycle of dating violence can turn deadly.
In 2003 Lindsay Ann Burke met Navy seaman Gerardo Martinez at a friend's wedding. For the bubbly 21-one year old, there was an instant attraction. But a few months into the relationship, Lindsay's mother Ann noticed changes in her daughter. She became more secretive, obsessed with instant messaging and was distancing herself from her friends.
Couric asked, "You saw this change in her behavior, and you were really at a loss in terms of what you could do to help her."
"I did go to several counselors," Ann said. "Not one of them picked up on the warning signs of an abusive relationship."
After a tumultuous two years, Lindsay finally left Martinez. On the morning of September 14, 2005 she went to his house to collect her things. In a fit of rage, Martinez repeatedly stabbed Lindsay and left her in his bath tub where she bled to death.
"Parents don't realize how much a part of their life their children really are until you lose one of them," Ann said.
Lindsay Ann Burke Memorial Fund
Ann's grief quickly turned to anger and then action. As health teacher at a Rhode Island middle school for 23 years, she realized she had never discussed dating violence with her students.
"I went back to work, looked into the eyes of my 8th grade students and asked myself why is it that I'm teaching them about health disease and substance abuse - but I'm not teaching them about this?"
For two years the Burke family pushed for legislation that would require dating violence awareness be taught in middle and high schools in Rhode Island. In July 2007, the Lindsay Ann Burke Act was signed into law.
"I know at that point, Lindsay was looking down and she was smiling," Ann said.
Today, Ann's teaching her eighth graders the lessons her daughter Lindsay never had. And in high school, students learn to identify red flags like jealousy and controlling behavior that are often precursors to violence.
Six states have since passed similar legislation. It's pending in six others.
Students are also being enlisted across the country in peer to peer programs that help teens understand what makes a healthy relationship.
A program like this helped Tina get out of her abusive boyfriend. Now she wants to help others.
"I don't want this to keep on happening to young girls, or young boys for that matter," Tina said. "They shouldn't be going through it."
Thanks for reading CBS NEWS.
Create your free account or log in
for more features.