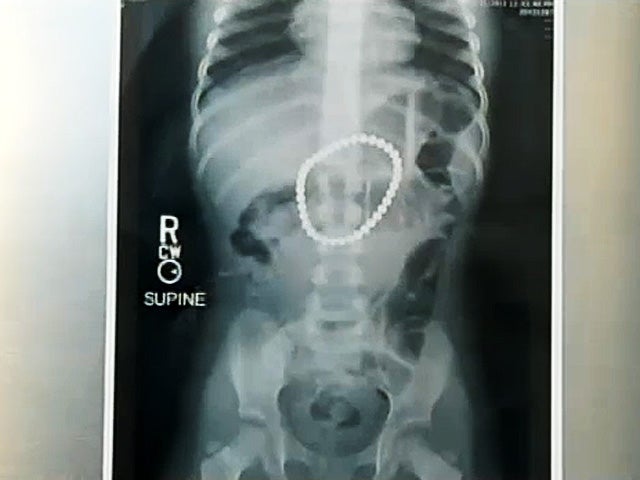 3-year-old swallows 37 Buckyball magnets, survives
(CBS News) Buckyballs may be a fun desk toy for adults, but the tiny ball-shaped magnets can present a deadly risk to children. One 3-year-old girl who is now recovering in a Portland hospital learned the hard way.

PICTURES: 20 most shocking X-rays
KPTV in Oregon reported the 3-year-old Payton Bushnell swallowed 37 Buckyballs that made the toddler feel so sick, her family thought she had a stomach flu. Once Payton was rushed to a doctor, an X-ray revealed a circular chain of magnets in her stomach (pictured).

"In all the research I have done, I have never seen any child swallow more than 10 magnets," Sandy Nipper, a nurse at Randall Children's Hospital, told KPTV. "When I heard 37 magnets were swallowed, my nurse's mind raced to what taking 37 strong magnets could do to a fantastic little 3-year-old girl, and it frightened me to death."
The magnetic balls snapped Payton's intestines together, ripped three holes into her lower intestine and one hole into her stomach, according to KPTV. Doctors at Randal Children's Hospital performed surgery and say the girl is on her way to recovery.

"Buckyballs was saddened to learn that a 3-year old girl in Oregon had swallowed high-powered magnets, but we are relieved that she is expected to make a full recovery," the company said on its website. "This underscores the fact that Buckyballs and Buckycubes are for adults and are not toys for children. We urge all parents to read and comply with the warnings we place on all our products, on our website and in stores."
The news spotlights the potential dangers of magnetic toys made for adults when put in the hands of kids.
According to the Consumer Product Safety Commission, small magnets can kill children if two or more are swallowed, because they can attract to one another through the intestinal walls. This traps the magnets in place and can cause holes, twisting and/or blockage of the intestines, infection, and potentially fatal blood poisoning known as sepsis. Surgery is usually required to remove the magnets, and sometimes sections of the intestines need to be removed.There have been 22 cases of children swallowing magnets since 2009.
According to CPSC, it is extremely difficult for parents to notice if a magnet or two are missing from a set, which could contain up to 200 tiny magnets. Parents might notice symptoms like abdominal pains, nausea, vomiting and diarrhea. The commission recommends keeping all these magnets out of reach from small children and warn older children about trying to use the magnets to mimic piercings.
As the CPSC warns in it's public service announcement, magnets go in easier than they come out:
Thanks for reading CBS NEWS.
Create your free account or log in
for more features.