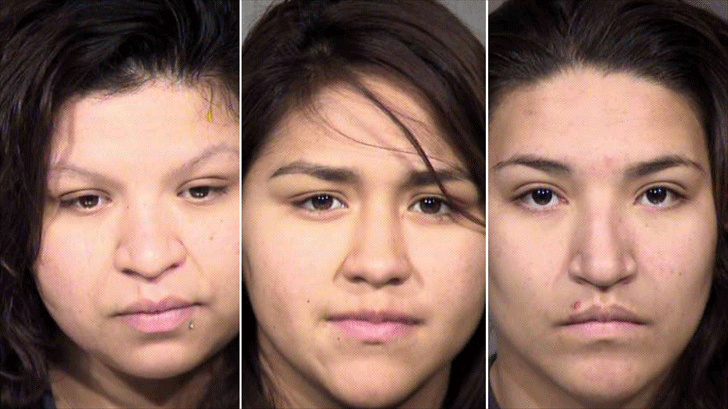 3 women accused of hindering Phoenix serial killer probe
PHOENIX - Police said they arrested three women for tampering and hindering the investigation into a suspected serial killer, Cleophus E. Cooksey Jr., reports CBS affiliate KPHO.
The three women are Cooksey's ex-girlfriend Liliana Vasquez and her sister Griselda Vasquez, as well as Desaree Coronado, the mother of Jesus Real's child. Real was one of Cooksey's victims, police said.
On Thursday, Phoenix police announced that they have linked Cooksey to at least nine killings in three cities over less than a month late last year.
KPHO reports that according to court documents, Real was found shot to death in the suburb of Avondale on Dec. 11. His cellphone was missing and no shell casings were found. Police said Real lived with his sisters, Liliana and Griselda.
Police reportedly said that Liliana discovered Real's body but left the apartment without calling the police and went to pick up Griselda. Court documents said she called two other family members about Real being hurt and possibly dead, but didn't call 911 until she, Griselda and Coronado returned to the apartment.
Police interviewed all three and they reportedly all denied removing anything from the crime scene.
Liliana reportedly told police that she broke up with Cooksey the night before he allegedly killed Real. She said they parted ways around 7 a.m., and police say Real was killed between 8 and 11 a.m., reports the station.
KPHO reports that on Dec. 14, police tracked Real's missing cell phone to a motel room where the three women were staying.
Police said Griselda admitted she took the cell phone off Real's body before police arrived on Dec. 11 and gave it to Coronado. Court documents say that Coronado initially denied she had the cell phone, but later admitted she had it in her sweater, according to the station.
The shell casings haven't been found.
Police have reportedly also said evidence shows Liliana's vehicle was in the area of two of Cooksey's alleged murders, indicating she may have given the accused serial killer a ride to or from the area of the crimes.
Liliana, who was on probation, and Griselda were reportedly both booked into jail on one felony count of hindering prosecution and one felony count of tampering with physical evidence. Their bonds were set at $3,000.
Coronado was booked on one felony count of hindering prosecution, one felony count of tampering with physical evidence and one misdemeanor count of false reporting to law enforcement, according to KPHO.
Thanks for reading CBS NEWS.
Create your free account or log in
for more features.