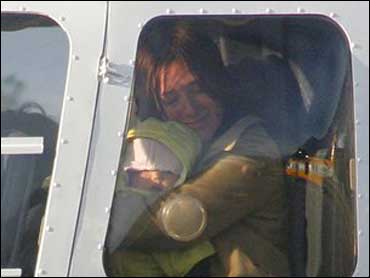 3 Members Of Missing Family Found Alive
Authorities say three of the four members of a San Francisco family that disappeared during a family vacation in Oregon more than a week ago were found alive Monday.
A helicopter spotted Kati Kim, 30, waving an umbrella at about 1:45 p.m., CBS News reports. Her two young daughters, Penelope, 4, and Sabine, 7 months, were also found in the family's car. But Kim's husband, James, was not with them. He left two days ago to look for help, police said. The search for him continues.
Kim and the two girls were airlifted from the scene to Three Rivers Community Hospital in Grants Pass. They are reported to be in good condition, authorities said.
"Mom arrived in an ambulance smiling and waving," Linda Rankin, vice president for patient care at the hospital, told The Associated Press. She said all three were in good condition, and would spend the night at the hospital.
During the past several days, authorities combed highways and byways using snow machines and helicopters. They also tried to track the family by tracing their credit history and cell phone signals.
Helicopters with thermal imaging technology were added to the search Monday night, and searchers were following the father's footprints over a ridge and down into a drainage.
When the father struck out for help, he left wearing only tennis shoes, pants, a sweater and a jacket. His family said he had outdoor experience, and Oregon State Police Lt. Doug Ladd said there is "a very reasonable chance" that he is still alive. Russell said the family reported that he had eaten berries in the area, but they weren't sure if they were poisonous.
The mother was found near the Rogue River in the area of Bear Camp Viewpoint. Roads through the area often are used as shortcuts to Gold Beach on the south Oregon coast, but can be impassible in the winter.
The family was seen at a restaurant in Roseburg, Ore., on Nov. 25, when they were about to set off on a drive of about 135 miles to the Gold Beach area to stay at the Tu Tu Tun Lodge after a vacation in Seattle. The hotel reportedly received an early evening phone call from the Kims saying they would be arriving at the hotel later than expected, CNET, James Kim's employer, reported on its Web site.
But they never arrived and were listed as missing after they failed to return home in San Francisco last Monday.
The search included state troopers, California Highway Patrol officers, deputies from the Josephine, Jackson and Douglas County sheriff's offices, the San Francisco Police Department, air crews and the Coast Guard. Private search crews hired by family members included helicopters.
The family had also set up a Web site.
Some of the searchers were had checked possible routes on remote roads, some near 4,000 feet in elevation with frozen snow, said Lt. Gregg Hastings, state police spokesman.
"The Josephine County Sheriff's Office reports that these are prime Christmas tree cutting areas," said a state police Internet news alert.
Kim is a senior editor for CNET Networks in San Francisco who covers digital audio and co-hosts a weekly video podcast for the Crave gadgets blog on CNET.

Thanks for reading CBS NEWS.
Create your free account or log in
for more features.