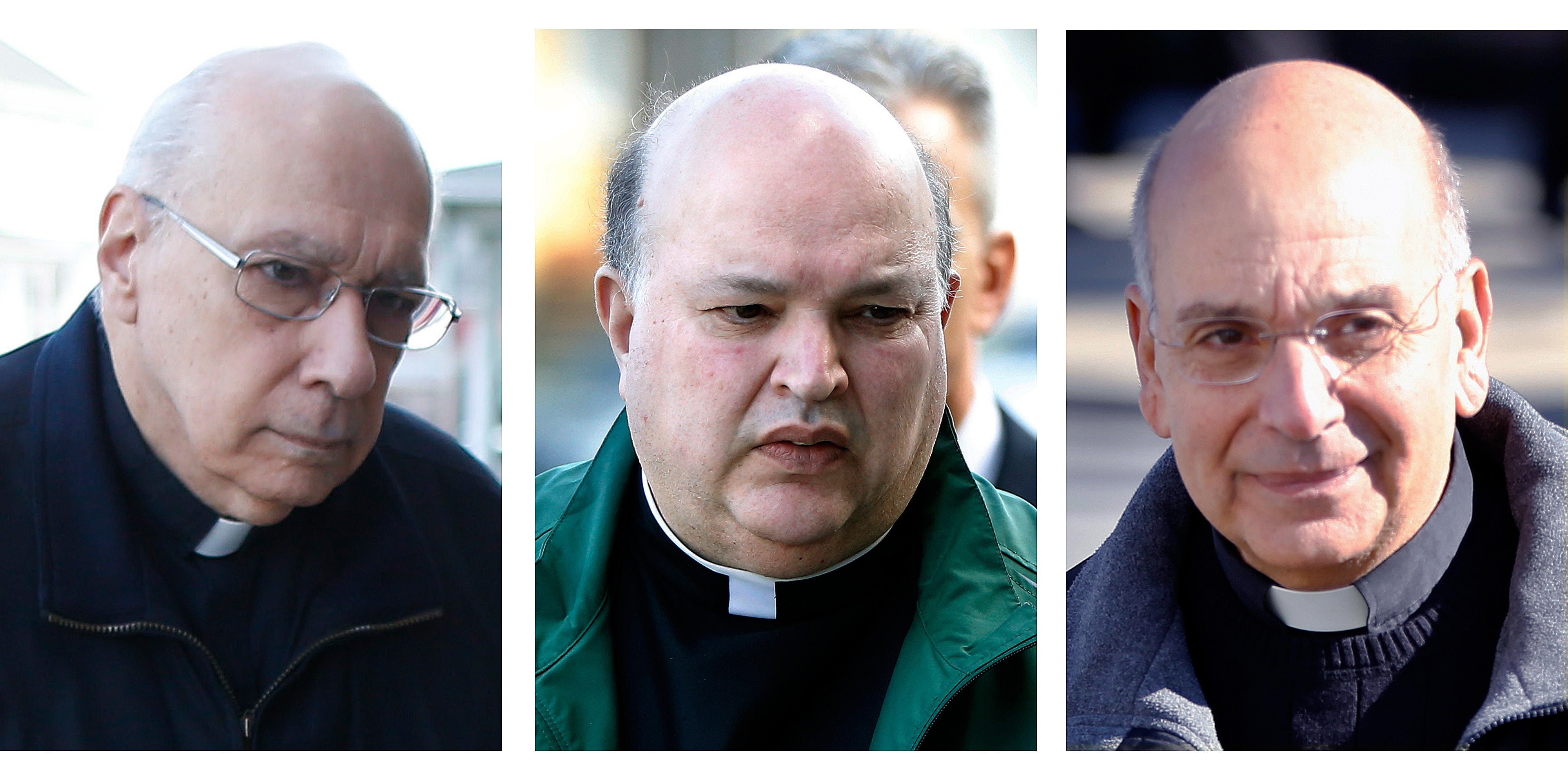 3 Franciscan friars to stand trial in Pa. high school sex abuse case
HOLLIDAYSBURG, Pa.-- Three Franciscan friars must stand trial on charges linked to their role in supervising a religious brotheraccused of molesting more than 100 children, nearly all of them at one Pennsylvania high school, a judge ruled Wednesday.
The Revs. Giles Schinelli, Robert D'Aversa and Anthony Criscitelli are charged with child endangerment and conspiracy. Their preliminary hearing concluded Wednesday with testimony from two FBI agents who organized a chart of Brother Stephen Baker's alleged victims.
More than 90 former students Bishop McCort Catholic High School in Johnstown have settled lawsuits for more than $8 million claiming Baker molested them.
Those students came forward after the Youngstown, Ohio, diocese announced in early 2013 that 11 students had settled claims they were molested by Baker while he worked at John F. Kennedy High School in Warren, Ohio, in the late 1980s.
Baker fatally stabbed himself in the heart at the Franciscan's St. Bernardine monastery near Hollidaysburg days after that announcement.
On Wednesday, District Judge Paula Aigner didn't explain her ruling to hold the friars for trial.
The men declined comment after the hearing, as did attorneys for D'Aversa, 69, and Cristcitelli, 61. Charles Porter Jr., the attorney for Schinelli, 73, said his client has done nothing wrong.
Schinelli approved Baker's assignment at Bishop McCort in 1992 even after he had learned of an unspecified allegation of abuse against him. Schinelli had written to an out-of-state diocese where the allegation originated and was told no more information was available on the accusation, which Schinelli termed "vague and unsubstantiated" in his correspondence.
Porter argued that Schinelli nevertheless ordered Baker to be examined, and a psychiatrist found in 1992 that he had "no deviate sexual disorder that puts minors at risk," according to a letter from the doctor.
"I don't know how one can have criminal intent when they relied on a medical expert to make a decision," Porter said after the hearing. He noted Schinelli disciplined other clergy who had abuse allegations against them substantiated. "Why in the world wouldn't he do that here?"
The legal settlements that have already been reached in Ohio and Pennsylvania acknowledge no wrongdoing by the Franciscan order or anyone else associated with Baker.
But a Pennsylvania grand jury determined the defendants, who headed Baker's order from 1986 to 2010, should have done more to safeguard McCort students allegedly molested by Baker -- as well as others put at risk when Baker was given other jobs where he might have contact with children. That included a Friar's Store that sold religious paraphernalia at a mall near Altoona, where Baker worked in the mid-2000s.
D'Aversa eventually removed Baker from Bishop McCort in 2000 upon receiving a "credible" though unspecified sex abuse allegation from Minnesota that was more than 20 years old. However, D'Aversa almost immediately appointed Baker "vocations director." In that position, Baker had regular contact with teenage boys in Pennsylvania and other states at overnight retreats and other events, prosecutors said.
Criscitelli took over the order in 2002 and was responsible for seeing that Baker abided by a "safety plan" to keep him out of ministries involving children under guidelines drawn up by the U.S. Conference of Catholic Bishops.
D'Aversa's attorney, Bob Ridge, and Criscitelli's, James Kraus, argued their clients did what they could to keep Baker away from children.
"None of these people failed to take action," Ridge argued. The "hundreds of victims" are "not what's at issue here. What's at issue is 'Were these three men aware of hundreds of victims?'"
Deputy Attorney General Daniel Dye told the judge that the friars were in a position to "decide how much risk to expose other people, other children, to."
"If there was a concern that he had an issue would alcohol," he said, "would they have assigned him to a bar?"
"Brother Stephen Baker molested in excess of 88 children and it is alleged that these individuals put him in the position where he could offend more children," Dye said last month, CBS Pittsburgh reported.
Barbara Aponte's son, Luke Bradesku, killed himself in 2003 at age 26, allegedly because he was molested by Baker at the Ohio school. A lawsuit filed by his estate is pending.
"I'm thrilled," Aponte, of Poland, Ohio, said, calling the judge's decision "one more step toward some kind of justice and accountability."
Thanks for reading CBS NEWS.
Create your free account or log in
for more features.