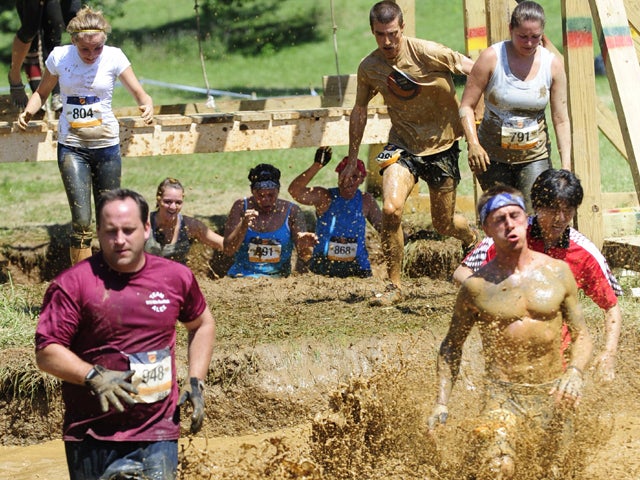 2nd man dies after KC extreme obstacle race
KANSAS CITY, Mo. - Family members and experts are raising concerns after a second contestant who collapsed in sweltering heat during an extreme obstacle course race in Kansas City last month died, saying organizers proceeded with the two-day Warrior Dash event despite dangerous conditions.
Jeff Fink, 31, of Olathe, Kan., died Tuesday at a Kansas City hospital, the Meyers Funeral Chapel Northland in Parkville, Mo., reported on its website. Fink's official cause of death hasn't been determined, but a secretary at the Maynard, Iowa, school where his father works emailed staff that Fink was being treated for heat stroke.
Race organizers said they were saddened to learn of Fink's death, which followed last week's death of 28-year-old Jeremy Morris, a suburban Grandview resident who also went by the name Jeremiah.
About 15,000 people registered for the July 30-31 event, which took place the same weekend that a 21-year-old college student was paralyzed from the chest down after diving into a mud pit at a Warrior Dash in Genesee Township, Mich.
High humidity pushed the heat index in Kansas City to above 100 degrees that weekend and forced officials to cancel the final 90 minutes of the two-day race.
Extreme races, where participants do everything from leap over fire to crawl under barbed wire, have exploded in popularity in the past year, said Robin Ammon, an associate professor with the sports management program at the University of South Dakota.
Some attribute the interest to the CBS TV show "The Amazing Race," where the challenges have included diving into a murky shark tank.
"They see all the different and kind of whacky things they are doing and so they are trying to push themselves and push the envelope," said Ammon, who also serves as an expert witness in sports liability cases.
But he said participants sometimes overestimate their abilities and don't know when to back off.
"That kind of stuff is not the kind of thing you can necessarily just jump into without the proper training, especially when you add in the heat and humidity," Ammon said.
Morris' grandfather, William Bobby Morris, of Tucson, Ariz., told The Associated Press he was holding his grandson's hand when he died.
"He was an all-or-nothing type of kid," the grandfather said. "He wanted to win. He wanted to set a record. I can't believe that he ran himself to death."
Morris, an avid runner and scuba diver, had a core temperature of 111 degrees when he collapsed on the field, his father, Joseph Morris, told WDAF-TV in Kansas City. "If they'd looked at the stats and called it off first and foremost, but at least have the appropriate medical professionals, my son would still be here," Morris' mother, Jane St. Pierre, told the station while crying.
The Associated Press was not immediately able to contact Morris' or Fink's parents.
Lauren Shield, an organizer with Chicago-based Red Frog Events, which puts on the Warrior Dash races, said in a phone interview that the deaths of Fink and Morris are the first since the company began organizing events in 2009. Red Frog is projecting that 700,000 participants will compete in the approximately 35 races the company has planned for this year.
Shield said Thursday in an email to the AP: "Safety is a number one priority at our races. We have a medical team at every event as well as work with local authorities to help ensure the safety of racers and spectators."
At the Kansas City race, organizers provided twice the standard number of water trucks and cooling stations and triple the usual number of water bottles along the 3.1-mile obstacle course, Shield said.
But the weather proved too much for some contestants.
The National Weather Service said the high temperature on July 30 in the Kansas City area was 92 degrees, but that the humidity made it feel closer to 100 degrees. There was an excessive heat warning in effect the following day when the temperature hit 97 degrees but it felt more like 105 degrees.
Those conditions would have raised red flags were the Warrior Dash an NCAA-governed activity.
NCAA guidelines say that when temperatures and humidity get as high as they were in Kansas City, only fit and heat-acclimated student-athletes can participate safely.
Many schools take extra precautions when temperatures soar, such as limiting the intensity or duration of practices, said Dr. Lester Mayers, director of sports medicine at Pace University in Pleasantville, N.Y.
This summer has been particularly deadly for athletes, with student football players dying from the heat in Georgia, Florida and South Carolina. Heat also contributed to the death of an assistant football coach at Prestonwood Christian Academy in Texas.
Dr. Lawrence Lemak, founder of the National Center for Sports Safety, said there are financial and athletic-focused incentives for organizers and coaches to be careful.
"They need to take it upon themselves to get good advice," said Lemak, a sports medicine orthopedic surgeon who also serves as the medical director for Major League Soccer and is on the advisory board for Pop Warner Football.
Kansas City Fire Department spokesman Joe Vitale said the department responded to 13 calls for assistance from the event and that six people were taken to hospitals.
The Kansas City Health Department hasn't confirmed either Fink or Morris died from heat-related causes, but it is investigating 24 suspected heat deaths in the city since June. One additional death has been confirmed as heat-related.
Ammon said high school and college coaches have added safeguards because of past tragedies.
"I am assuming this is something they are going to have to go to for those types of events," Ammon said. "The organizers may have not had the proper background in dealing with the heat and humidity. I think it's a combination of things, the extreme types of activities that the participants are doing along with the heat and humidity that added to the unfortunate danger that resulted in the two individuals dying."
Thanks for reading CBS NEWS.
Create your free account or log in
for more features.