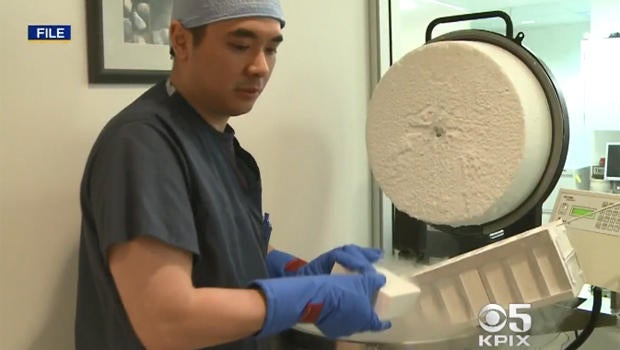 2nd fertility clinic has freezer failure, jeopardizing thousands of frozen eggs and embryos
SAN FRANCISCO -- A San Francisco fertility clinic says thousands of frozen eggs and embryos may have been damaged after a liquid nitrogen failure in a storage tank. Dr. Carl Herbert, president of Pacific Fertility Clinic, told the Washington Post Sunday that officials had informed some 400 patients of the failure, which occurred March 4.
According to the Post, the clinic also sent out emails explaining what had happened to two other groups -- roughly 100 patients who had tissue in both the problematic tank and another tank, and another, much larger group whose stored eggs and embryos weren't affected.
Herbert told the newspaper his discussions with patients were emotional. "Anger is a big part of the phone call," he said. "Our goal is to provide all the patients we see with some kind of a family. ... We need to think: If this tissue doesn't work, what are the next steps, and have you not feel defeated."
Herbert says the clinic's staff thawed a few eggs and found they remain viable. He says they haven't checked any of the embryos.
Clinic spokesman Alden Romney told the Post the eggs and embryos from the troubled tank represent as much as 15 percent of the total stored at the facility.
It's the second such failure at a U.S. clinic in a matter of days. Last week, an Ohio hospital said more than 2,000 frozen eggs and embryos may have been damaged due to a refrigerator malfunction.
CBS Cleveland affiliate WOIO-TV reports that a class action suit was being filed by one couple involved against University Hospitals Cleveland Medical Center.
The lawsuit was being instituted on behalf of Amber and Elliot Ash, a husband and wife who had an embryo stored at the facility.
University Hospitals issued a statement Sunday saying, "We understand why some people might feel compelled to take this step. Any lawsuits being filed will have no bearing on the independent review being conducted or our determination to help patients who have suffered this loss."
The couple is represented by DiCello Levitt & Casey, a law firm that's been involved in numerous recent high-profile class action lawsuits -- ranging from ones against Volkswagen to Equifax.
On Sunday, the Pacific Fertility Clinic released a statement to CBS San Fancisco saying, "A single piece of equipment in our cryo-storage laboratory lost liquid nitrogen for a brief period of time. We do know that there is viable tissue from that tank. The rest of the tanks were not affected. The equipment was immediately retired, the vast majority of the eggs and embryos in the lab were unaffected, and the facility is operating securely."
"As soon as the issue was discovered, our most senior embryologists took immediate action to transfer those tissues from the affected equipment to a new piece of equipment. We have brought in independent experts and are conducting a full investigation."
"We are truly sorry this happened and for the anxiety that this will surely cause."
Herbert told the Post, "This was a terrible incident, but I was reassured that ... [staff] did everything anybody could ever want to do."
Thanks for reading CBS NEWS.
Create your free account or log in
for more features.