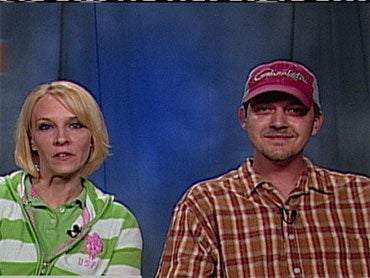 $258M Powerball Winner: "Holy Moses!"
A Missouri man who won a $258 million Powerball jackpot and plans to use some of the money to pay bills and take his children to Disney World says he hasn't decided yet if he'll quit his minimum wage job at the convenience store where he bought the winning ticket.
"You know, you never know," Chris Shaw told "Early Show" co-anchor Harry Smith Friday. "Everybody always says. I wouldn't,' or 'I would.' There's just so many things right now that run through your head, it's just like, you know - yesterday, if you would have asked me what I would have done with this kind of money, or two days ago, before I won it, I could have given a you million things. Now, I don't have any idea. I'm just flabbergasted!"
Shaw - a 29-year-old tattooed father of three who was raised by his grandparents in rural southern Missouri - came forward Thursday as the winner of the 10th-largest Powerball jackpot ever. Shaw said he had just $28.96 in his bank account and recently bought a 1998 Ford Ranger from a friend who agreed to let him pay off the $1,000 price $100 at a time. Now, he said, he no longer has to worry about how he'll pay his friend - or his utility bills.
"We didn't come from money. For us, it's just going to be a huge relief to know I'm going to be able to pay my electric bill, my gas bill," Shaw told the Associated Press. "It's like a weight lifted. I had bills at home I didn't know how they were going to be paid."
Shaw said he bought the $5 ticket Wednesday at the Break Time convenience store where he works in Marshall, a central Missouri town about 80 miles east of Kansas City. He accepted his ceremonial check at the Missouri Lottery headquarters in Jefferson City wearing a tan and red plaid shirt, a red hat and a huge grin - minus two front teeth he says he lost because he didn't take care of them but can now afford to have replaced.
"I'm just a regular guy working paycheck-to-paycheck ... well, not anymore," he said.
What made him decide to try his luck?
"Well, you know, it (the jackpot) was getting up there big," Shaw told Smith, "and a lot of people were buying lottery tickets. Everybody knew it was gonna hit. And it's just like, I might as well throw my piece of the dice out there, as well. You just never know!" '
He checked his Powerball ticket against the state lottery's website only after his girlfriend, Tosha Ewry, told him the winning ticket was bought at the store where he works.
When Shaw called Ewry back to tell her the news, she thought he was joking, he said. Finally, he said he told her: " 'I swear on a stack of Bibles, you need to leave work and come home." '
And when he realized he'd won?
"I was like, 'Oh, Holy Moses, something's happened here. I've got something here!" he recalled for Smith.
"At first," Shaw added, "you hope you're not gonna die of a heart attack! "You just start shaking all over, trying to hold onto everything, to slow everything down, because it's like this ain't real, you know. It's just unbelievable."
He'd been working at the store three weeks.
Shaw said he plans to seek advice "from people who know about money" about whether to take the jackpot in 30 payments over 29 years or the lump-sum amount of $124,875,122.
He told Smith there have already been "quite a few" people coming out of the woodwork to renew acquaintances with him, "but, the reality, like you say, no, I mean -- that's just -- it's phenomenal. I can't even imagine it. It's just unbelievable.
His boss, Jackie Maxwell, general manager of the Missouri-based Break Time convenience store chain, was thrilled to hear Shaw had won.
"He's just a great guy, a good employee. When you think of a large winner like this, everyone likes to see that the person who won is somebody like Chris," she said in a telephone interview with The Associated Press.
Shaw - who has a 10-year-old son, a 7-year-old girl and a 5-year-old girl by two different women - said he had played Missouri Scratchers lottery tickets before, winning at most $80.
The winning numbers were 11-34-41-49-55, Powerball 20. The Power Play number was 2.
Shaw said he looks forward to spending more time with his kids, who live with their mothers about 240 miles southeast of him in his hometown of Alton, as well as with his girlfriend's two sons - 13-year-old and 15-year-old boys Shaw says he considers his own. He plans to take them all to Disney World in Florida.
"I can be with them as much as I want now," Shaw said.
He said his children already have been asking for new skateboards, bicycles and "just stuff that's really hard to do when you make $7.25 an hour."
Break Time will receive $50,000 for selling the winning ticket. If Shaw takes a lump-sum payment, the state income taxes due on the winnings would be about $6 million, state budget director Linda Luebbering said.
Thanks for reading CBS NEWS.
Create your free account or log in
for more features.