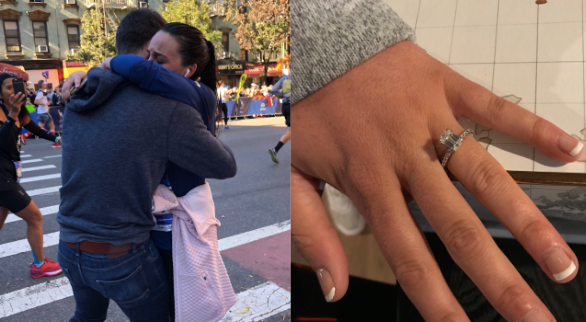 Man proposes to girlfriend during her first New York City Marathon
A woman was running in Sunday's New York City Marathon and her longtime boyfriend came to cheer her on. Little did she know he had bigger plans — to pop the question during the race.
Kaitlyn Curran, a nurse, was hitting mile 16 of her first marathon when her firefighter boyfriend of four years Dennis Galvin hopped over the barrier and went down on one knee.
"People in the race were slowing down to take pictures. It was indescribable just to be there and see it all was amazing," Galvin's cousin Kathleen Figueroa, who captured the proposal on video, told CBS News.
Figueroa said her cousin was "very nervous" before the proposal as family and friends waited about an hour for Curran to pass by.
But, it turned out that Galvin had nothing to worry about.
"She cried a little bit, said yes, hugged him and then said 'OK, I have to go finish my race,'" Figueroa recalled.
With a ring on her finger, Curran finished the rest of her race with a time of 4 hours and 24 minutes.
Figueroa said Curran "had no idea," of her now-fiance's plan to propose.
As to why Galvin chose to ask to his girlfriend in the middle of her race — instead of at the finish line — Figueroa explained he wanted to pop the question at the first Manhattan stop of the race.
Mile 16 was located near the Queensboro Bridge, according to the NYC Marathon site, which connects Queens and midtown Manhattan.
Afterward, the couple who live together in Jersey City, New Jersey, met at the finish line and went on to celebrate the engagement — and marathon finish — with family and friends.
"They're both very happy," said Figueroa, "We can't wait for the wedding."
Thanks for reading CBS NEWS.
Create your free account or log in
for more features.