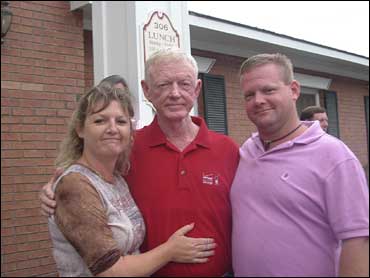 2 Suicide Victims Shared Same Heart, Wife
On an overcast spring morning in southeast Georgia, Sonny Graham drank some coffee and headed out the door for another day in the family landscaping business and to take his 9-year-old stepson to the dentist. But Graham made a detour to the backyard shed that he'd built.
There, the 69-year-old picked up the 12-gauge Remington shotgun he'd taken on so many quail- and dove-hunting trips, pointed the muzzle at the right side of his throat and pulled the trigger.
It was April Fool's Day, almost exactly 13 years since another man's suicide gave Graham a second chance at life.
That man was Terry Cottle. When he ended his life, Graham got his heart.
But it was not just an organ that connected Graham and the 33-year-old donor. Nearly a decade after the transplant, Graham married Cottle's young widow.
And now Graham had made her a widow again.
As word of his death spread, the Internet lit up with the story of the heart that had been twice silenced by suicide - and the woman who'd lost the same heart twice. Reporters and bloggers waxed on about "cellular memory" and whether the organ somehow held a "suicide gene."
Nonsense, thought Cottle's sister. The brain is where the conscience resides, where love and loss are felt; the heart is just a pump.
As far as she was concerned, Graham's death was less about her brother's heart than about Cheryl - the woman with whom both men had chosen to share it.
---
In 1988, Terry Cottle was living with his wife and their two young daughters in one of the subsidized apartment buildings they managed in Jasper County, S.C. Cottle's boss had a daughter - a petite beauty with auburn hair and hazel eyes.
Cheryl Sweat had recently had her three-year marriage annulled on grounds that her husband was married to someone else. It was he who called Cottle's wife sometime later, saying, "I just want you to know that your husband is seeing my wife."
Terry Cottle filed for divorce. Nine days after it was granted, in May 1989, he and Cheryl were married.
At first, things seemed wonderful. Terry adopted Cheryl's two sons, Christopher and Timmy. A daughter, Jessica, was born. Cottle worked while his new wife studied for her nursing degree.
In late 1994, the couple graduated from a single-wide trailer to a new doublewide in the town of Moncks Corner, S.C. Around Christmas, Cheryl's widowed mother moved in.
Terry had dropped out of high school but earned an equivalency diploma and worked around his limited prospects. He got a real estate license and, at 33, became a certified emergency medical technician.
But it never seemed to be enough.
Terry talked frequently with his ex-wife, having her call him on the 800-number at the exterminating company where he worked so Cheryl wouldn't find out.
"Talk to me," he said one night in 1995. "I've got a gun to my head."
Within a month of his mother-in-law's arrival, Cottle had moved out of the trailer and in with his sister, Tammy Erickson. But before long, Cheryl started coming around, cooking dinner for the family and spending the night in Terry's room.
Erickson was pregnant with her second child and needed Terry's room for a nursery. She told her brother to make a decision. "If you love her and you want to make this work, then you need to go home and be with her," she said.
He did, but three weeks later, on March 15, the couple got into a huge argument. Cheryl told Terry that she couldn't stay married to a man who made less money than she did. At some point, her son Timmy recalls, she took off her wedding ring and threw it over the fence.
By morning, they had agreed that Cottle should leave.
As he prepared to depart, Cottle went into the bathroom. There was a gunshot.
Initially, Cheryl told sheriff's investigators she heard 10-year-old Christopher shouting that Cottle had shot himself. She said she ran into the bathroom and found him on the floor with the revolver still in his hand.
In a second version attached to a coroner's report, Cheryl said she was eating oatmeal when one of her boys yelled, "Mom, Dad has a gun!" She said she ran toward the bathroom "and saw Terry standing up and looking at her" with the gun in his hand.
"She said that she yelled something like, `Terry, wait!', and this was at about the same time as she pushed on the door to try to get into the bathroom and at the same time she heard a shot," the report says.
"Baby, help me, help me. I'm dying," he gasped, as she recalled his words.
The .22-caliber slug entered Cottle's skull just behind the right ear. There was no exit wound.
On March 20, after four days in the trauma unit at Medical University of South Carolina in Charleston, Cheryl, at the urging of her father-in-law, agreed to take Terry off life support and donate his organs.
About 60 miles to the southwest, 57-year-old Sonny Graham got the call he had been waiting more than a year for.
Remus T. "Sonny" Graham was a big man on Hilton Head.
As longtime manager of the central plant for Hargray Communications, Hilton Head's telephone service provider, he knew just about everyone on the South Carolina barrier island. His Brunswick stew was a staple at fundraisers and community events. The local high school football field was named in his honor.
A native of Lyons, Ga., near Vidalia in the heart of sweet onion country, Graham was a fixture at the Heritage Golf Tournament at the island's Sea Pines Resort. Even after he retired from Hargray, he would return each year as a volunteer to run the tourney's communications trailer.
The redheaded Air Force veteran was an avid hunter and fisherman, what buddy Bill Carson called a "man's man."
He was also the consummate family man. He and Elaine, his wife of more than three decades, had two children, Gray and Michelle.
But in 1994, Graham contracted a virus that damaged his heart muscle. By early 1995, the strapping woodsman who'd once hauled fighting salmon out of rushing Alaskan streams struggled to get up from a chair.
Graham's name went on transplant lists.
Around 5 p.m. on March 20, Graham learned that a heart had become available. Cottle's, it turned out, was about as close to a perfect match as they come.
Within six months of the transplant, Graham was well enough to go on a fishing trip with Carson to Alaska. He joked that having a 33-year-old's heart had done wonders for his libido.
When a doctor suggested he see a counselor in case of any guilt, Graham declined. "I'm sorry the other guy died," he told Carson. "But this is my heart now."
But friends noticed some subtle changes - a new craving for beer, a taste for hot dogs, which happened to be one of Cottle's favorite foods. Pastor John Keller sensed a general restlessness, as if Graham were "looking for different avenues to travel."
In November 1996, Graham asked the South Carolina Organ Procurement Agency to forward a letter to the donor's family. His children said it was a bad idea, but he wanted to thank Cottle's wife in person.
After the exchange of another letter and some photographs, Cheryl Cottle called Graham.
In January 1997, he and his wife met her for dinner at a romantic waterfront restaurant in Charleston. Graham couldn't keep his eyes off the 30-year-old widow.
"I fell in love with Cheryl the first time we met," he would later confess in a letter.
The feeling was apparently not mutual - at least, not at first.
That April, Cheryl married husband No. 3, George Watkins. Elaine and Sonny Graham attended the wedding, and Sonny - standing in for Cheryl's late father - gave away the bride.
Cheryl bore Watkins a son in January 1999. Around that same time, Elaine Graham learned that her husband's relationship with the younger woman was more than fatherly.
In a poignant letter, Graham apologized to his wife for being "the S.O.B. you said I was" and destroying "a relation that we had for 40 plus years.
"I let someone come between you + I, which should have never happened," he wrote. "I look back on everything + see where I gave up love, + companion ship, for attention + affection. ... It would be wonderful if I could turn back our lives for the past four years."
Both couples separated, and shortly after a judge declared the Grahams' 38-year marriage over, in October 2001, Cheryl and Graham moved into a mobile home on land he'd bought in his hometown while he built a house to her specifications.
The domestic bliss did not last long.
In May 2002, Cheryl left - and Graham promptly sued, accusing her of reneging on some loans and refusing to return a diamond ring. She alleged in a counterclaim that when she told Graham their relationship wasn't going to work out, he "became more possessive" and threatened her.
In the midst of the court case, she married again. Husband No. 4, John B. Johnson, Jr., was a corrections officer at the Georgia prison where Cheryl had been working as a contract nurse.
But within a year, that marriage, too, began to crumble. On Thanksgiving 2003, sheriff's deputies were called, and both husband and wife accused the other of domestic abuse.
During a Yuletide reconciliation, Johnson says, a chilling incident occurred. One evening, while they lay in bed, he says, Cheryl began talking about suicide. When she failed to return from a bathroom trip, Johnson went to investigate and says he found her clutching his .22 caliber revolver.
As they wrestled over the weapon, Johnson says, the children and Cheryl's mother rushed in. He says Cheryl told them that HE had gotten the gun and was threatening to shoot himself.
The couple separated. By the time the divorce was final in August 2004, Johnson says, Cheryl was already wearing Graham's ring.
They married Dec. 8, 2004, at the Almost Heaven Resort in Gatlinburg, Tenn. He started a landscaping company and let Cheryl's two oldest sons work for him.
A few days before their second wedding anniversary, the couple attended an event on Hilton Head to honor the families of organ donors. The Island Packet ran a story under the headline, "A love story unlike any told ..."
"It's true what it says in the Bible," Cheryl told the newspaper. "If you live God's will and give with a happy heart, you will reap the rewards."
Graham said he'd "put my life in God's hands," and Cheryl was the answer to his prayers.
Right up to his death, Graham was making plans for the future. He'd invited friends down to fish and was talking about the upcoming golf tournament.
What no one knew was that Graham had drawn up a will.
Larry Lockley says he went fishing with his uncle the last week of February, and afterward Graham showed him the will and asked if he'd be alternate executor.
"Ain't nothing wrong, is there?" the nephew asked.
"Ain't nothing wrong at all," Graham replied. But, "You never know."
He gave Lockley a copy and slipped another in a briefcase on a shelf at the back of the utility shed.
On March 20, the anniversary of his transplant, Graham left a playful message on his old pastor's answering machine: "Do you remember where you were 13 years ago on this day?" When Keller called back, Graham said he and his heart were doing great.
That week, Carson went down to Lyons to fish for bream and bass with his old buddy. Graham didn't complain about his marriage - that wasn't like him. But something just wasn't right.
"He just wasn't the happy-go-lucky guy I'd known all my life," says Carson.
A few days later, Graham's loaned heart would stop beating for good.
---
In late April, shortly after Graham's death, Cheryl visited Tomme Hilton, an old friend. Over drinks, she complained that Graham "didn't leave me a dime."
Apparently, Graham had blown through his retirement funds and run up large debts - about triple his assets - trying, as he once put it, "to keep (Cheryl) in the style she wants to live." His affairs were in such disarray that both of the men designated as his executors, including Lockley, declined.
"I always thought my uncle was in pretty good financial standing," Lockley says. "It was just a shock to me that his finances were in that bad condition."
Cheryl Graham did not respond to repeated requests seeking comment. But those who know her say she did not act like a grieving widow.
On her MySpace account - now deactivated - her photo changed from a sweetly smiling portrait to pictures of her on a lake or drinking beer with friends. Her screen name changed, too, from simply "Cheryl" to "PrEttY LAdy," then "BeaUtiFuL MeSs."
Family members monitoring the account noticed that shortly after Graham's death, she posted a man's photo identifying him as her "new boyfriend." A flirtatious message on the man's Web page, from her account, was dated March 26 - six days before Graham's death.
The man confirmed to The Associated Press that agents from the Georgia Bureau of Investigation had interviewed him. He told them he no longer sees Cheryl.
Although the Toombs County coroner ruled Graham's death a suicide in late May, the GBI still hasn't closed the case.
Investigators have interviewed all three of Cheryl Graham's surviving exes. Johnson wasn't the only one with a gun story to tell.
During a 2005 dispute over custody of their grandchildren, first husband Isaac "Bo" Carter said Cheryl called his North Carolina home and threatened to "blow my brains out w/her 38 pistol ..." A protective order was granted.
Johnson, husband No. 4, says anyone who gets involved with his ex-wife is in for an emotional roller coaster ride.
"One day she hates you and one day she loves you and the next day she hates you," Johnson told the AP. "I guess I am lucky to be alive."
After 13 borrowed years, it appears Graham no longer felt that way.
Thanks for reading CBS NEWS.
Create your free account or log in
for more features.