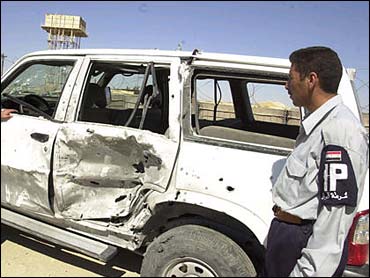 2 More Translators Killed In Iraq
Gunmen killed two Iraqi women working as translators for the British army, a day after the slaying of two American coalition officials and their translator by attackers disguised as police in southern Iraq, officials said Thursday.
The two women, sisters, were driving home in a taxi in Basra late Wednesday when gunmen stopped the vehicle and opened fire on them, a coalition official in the southern city said.
The motive for the attack was not immediately known. Guerrillas have targeted Iraqis working with the U.S.-led occupation. Also, Basra, which is patrolled by the British military, has seen a number of killings blamed on Shiite militias enforcing Islamic law.
Meanwhile, L. Paul Bremer, the top administrator in Iraq, has requested that the FBI investigate the slayings of two Americans late Tuesday on a road outside the town of Hillah, 35 miles south of Baghdad, said Dan Senor, spokesman for the U.S.-led coalition.
CBS News Anchor Dan Rather reports one of the Americans killed in Tuesday's ambush was Fern Holland, 33, program manager for women's initiatives in Iraq. Holland was working with Iraqi women on the interim constitution and helped write its women's rights section.
Relatives back home in Oklahoma City say she had been worried about her safety, and thought that people were following her around. They also say that in a recent e-mail, Holland told a friend that if she were to die, she was doing exactly what she wanted to be doing.
The two Americans are the first U.S. civilians working for the occupation authority to be killed in Iraq. It was not yet known whether the gunmen were specifically targeting coalition officials. "We're starting to form views on that," Senor said Wednesday.
It was also unclear if the Americans were traveling with security, and coalition guidelines discourage staffers from movements after dark. The roads around Hillah have seen a number of attacks on vehicles, some fatal, including the Feb. 14 killing of an American civilian.
An officer with the Polish military, which patrols south-central Iraq, said the gunmen were disguised as policemen and stopped the Americans' car at a checkpoint. The attackers shot dead the passengers and took the vehicle, Col. Robert Strzelecki said.
Polish troops later intercepted the car, arrested five Iraqis in it and found the bodies inside, said Strzelecki, speaking from the Camp Babylon headquarters of the Polish-led multinational force in Iraq.
Senor said some reported details of the attack were incorrect, but would not elaborate. He did not identify the dead, pending notification of their families.
An Army colonel working for the coalition was killed Oct. 26, when insurgents fired a barrage of rockets at Baghdad's Al-Rasheed hotel while Deputy Defense Secretary Paul Wolfowitz was visiting. Fifteen people were wounded, and Wolfowitz escaped unharmed.
Civilian contractors have also been killed in past attacks. Since the war began, 553 U.S. service members have died in Iraq, 379 of them from hostile action. Since May 1, when President Bush declared major combat operations in Iraq over, 264 U.S. troops have been killed by the insurgency thought to be led by Saddam Hussein loyalists or foreign fighters.
In other developments:
Gunmen killed two police officers and critically wounded a third while the police were having lunch in a restaurant Wednesday in the northern town of Qaim, near the Syrian border, police said.
A fire broke out in an oil pipeline south of Baghdad. Firefighter Saleh Jabbar said it appeared to be sabotage. The extent of the damage was not immediately known on the line, leading from southern fields to the Al-Doura processing plant on the edge of Baghdad.
A bomb went off near the offices of Iraq's largest Shiite party, wounding two people in the town of Baqouba north of Baghdad, said Haithem al-Husseini, a spokesman for the Supreme Council for the Islamic Revolution in Iraq.
Four Iraqi police officers died Tuesday night in a raid on a building where a Shiite militia was holding two civilians in the city of Nasiriyah. Italian troops eventually freed the captives.
U.S. officials said Abul Abbas, 56, the Palestinian mastermind of the 1985 hijacking of the Achille Lauro passenger ship that left a wheelchair-bound American tourist dead, died of natural causes while in American custody in Baghdad. An autopsy has been ordered.
The U.S. military said that a mortar round fired by American soldiers in the north earlier this week missed its target and killed an Iraqi civilian.
Shiite leaders who delayed the signing of Iraq's constitution are still unhappy with document, with one cleric warning that the federal system it proposes will lead to "civil war."
CIA Director George Tenet told Congress that he has privately corrected administration officials when they misrepresented intelligence on Iraq, including when Vice President Dick Cheney said erroneously trailers seized in Iraq probably were biological weapons labs.

Fresh U.S. troops arriving in northern Iraq will find themselves fighting a different sort of war, with fewer Iraqi-led assaults on U.S. soldiers and more foreign-led attacks on Iraqi civilians, a top U.S. commander said Wednesday.

A week before he is due to transfer power to the Army's 1st Infantry Division, Maj. Gen. Raymond Odierno said his Texas-based 4th Infantry Division faced dwindling numbers of cells of disgruntled former members of Saddam Hussein's regime.

Now, Odierno said, nationalist-minded Iraqis wanting to fight the occupation were banding with religious extremists, foreign fighters and a few members of terrorist groups, including al Qaeda and the Kurdish Sunni Muslim extremists, Ansar al-Islam.

"They'll try to attack what's been successful for the Iraqis," Odierno said. "They'll try to kill a lot of people without getting injured themselves."

Other U.S. commanders, including Brig. Gen. Martin Dempsey of the Army's 1st Armored Division, have reported a similar metamorphosis, saying fundamentalist fighters from Egypt, Jordan, Sudan, Saudi Arabia and Syria have been crossing into Iraq and funding or directing attacks. Iraqis have helped facilitate their attacks, military officials have said.
Thanks for reading CBS NEWS.
Create your free account or log in
for more features.