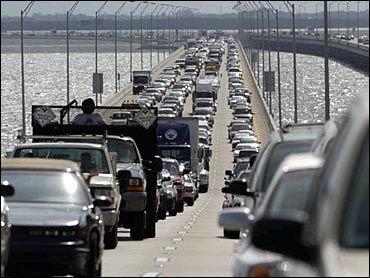 2 Million Urged To Flee Charley
With a "scary, scary" Hurricane Charley zeroing in on Florida's west coast Friday, officials urged almost 2 million people to evacuate and avoid the path of a storm that could submerge parts of this city's downtown and neighboring areas.
Charley's expected 120 mph winds and massive storm surge could devastate the heavily populated Gulf Coast region, with waterfront condominium towers and vulnerable mobile homes in danger.
Charley's center was expected to pass west of the Florida Keys early Friday before hitting the Tampa Bay area later in the day, dumping heavy rain and possibly spawning sporadic tornadoes, Hugh Cobb, a meteorologist at the National Hurricane Center in Miami, said Thursday. About 6.5 million of Florida's 17 million residents were in Charley's projected path, according to the U.S. Census Bureau.
"It does have the potential of devastating impact. ... This is a scary, scary thing," said Gov. Jeb Bush, who had declared an emergency.
State meteorologist Ben Nelson said the surge could reach up to 16 feet in the Tampa area if Charley hits at 120 mph, making it a major hurricane at Category 3 strength.
About 1.9 million people from the Florida Keys north through the west coast have been advised to evacuate, although many will stay in their homes, said Kristy Campbell, spokeswoman at the state emergency management center. It was estimated that 1.1 to 1.5 million will be leaving their homes ahead of the storm, she said.
"In many areas, people are still leaving," Campbell said Friday.
Friday morning, the weather at the St. Petersburg/Clearwater International Airport was calm, said Jeff Clauss, an airport spokesman.
At 8 a.m., the hurricane was in the Florida Straits, 75 miles west of Key West.
Forecasters said Charley had top sustained winds of about 110 mph. It was moving north-northwest near 18 mph and was expected to strengthen, meteorologists said. Hurricane force winds extended outward 30 miles from the eye; tropical storm force winds went out 125 miles.
All the west coast of Florida's peninsula was under a hurricane warning, as was the lower Florida Keys. Tropical storm watches and warnings extended from the middle Keys to Cape Fear, N.C.
Most of the evacuations were in the counties of Hillsborough, which contains Tampa, and Pinellas, a peninsula that contains St. Petersburg. All residents of MacDill Air Force Base, on another peninsula in Tampa Bay, were ordered out with only essential personnel remaining. MacDill is home to U.S. Central Command, the nerve center of the war in Iraq.
"MacDill Air Force Base will probably be mostly underwater and parts of downtown Tampa could be underwater if we have a Category 3," Nelson said. "In a Category 3, you can almost get to the point where Pinellas County becomes an island."
Most everyone who had to evacuate had done so by Friday, reports CBS News Correspondent Aleen Sirgany. For those who haven't, it may be too late - once winds reach a certain speed, emergency officials say, you'll be on your own.
Gary Vickers, Pinellas' emergency management chief, told people in evacuation zones there would be "a period of time where if you stay behind and you change your mind and you want to be rescued, no one can help you.
"We aren't going to go out on a suicide mission," he said.
Heavy traffic flowed Thursday afternoon away from the coast near Tampa in Florida's biggest evacuation request since 1999, when Hurricane Floyd prompted an order for a record 1.3 million people to evacuate the state's east coast.
Many residents on Florida's southwest coast tried to prepare for the worst, buying plywood to board up homes and stocking up on water, canned food and batteries to ride out Charley.
"There's a strange feeling about this one," resident Mike Hamby told Sirgany. "I mean you can see all the forecasters are a little more on edge with this one than they are other storms."
About 60 people slept at one Key West elementary school overnight, stretched out on blankets and mattresses in a hallway as a circular fan buzzed. Peter Berg, 45, from Vancouver, British Columbia, had been vacationing for a week when he and his wife were forced to leave their hostel.
"I keep telling myself it could be worse," he said.
At dawn Friday, fisherman Manuel Garcia was trying to secure his boss's fishing boat, the Cowboy III, in the Stock Island marina, where heavy surf was pushing the vessel against a cement barrier.
"If the water comes up, I can do nothing," he said, smoking a thick cigar.
Power companies said they were mobilizing thousands of workers to prepare for widespread electricity outages, and out-of-state crews were being readied to rush to Florida.
On Thursday, Tropical Storm Bonnie came ashore in the Florida Panhandle, but its top sustained winds of 50 mph caused little damage.

Thanks for reading CBS NEWS.
Create your free account or log in
for more features.