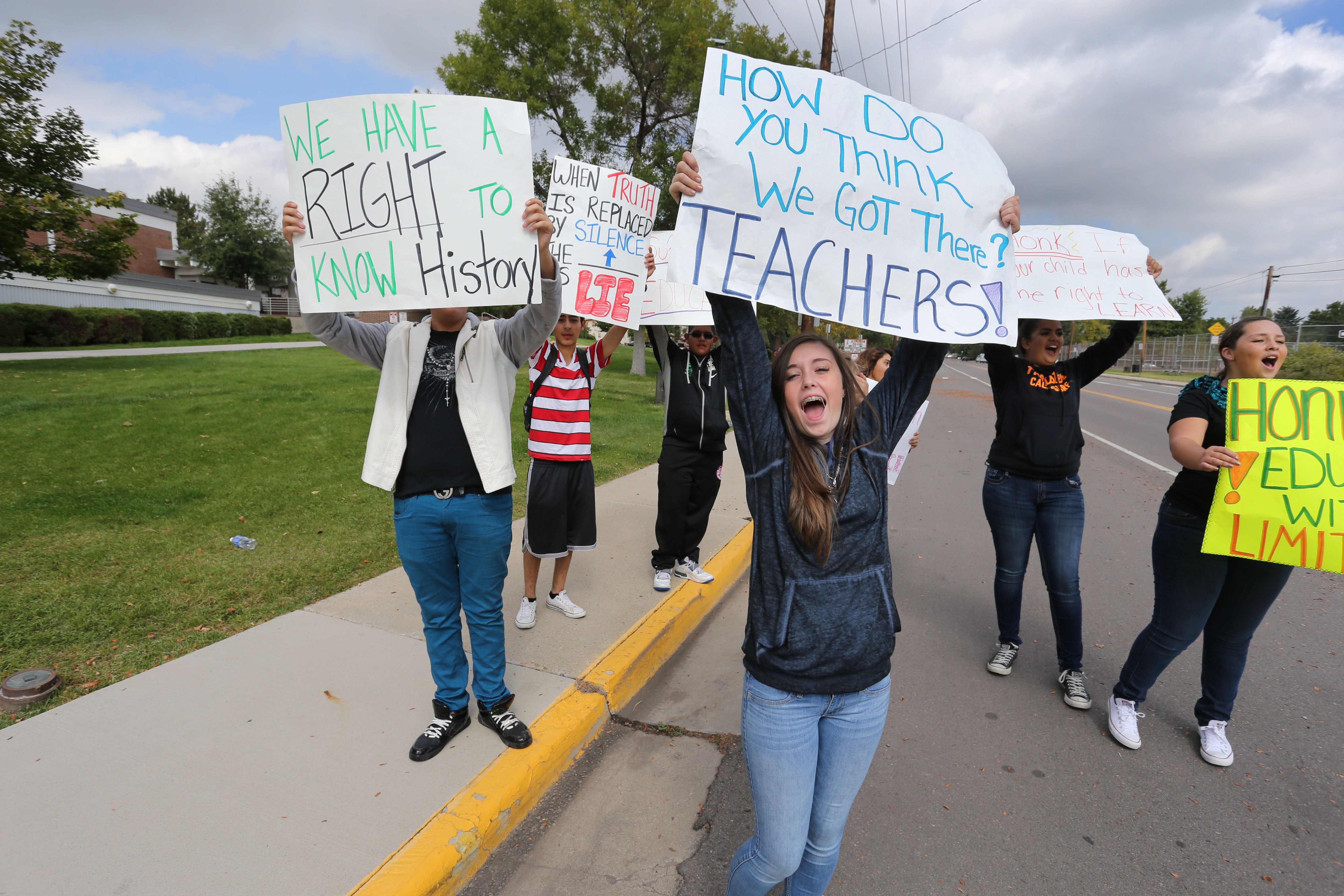 2 Denver-area high schools shut down in history course controversy
GOLDEN, Colo. - Hundreds of suburban Denver high school students missed school again Monday as teachers shut down two high schools by calling in sick amid a controversy over proposed changes to an Advanced Placement history class and changes to their pay.
Classes were canceled at Golden and Jefferson high schools after 81 percent and 70 percent of teachers called in sick respectively. Some students who had the day off hit the street to protest against a proposal from the board's new conservative majority to review the history course to make sure it promotes patriotism and doesn't condone social disorder.
At Jefferson High School in Edgewater, about 30 students marched to busy Wadsworth Boulevard and protested in front of the school holding signs such as "We have a right to know history."
At Golden High School, English teacher Tammie Peters told The Denver Post that teachers are "sick of the board majority actions."
Students showed their frustrations as well, due to the changes in the history courses that have been proposed by the board. Students have called it censorship.
"America was founded on civil disobedience, so it's very bothersome that that wants to be taken out," Golden High senior Rachel Hilbrecht told CBS Denver.
The action follows large student walkouts last week over the proposal, which the school board is scheduled to discuss at its meeting Thursday. The waves of protest began after a sickout at two other high schools on Sept. 19 the day after the school board discussed the history proposal as well as backed a plan to link teacher raises to their evaluations. Teachers say that evaluation system is flawed.
The union representing teachers says it didn't organize the sickouts but president John Ford said the union understood the frustration of teachers and the community at large.
"The Board Majority's discussion about censuring the AP History curriculum has hit a nerve with the community that was already raw because of the Board Majority's refusal to listen to the community and their priorities for Jeffco schools," Ford said in a statement.
Thanks for reading CBS NEWS.
Create your free account or log in
for more features.