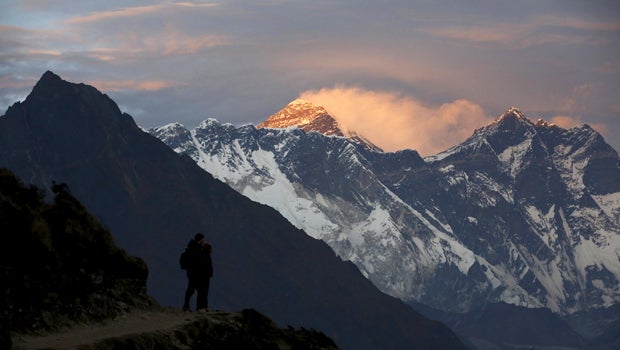 2 climbers still missing on Mt. Everest after 2 die
KATHMANDU, Nepal -- Two Indian climbers have gone missing on Mount Everest, an expedition organizer said Sunday, a day after two deaths from apparent altitude sickness were reported, underscoring the risks on the world's highest mountain.
Paresh Nath and Goutam Ghosh have been missing since Saturday, said Wangchu Sherpa of the Trekking Camp Nepal agency in Kathmandu. They were last seen near the Everest summit.
Two of their companions who fell sick were being helped down the mountain, Sherpa said. About 30 climbers have developed frostbite or become sick near the summit in recent days.
Most of the sick climbers suffered frostbite while attempting to reach the summit or on their descent, Mountaineering Department official Gyanendra Shrestha said. Favorable weather has allowed nearly 400 climbers to reach the summit from Nepal since May 11, but the altitude, weather and harsh terrain can cause problems at any time.
Several Sherpa guides carried one sick climber from the highest camp, at nearly 26,240 feet, to Camp 2, at 21,000 feet, where attempts were being made to pick her up with a helicopter, said Pemba Sherpa of the Seven Summit Treks agency in Kathmandu. Seema Goshwami of India had frostbite to her hands and feet at the South Col camp and was unable to move.
"It took a big and risky effort, but we were able to save her," Pemba Sherpa said, adding that an Iranian climber identified only as S. Hadi had been brought to Kathmandu and was recovering in a hospital.
A Norwegian woman, 45-year-old Siv Harstad, suffered snow blindness and was helped down from the summit on Saturday, the Norwegian news agency NTB said.
The two climbers who died were on the same expedition team. It was undecided when and if their bodies will be brought down from the high altitude and it will depend on the team and family members, Pasang Phurba of the Seven Summits agency said. Carrying bodies down Everest takes at least eight Sherpa guides, since they become frozen and heavier than normal.
More details were not available because of communication difficulties on the 29,035-foot mountain.
The two deaths were the first confirmed this year on Everest, during a busy climbing season that follows two years in which the peak was virtually empty due to two fatal avalanches.
Dutch climber Eric Arnold, 35, had enough bottled oxygen with him, as well as climbing partners, but he complained of getting weak and died Friday night near South Col before he was able to get to a lower altitude, Phurba said.
Just hours after Arnold died, Australian climber Maria Strydom also showed signs of altitude sickness Saturday afternoon before she died, Phurba said.
Strydom was a finance lecturer at Monash University's business school in Melbourne. The school posted on Facebook that the community was deeply saddened by her death.
Arnold was from the Dutch city of Rotterdam, according to his Twitter account, which was updated on Friday with a post that he had reached the summit on his fifth try.
In an interview earlier this year with RTV Rijnmond, Arnold noted that the risks of climbing the world's highest peak did not end at the summit.
"Two-thirds of the accidents happen on the way down," he said. "If you get euphoric and think 'I have reached my goal,' the most dangerous part is still ahead of you."
Strydom and her husband were attempting to climb the seven summits, the highest peaks on the seven continents, according to the Monash Business School's website.
She had already climbed Denali in Alaska, Aconcagua in Argentina, Mount Ararat in Turkey and Kilimanjaro in Tanzania, the website said. Strydom said she felt well-prepared for her attempt to climb Everest, and that depending on whether she reached the summit, her mind would likely turn to her next adventure.
Thousands of people have summited Mount Everest since it was first conquered by New Zealander Edmund Hillary and Sherpa Tenzing Norgay in 1953. But more than 250 people have died in the attempt.
Trekking companies were anxious to see foreign climbers return after two years of disasters. Nepal's devastating earthquake last year caused the season to be canceled, and climbing attempts were largely abandoned in 2014 after an avalanche above the base camp killed 16 Sherpa guides.
Professional climbers Adrian Ballinger and Cory Richards, who documented their Everest adventure this year on Snapchat, talked to "CBS This Morning" before news broke of this year's climber deaths to discuss the extra precautions needed, and described what happens when you reach 26,000 feet.
"The death zone," Richards said. "As you go higher your body just simply can't regenerate. And every minute spent above that altitude puts you -- without trying to be too dramatic here -- puts you closer to death. The margin for error drops to zero."
At this elevation, they must constantly check in with a doctor stationed at base camp using radio.
"She's just listening to our voices and how we sound -- are we slurring our words, are we still putting together thoughts coherently?" Ballinger said.
The doctor is also making sure they eat regularly to keep up their strength.
"We need, without oxygen, to never stop moving. If we stop moving we'll freeze. And so we need a day without a lot of other people on the route and we think we're going to get that in about a week's time," Ballinger said.
Thanks for reading CBS NEWS.
Create your free account or log in
for more features.