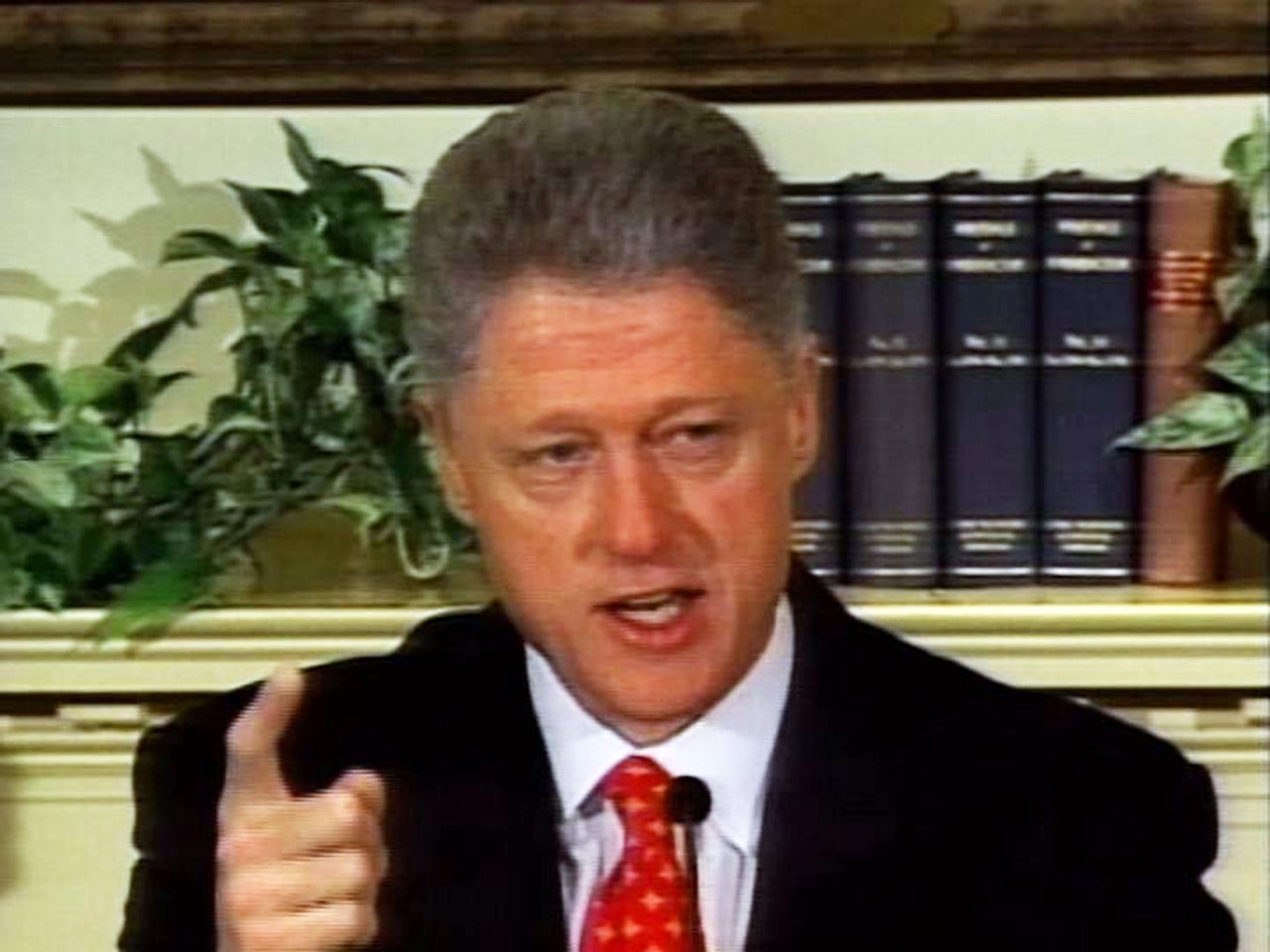 15 years ago: Bill Clinton's historic denial
On January 26, 1998, President Bill Clinton took to the microphone, finger wagging, face red, and issued a denial that he would soon come to regret.
"I want to say one thing to the American people. I want you to listen to me. I'm going to say this again: I did not have sexual relations with that woman, Miss Lewinsky," Clinton famously declared.
(Watch Scott Pelley's report from Jan. 26, 1998 for the CBS Evening News, above)
Clinton stood accused of fostering an extramarital affair with a White House intern, Monica Lewinsky, an accusation he denied repeatedly before finally owning up to the indiscretion roughly six months after his arch declaration of innocence.
"I did have a relationship with Miss Lewinsky that was not appropriate," Clinton said on August 27, 1998. "In fact, it was wrong."
Clinton's denial and subsequent admission of guilt were the nadir of a scandal that led to an impeachment trial and very nearly wrecked his second term in office.
But just fifteen years later, in defiance of the tired adage that "there are no second acts in American politics," Clinton is more popular than ever.
In a Gallup poll taken last August, Clinton registered a 69 percent favorability rating - a personal best for him and among the highest favorability ratings of any political figure in the country.
Fifteen years after a second term rocked by scandal, Clinton's political stock has never been higher. During the race to succeed Clinton in 2000, Vice President Al Gore famously shunned Clinton's help on the campaign trail, distancing himself at every turn from his scandal-tainted boss. By 2012, President Obama was embracing Clinton in a political bear-hug, deputizing the former president as an emissary to the white working class and making heavy use of Clinton's barn-burning address to the 2012 Democratic National Convention in his political advertisements. Throughout the campaign, Mr. Obama sought to link his presidency to the economic bliss of the 1990s, repeatedly framing his proposals as the second coming of Clintonism.
Even the Republicans' 2012 standard-bearer Mitt Romney could not resist the political magnetism of Clinton's legacy, praising the former president as a "new Democrat" whose aversion to big government was unfortunately not matched by the current occupant of the White House.
The boffo favorability numbers, the rush of candidates hitching their wagon to Clinton's legacy - it all amounts to a remarkable turnaround for a man who very nearly approached pariah status during the low point of a sex scandal in 1998.
Clinton's affair with Lewinsky would eventually yield impeachment proceedings. He was charged with perjury and obstruction of justice during the course of a grand jury investigation of the affair.
Although he was acquitted by the Senate after the impeachment sailed through the GOP-controlled House, the scandal had taken a sharp toll on Clinton's brand and his esteem on Capitol Hill.
Far from elevating Clinton as a "new Democrat", Republicans touted the scandal as evidence that their opponent was a liar and a cheat, something they'd been aggressively trying to prove since he announced his presidential ambitions in 1991, flagging potential scandal after potential scandal (see: Gennifer Flowers, Whitewater, and the death of Vince Foster, just for starters.)
The president's conduct "cannot be reconciled with the office of the president of the United States...the people's trust has been betrayed," said Rep. Henry Hyde, R-Ill., accusing the president of a "premeditated deliberate corruption of the nation's system of justice."
Then-Rep. David Vitter, R-La., was even more direct, flat-out declaring, "President Clinton should be impeached and removed from office because he is morally unfit to govern."
If Clinton was not removed, Vitter insisted, "His leadership will only further drain any sense of values left to our political culture."
Even some Democrats piled on. Then-Sen. Joseph Lieberman, D-Conn., faulted Clinton's behavior as "immoral and harmful" and lamented "the damage the president's conduct has done to the proud legacy of his presidency."
Lieberman's condemnation of Clinton was even thought to factor into Gore's decision to put Lieberman on the ticket in the 2000 election - the better to distance himself from a tarnished Clinton legacy.
Twelve years later, Clinton's utility to a Democratic presidential candidate was not in much dispute. Far from being seen as a millstone, Clinton was hailed as a savior, with multiple commentators speculating that his coattails might have been enough to drag Mr. Obama over the finish line.
And the 2012 election may not be Clinton's last act. With Hillary Clinton still deciding on a potential 2016 bid, Bill Clinton may yet enjoy one last opportunity to wield his popularity and conclude a political story that once seemed destined to end in disgrace.
Thanks for reading CBS NEWS.
Create your free account or log in
for more features.