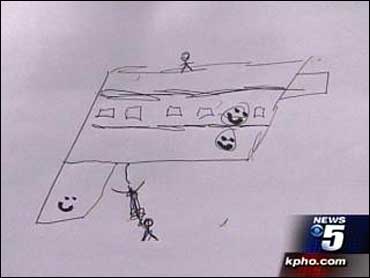 13-Year-Old Suspended For Doodling Gun
Officials at an Arizona school suspended a 13-year-old boy for sketching what looked like a gun, saying the action posed a threat to his classmates.
"My son is a very good boy [who] doesn't get into trouble," the boy's mother, Paula Mosteller, told CBS affiliate KPHO correspondent Mary Valenzuela. "There was nothing on the paper that would signify that it was a threat of any form."
"He was just basically doodling and not thinking a lot about it."
The Chandler Unified School District declined to give more details about the incident. Spokesperson Terry Locke said in a statement, "Federal privacy law forbids the school or district from discussing student discipline."
There's nothing in a portion of the student handbook that addresses conduct to indicate the drawing of a weapon poses threat, KPHO reported.
There is, however, a rule that says students should not engage in "threatening an educational institution by interference with or disruption of the school."
The drawing, which is covered with smiley faces, did not show blood, bullets, injuries or target any human, the parents said. The East Valley Tribune reported that the boy said he did not intend for the picture to be a threat.
"We're not advocates for guns," Mosteller said. "We don't have guns in our home. We don't promote the use of guns. My son was just basically doodling on a piece of paper."
The boy's father, Ben Mosteller, said when he went to the school to discuss his son's punishment, school officials mentioned the seriousness of the issue and talked about the 1999 massacre at Colorado's Columbine High School, where two teenagers shot and killed 12 students, a teacher and themselves. Mosteller said he was offended by the reference.
The boy was initially suspended for at least five days, but after his father spoke to the principal, it was reduced to three.
Thanks for reading CBS NEWS.
Create your free account or log in
for more features.