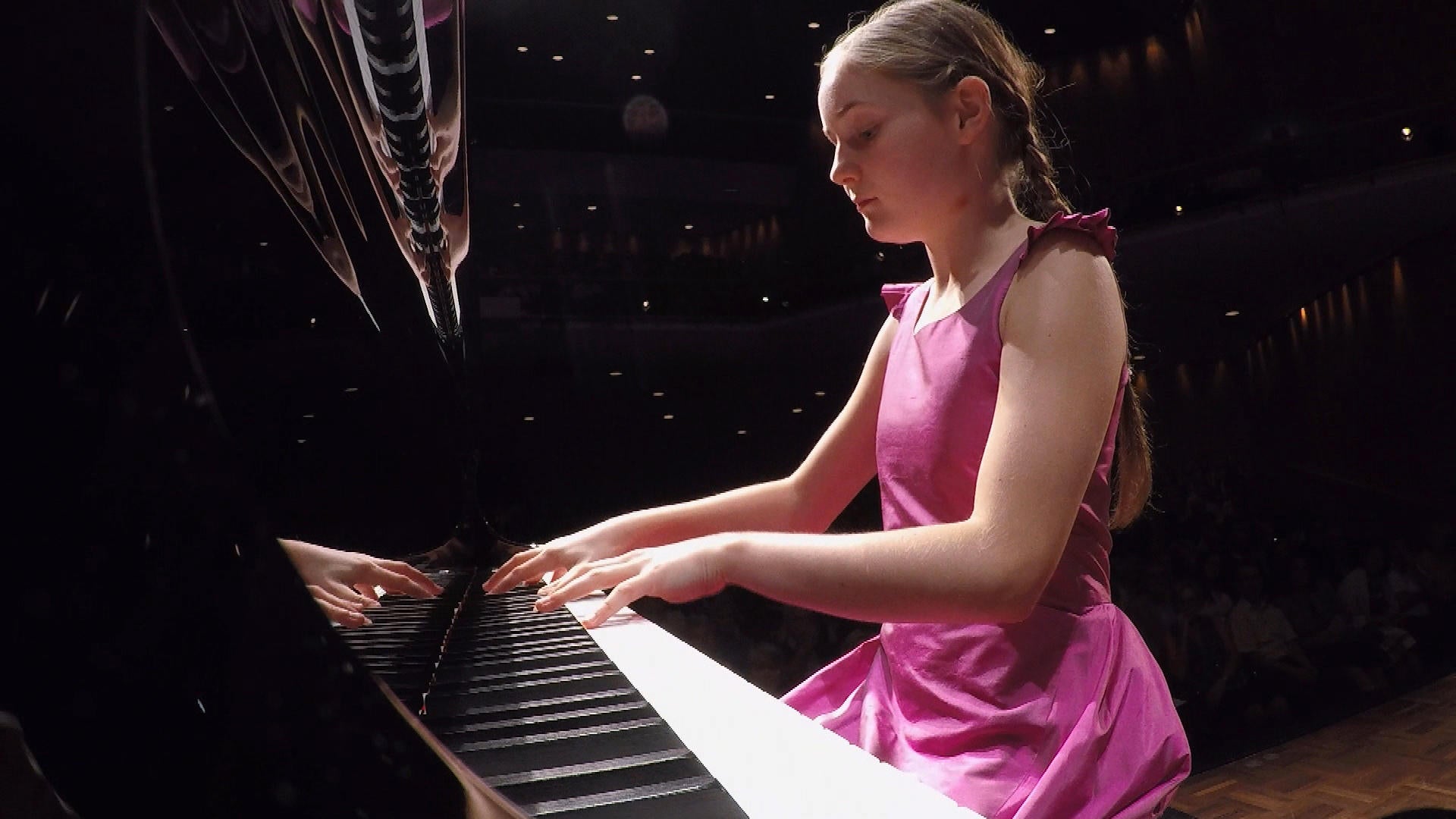 Prodigy says she'd prefer to be the first Alma over the second Mozart
Alma Deutscher could be as gifted as Wolfgang Amadeus Mozart, but the 12-year-old prodigy gently pushes away a comparison to the musical genius, insisting she has her own unique talent. The young British virtuoso, a natural composer who plays piano and violin, discusses and demonstrates her incredible musicality in a profile by Scott Pelley on the next edition of 60 Minutes Sunday, Nov. 5 at 7:30 p.m. PT and 7 p.m. ET.
Deutscher has been playing piano and violin since the age of 3 and started playing her own melodies at 4. She set herself apart from other prodigies when she composed an opera when she was just 10 -- a feat requiring mastery of all the instruments in the orchestra. When Pelley points out that Mozart also premiered his first opera at the same age, Deutscher is polite, but firm. "I know that they mean it to be very nice to compare me to Mozart," she says, "Of course, I love Mozart and I would have loved him to be my teacher. But I think I would prefer to be the first Alma than to be the second Mozart."
"Of course, I love Mozart and I would have loved him to be my teacher. But I think I would prefer to be the first Alma than to be the second Mozart."
She has a chance to make a significant mark says Robert Gjerdingen, a professor of music at Northwestern in Chicago and a consultant on Deutscher's musical education for several years. He sees unlimited potential for such a gifted girl. "[Music] is her first language. She speaks the Mozart style. She speaks the style of Mendelssohn, as if she were a native speaker," he tells Pelley. "She's batting in the big leagues. And if you win the pennant, there's immortality," says Gjerdingen.
Deutscher is already an accomplished professional. 60 Minutes captured her with the Vienna Chamber Orchestra this past summer, playing the piano and violin solos for her own concertos. She also wrote the scores for the instruments accompanying her. In December, the Opera San Jose Orchestra will stage "Cinderella" in Deutscher's American debut, where she'll play the piano, organ and violin.
The melodies have been in her head, she says, ever since her musicality was awakened by listening to a lullaby by Richard Strauss when she was 3. It's constant she tells Pelley. "It's really very normal to me to go around -- walk around and having melodies popping into my head. It's the most normal thing in the world," she says. "For me, it's strange to walk around and not to have melodies popping into my head."
The melodies can reflect a broad range of emotions, including dark and dramatic, seemingly beyond the experience of such a young girl who says she is quite happy. Deutscher says the melodies come from within her mind and she has a method of organizing and recalling them. She has created an imaginary country with conjured composers, each of whom specializes in a different musical emotion. She calls one of them Antonin Yellowsink. "I have lots of composers. And sometimes when I'm stuck with something, when I'm composing, I go to them and ask them for advice. And quite often, they come up with very interesting things."
Thanks for reading CBS NEWS.
Create your free account or log in
for more features.