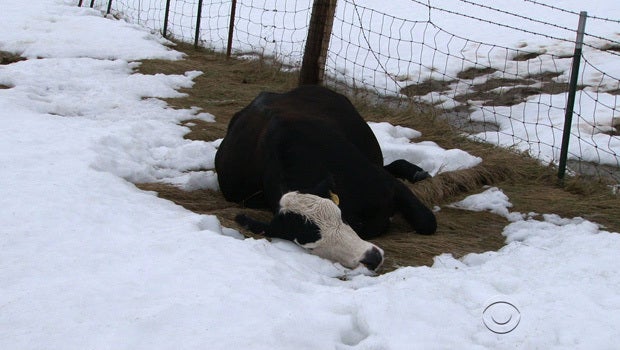 100,000 cattle feared dead after early South Dakota snowstorm
Giant burial pits have been dug in the Black Hills of South Dakota-- for cattle lost in a surprise snowstorm 10 days ago.
As many as 100,000 head are feared dead and financial losses may be as high as $1.25 million dollars. The federal government shutdown has only made things worse.
Nothing could prepare Scott Reder and his wife, Angela, for what the melting snow has revealed.
There were places where there were dead cows for as far as the eye could see.
"After a while you almost get numb," Angela Reder said. "You come upon another one and you come upon another one."
Said Scott Reder: "We embraced. We just wept. What can you do?"
South Dakota's cattle were still in summer pastures when the blizzard hit. They had not grown out their winter coats. The animals were fully exposed to blinding snow and 70 mile per hour winds. Some wandered for miles before collapsing and suffocating in snow drifts.
"The day after the storm I started counting cattle that were dead of ours and I got sick to my stomach," Scott Reder said.
He lost 200 animals, nearly half of his herd. Other ranchers lost everything.
"My biggest fear is that the people that lost livestock won't be able to recover," Scott Reder said. "You pray for them and you hope that they get guidance and have the ability to dig out of that, but that's a big hole."
Ranchers can't report their losses to the Agriculture Department because government offices are closed. And relief programs that might offer help are part of a farm bill that has been delayed by congressional gridlock.
"It affects not only the ranchers but it affects the business people," Scott Reder said. "It's just such a large trickle effect. It's gonna be seen for a long time to come in this area."
As devastating as this is here consumers probably will not see a big increase in beef prices because South Dakota provides only a fraction of the nation's supply. But the Reder family's loss already exceeds $250,000.
If you would like to help the ranchers, you can donate here.
Thanks for reading CBS NEWS.
Create your free account or log in
for more features.