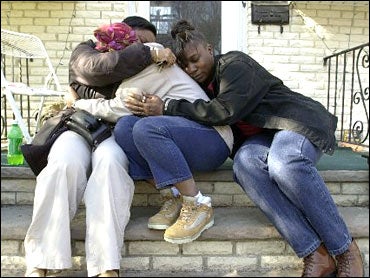 10-Year-Old Boy Charged With Murder
One was the neighborhood bully, a 10-year-old raised by his blind single father, reviled for throwing rocks, picking fights and vandalizing cars and homes. The other was a toddler eagerly learning his ABCs, content to while away the hours coloring or listening to the local librarian read aloud.
The two young lives collided Wednesday when police say the older boy lured the 3-year-old out of a library, fatally beat him with a baseball bat, sexually assaulted him and dumped him in a ditch.
Amir Beeks died the next day and the other boy, who was not identified by authorities, has become one of the youngest people in New Jersey to be charged with murder.
Gov. James E. McGreevey, a former Woodbridge mayor, has asked Human Services Commissioner Gwendolyn Harris for a report on the Division of Youth and Family Service's involvement with the older boy.
"The governor knows the family of the victim so obviously he is upset and shaken," Ellen Mellody, a McGreevey spokeswoman, said Friday.
It is the second time this year McGreevey has asked about the agency's handling of a case. The first was in January, after two abused boys and the decomposed body of their brother were found in a Newark basement.
"This is another child that the division has known for quite some time," said Cecelia Zalkind, executive director of the Association for Children of New Jersey, which renewed its call for the agency to review all cases involving at-risk children still in their own homes.
Joe Delmar, a DYFS spokesman, declined to comment on the case.
A state official, speaking on condition of anonymity, said the 10-year-old's case was closed last July, not long after a visit by a DYFS caseworker. The agency was told by school officials the boy's behavior and grades were improving, the source said, and the state Commissioner for the Blind and Visually Impaired said the boy's father was able to care for him.
In Woodbridge about 25 miles southwest of New York, neighbors said the boy had few friends, a smart mouth and an appetite for destruction.
"He stood there one day pulling the veneer off our front door," said Al Gabany, a neighbor. "Another time he started throwing rocks at our grandson. The man across the way put out some birds on the lawn as decorations, and he stole them."
Jimmy May, who lives next door to the boy, said he smashed bottles in neighbors' driveways and vandalized their cars.
Others were more sympathetic, noting that the boy's mother, who was also blind, died several years ago of brain cancer.
Middlesex County Prosecutor Bruce Kaplan said the older boy lured Beeks out of the Henry Inman Colonia branch library Wednesday after family members lost track of him. They called police, who found the little boy face-down in a ditch behind the suspect's home two blocks away.
Paramedics worked on the boy before rushing him to John F. Kennedy Medical Center in Edison, where he died Thursday.
Prosecutors were still struggling to divine a motive in the case, noting that neither boy knew each other before meeting at the library Wednesday.
Kaplan said the suspect cannot be tried as an adult. He faces a sentence of up to 20 years on the murder charge, but could serve a longer term if he were convicted on the other charges and the judge were to impose consecutive sentences.
Amir's stepmother, Rosalyn Singleton, called him "a sweet little boy, just a happy-go-lucky kid." He loved to watch TV. Cheez Doodles were his favorite food. He was just about through learning the alphabet.
"He was real interested in learning. He knew how to count," Singleton said.
Mayor Frank Pelzman said Amir's relatives, want "justice, but not vengeance."
"They are putting their faith in prayer," he said.

Thanks for reading CBS NEWS.
Create your free account or log in
for more features.