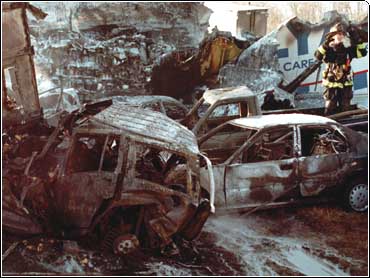 10 Dead In Mo. Multi-Car Pileup
Missouri officials are blaming icy weather for a horrific traffic accident outside Kansas City Sunday. Ten people died in a fiery pile-up north of the city that involved two dozen vehicles.
The wreck happened after a truck jackknifed on a stretch of Interstate 29 blanketed by an unexpected downfall of ice and snow. Dozens of cars and two trucks slammed into the overturned tractor-trailer, injuring another 42 people, the Missouri State Highway Patrol said.
One of the tractor-trailers, wedged between two other trucks and several cars, caught fire upon impact. It took over an hour to contain the blaze, which was fueled by hydrochloric acid leaking from one of the trucks, police said.
It was like a bomb went off on the highway, reports Correspondent Brian Webb of CBS Station KCTV-TV. Even people who know accidents have never seen one this bad before.
"I've been working for the highway patrol for 33 years and this is the worst accident I've ever been involved with," McMillan said of the wreckage that was still smoldering several hours later.
Nine of the victims were burned beyond recognition, said Sgt. Jack McMillan of the patrol. None has been identified.
The tenth victim, who was killed when his car flipped off the interstate and into a ditch, was a grandfather from Florida. He was visiting relatives in St. Joseph for his 16-year-old grandchild's birthday party, McMillan said.
Throughout the Kansas City area and west Missouri, cars began sliding on slick roads after an icy snow began falling about noon, surprising drivers who had expected only a light dusting of snow.
At least 50 accidents involving 100 vehicles were reported from 1 to 3 p.m. on that stretch of I-29 from Kansas City to St. Joseph, the patrol said. By 8:30 p.m., at least 430 accidents had been reported in the Kansas City metropolitan area. Kansas City alone had 200 accidents.
One of those accidents left Kansas City Chiefs' Derrick Thomas - one of pro football's top defensive players - seriously injured.
Hospitals in three Missouri counties and two in Kansas reported treating 108 traffic accident victims.

Thanks for reading CBS NEWS.
Create your free account or log in
for more features.