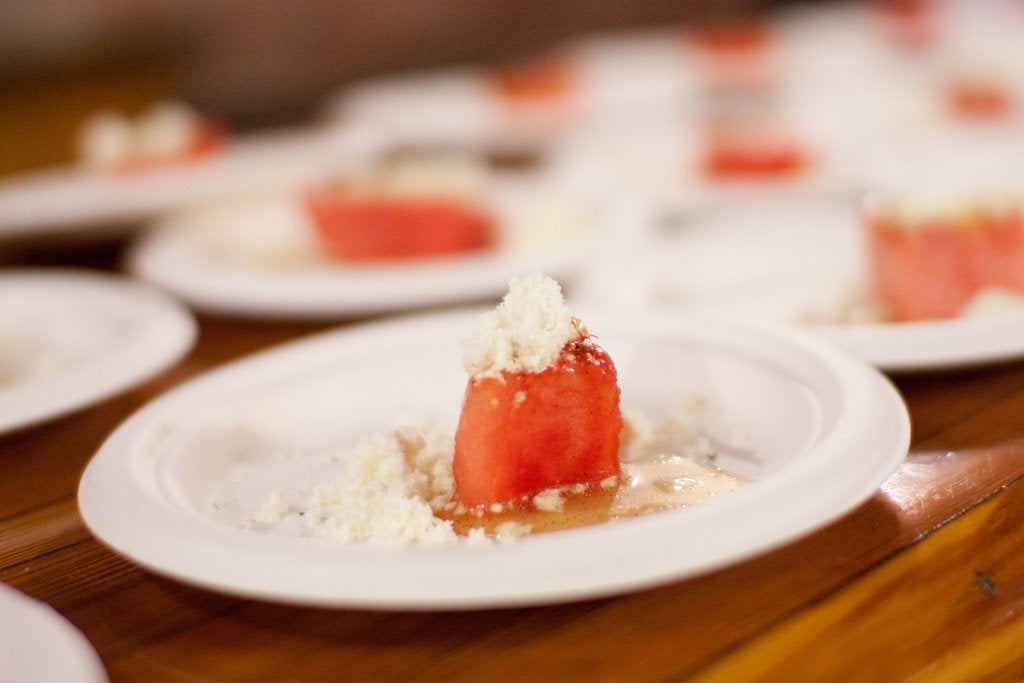 Unique Flavors of Choice Eats 2012
Choice Eats 2012
This was the fifth annual tasting event, hosted by the Village Voice. The number of restaurants that attended this event hit 83 and consist of many different type of cuisines from Chinese to Italian. Top Chef Celebrity Ty-lor Boring, also attended by hosting a demo about his watermelon dessert creation.
Unique Flavors of Choice Eats 2012
Ty-lor Boring's Watermelon
On season nine, episode nine of Top Chef, Ty-lor Boring made a dessert dish which won the QuickFire Challenge. This dish is watermelon with vanilla bean, honey, saffron, and salted olive oil powder. Chef Boring is currently residing in Brooklyn, NY.
Unique Flavors of Choice Eats 2012
Chai Sticky Bun
From SCRATCHbread, it is made with olive oil (no eggs or butter), burnt orange, chili, honey cinnamon with cardamom, and cocoa nibbs. This particular bakery is located in Brooklyn, NY where they bake an assortment of breads including bourbon wheat, pizzabread, brownstone focaccia, and more.
Unique Flavors of Choice Eats 2012
Scechuan Bhel
From Chinese Mirch, located right in Manhattan, a dish sautéed into perfection with crisp noodles, potatoes, and onions tossed with szechuan sauce. Their primary objective is to create a fusion of Chinese food with Indian flavors.
Unique Flavors of Choice Eats 2012
Cow Foot Broth
Hearty Soup by Kelso Restaurant of Brooklyn, NY. They specialize in Panamanian, Spanish, West Indian & American Cuisine. Daily specials include baked rosemary chicken, cod fish cake, and roti. It was rated best Panamanian of 2011 on Village Voice.
Unique Flavors of Choice Eats 2012
Chicharones with Smoked Greek Yogurt
Fried pork fat is delicious with smoked greek yogurt! This was created by Calyer, located in Greenpoint, Brooklyn on Cayler street. Though the menu started from Spanish theme, Chef Gabriel Moya adds to the menu using new flavors and techniques.
Unique Flavors of Choice Eats 2012
Butterscotch Ice Cream
Made as Semifreddo melon agrumata, and crumbled sbrisolona. It was made by an Italian restaurant called Del Posto, located in Manhattan. The ingredients contain apricot sorbet, butterscotch milk jam, crumbs, salt, and olive oil. Together, it creates sweet and tart taste that compliments each other quite nicely.
Unique Flavors of Choice Eats 2012
Bourbon Cake
The Blue Stove, conveniently located in Williamsburg, Brooklyn is known for its pies, whether savory or sweet. This particular sweet is made with Kings County Distillery bourbon whiskey. Other selections from their menu include breakfast food like bacon cheddar corn muffins, roasted chicken pot pies, and red velvet cake. They pride themselves on creating the pies from scratch, which includes making the dough in house.
Unique Flavors of Choice Eats 2012
Tomato Chipotle Cotton Candy
Spicy cotton candy? Delicious. Where does this magical concoction come from you ask? Dirt Candy. A restaurant that is entirely vegetarian. They are known for putting taste first and healthy second.
Unique Flavors of Choice Eats 2012
"Choice Streets" Food Truck
The Village Voice will also be hosting their first annual "Choice Streets" Food Truck tasting event on Tuesday, April 24th (7-10pm). It will feature over 25 food trucks on The Intrepid, located on Pier 86. Be there!