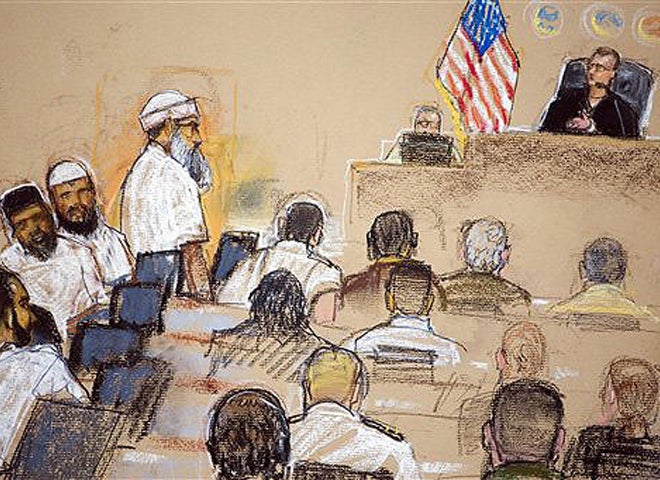 The 5 accused 9/11 plotters: Who are they?
(CBS News) Five men accused of masterminding or facilitating the 9/11 terror attacks are headed back to a military tribunal at Guantanamo Bay on Saturday, after the Obama administration withdrew an effort to try the al Qaeda operatives in a civilian court in New York City.
All five are accused of conspiring to organize, train or transfer funds to the 19 hijackers in the 9/11 plot, and are each charged with killing 2,976 people. Among the charges: Conspiracy, attacking civilians, attacking civilian objects, intentionally causing serious bodily injury, murder in violation of the law of war, destruction of property in violation of the law of war, hijacking or hazarding a vessel or aircraft, and terrorism.
If convicted, each faces the death penalty.
The chief defendant is Khalid Sheikh Mohammed, the purported mastermind of 9/11 who told military authorities he was responsible for the operation's planning "from A to Z." While Mohammed and others on trial had previously said they would plead guilty and welcome death as martyrs, they are now expected to fight the charges.
The arraignment Saturday, before an audience that includes a handful of people who lost family members in the Sept. 11 attacks as well as journalists and human rights observers, will be followed by a hearing on a series of defense motions that challenge the charges and the extreme secrecy rules imposed to prevent the release of information about U.S. counterterrorism methods and strategy. [The start of their actual trial is at least a year away.]
News cameras are not permitted inside the courtroom, where the media and other observers are kept behind double-paned, soundproof glass.
The 5 accused 9/11 plotters: Who are they?
Khalid Sheikh Mohammed
Born in Kuwait to Pakistani parents, Mohammed, 46, learned English and attended Chowan College in North Carolina, before receiving a degree at North Carolina Agricultural and Technical State University in December 1986. He was connected to the first bombing of the World Trade Center, in 1993, which was masterminded by his nephew, Ramzi Yousef. In 1994 in Manila, Mohammed, Yousef and others were involved in planning several terror plots, including an assassination attempt on Pope John Paul II during his 1995 visit to the Philippines; a plan to destroy a dozen airliners over the Pacific Ocean using bombs made from Casio watches and nitro glycerin in cologne bottles; and the idea of crashing a jet into CIA headquarters. Two plotters were caught, but Mohammed and Yousef escaped capture.
Mohammed is a man "of great ego and strong contradictions," said CBS News senior correspondent John Miller. In addition to his reputation as a "mastermind" of terror attacks to promulgate Shariah law, Mohammed also attended strip clubs in the Philippines, and even tried to woo a dental hygienist by diverting money for terrorism to hire a helicopter and fly by the window of the office she worked in.
Renewed Gitmo trial brings Khalid Sheikh Mohammed back in view
Mohammed is believed to have been the No. 3 figure in al Qaeda before his capture in Pakistan in 2003.
He was held in a CIA "black prison," where he was reportedly waterboarded 183 times.
"60 Minutes" profile of ex-CIA head who waterboarded Mohammed
New rules adopted by Congress and President Obama forbid the use of testimony obtained through torture or inhuman treatment. The defendants were held at secret CIA prisons overseas where they were subjected to what the Bush administration called "enhanced interrogation techniques."
Mohammed and the other defendants were then transferred to the U.S. military prison at Guantanamo Bay, Cuba in September 2006.
Mohammed has claimed responsibility for devising numerous plots, including attacks on Heathrow Airport, Canary Wharf and Big Ben in London; blowing up the Panama Canal; striking the Empire State Building and other skyscrapers in Los Angeles, Seattle and Chicago; and attacking U.S. nuclear power plants.
The 5 accused 9/11 plotters: Who are they?
Ramzi Binalshibh
Binalshibh, a 40-year-old Yemeni, has been described as a "key facilitator" in the Sept. 11, 2001 attacks. As part of the al Qaeda cell based in Hamburg, Germany (which included Mohamed Atta), he is alleged to have helped the hijackers enter the U.S. and find flight schools.
Binalshibh was captured Sept. 11, 2002, and interrogated at a CIA facility in Afghanistan. Almost immediately, two former CIA officials said, Binalshibh exhibited mental instability that would worsen over time. When FBI agents finally had a chance to interview Binalshibh, they found him lethargic but unharmed.
"He had a certain toughness about him, like he didn't care," said Raymond Holcomb, a retired FBI agent who spent five days alongside the CIA with Binalshibh in Afghanistan, and wrote about it in the book, "Endless Enemies: Inside FBI Counterterrorism."
Though Binalshibh was uncooperative during his early interrogations, his interviews formed the foundation for parts of the 9/11 Commission report. One official said he also provided intelligence about a plot to crash aircraft into London's Heathrow Airport.
At a 2008 hearing he told a military tribunal he wished to be "martyred."
Since being moved to Guantanamo Bay in 2006, Binalshibh has appeared increasingly erratic, according to court records describing him as experiencing delusions.
Tapes of CIA interrogations during Binalshibh's detention in Morocco surfaced in 2007 (discovered under a desk at the CIA's Counterterrorism Center), after dozens of tapes recording the torture and interrogation of Abu Zubaydah and Abd al-Nashiri had been destroyed.
The 5 accused 9/11 plotters: Who are they?
Mustafa Ahmed al-Hawsawi
Al-Hawsawi, 43, of Saudi origin, is accused of serving as a paymaster and facilitator for the Sept. 11 operation from his post in Dubai, United Arab Emirates, providing money and travelers checks, air tickets, Western clothing and credit cards to four of the 9/11 hijackers (and to a fifth man who was ultimately denied entry to the United States).
He shared with one hijacker a United Arab Emirates-based financial account that funded the hijackers' activities in the month before the attacks. Al-Hawsawi also worked in the al Qaeda media center in Afghanistan from 2000 until he departed for the United Arab Emirates in early 2001.
He was captured in Pakistan in 2003 and held at Guantanamo, but the following year was transferred to a CIA "black prison." He was returned in Guantanamo in 2006.
In his testimony read at the 2006 trial of Zacarias Moussaoui (a convicted 9/11 conspirator), al-Hawsawi said he had seen Moussaoui at an al Qaeda guesthouse in Kandahar, Afghanistan, in the first half of 2001.
The 5 accused 9/11 plotters: Who are they?
Abi Abd al-Aziz Ali
Ali (also known as Ammar al-Baluchi), 34, is a nephew and lieutenant of Khalid Sheikh Mohammed. He is a computer technician who is accused of providing funds for the 9/11 hijackers.
Ali spent most of his teen years in Iran before moving to the United Arab Emirates to work as a computer programmer in Dubai in 1998. He was gradually influenced towards terrorism by extremist relatives (his chief mentor being cousin Ramzi Yousef).
After the collapse of the Taliban in Afghanistan in late 2001, Ali reportedly assisted Mohammed in moving al Qaeda operatives and their families to safe houses in Pakistan. He was also directed by Mohammed to assist such terrorists as "shoe bombers" Richard Reid and Saajid Badat, and fellow high value Guantanamo detainee Majid Khan, who was suspected of plotting to blow up gas stations in the U.S. Ali was was captured in Pakistan in 2002.
In 2010, Ali's Pakistani wife, Dr. Aafia Siddiqui, was convicted of trying to kill U.S. agents and military officers and sentenced to 86 years in prison.
The 5 accused 9/11 plotters: Who are they?
Walid Muhammad Salih Mubarek bin Attash
Attash, a 33-year-old Yemeni national, is accused of conspiring in the 2000 bombing of the USS Cole in Yemen, which killed 17 sailors, and of involvement in the September 11, 2001 attacks. He allegedly helped al Qaeda pick and train the 9/11 hijackers, teaching them hand-to-hand combat skills in the Afghan camps. Prosecutors say Attash took practice flights carrying a razor knife to test airport security, briefed the lead hijackers on his surveillance, and later studied airline schedules to choose flights for a multiple hijacking.
Also known as Khallad, Attash was a key al Qaeda operative from 1998 until his capture in 2003.
In 1996, after Osama bin Laden's return to Afghanistan from Sudan, Attash served as a bodyguard for the al Qaeda leader, and participated in combat against the Northern Alliance. He lost his right leg during a battlefield accident in 1997.
In 1998, bin Laden reportedly began using Attash operationally, as an intermediary to al Qaeda in the Arabian Peninsula network chief Abd al-Rahim al-Nashiri. He is also said to have assisted in the 9/11 operation, including traveling to Kuala Lumpur and Bangkok during December 1999-January 2000 to meet with hijackers Nawaf al-Hazmi and Khalid al-Mihdhar, and to take two flights on a U.S.-flagged airliner to assess in-flight security procedures.
Attash comes from a family prominent in terror circles: his father, Muhammad, was close to Osama bin Laden, and several of Attash's brothers went to Afghanistan to train and fight in the 1990s. Two brothers were killed (including one during U.S. airstrikes in Afghanistan in late 2001), and another, Hassan, was detained at Guantanamo Bay.
He also supervised training at the Mes Ainak camp in Afghanistan, and after 9/11 helped prepare al Qaeda's defenses around Tora Bora. He fled Afghanistan and in early January 2002 arrived in Karachi, where he served as a communications link between al Qaeda's senior leadership and the network in Saudi Arabia.
In 2003 Attash and Khalid Sheikh Mohammed's nephew, fellow 9/11 defendant Ali Abdul Aziz Ali, were reportedly organizing a plot to carry out simultaneous attacks in Karachi against the U.S. Consulate, Western travelers at the airport, and Westerners residing in the Karachi area. The plot was close to execution when he was captured.
The Associated Press contributed to this report.