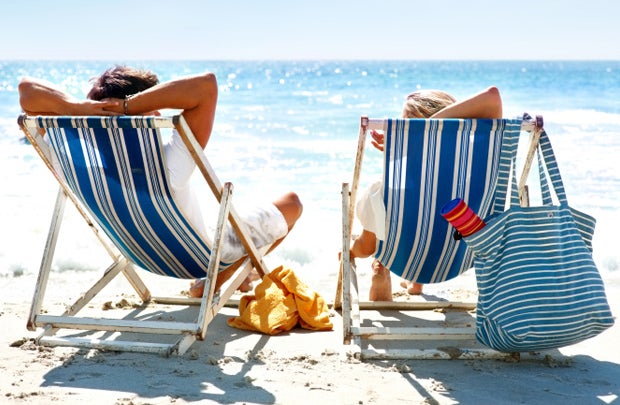 The 10 best places to retire
Whenever experts set out to find "great places to retire," they tend to dwell on cost of living and health care. Both important considerations, sure, but talk to retirees, even in this age of rampaging austerity, and you'll find most are looking forward to a retirement filled with friends, travel, volunteer opportunities, a wide variety of activities - both physical and intellectual. In other words, a rich life, richly lived.
So our list is an attempt to find the best places for the good life. All have good medical care and most are extremely affordable. But we also focused on lifestyle, on finding places where there is a balance between outdoor recreation, cultural and educational institutions, a good airport, and good public transportation, which isn't always easy to find in America's smaller cities. We also considered places your friends and family would love to come visit. After all, if you're striking out on a new life with new friends, it's a bonus to be get lots of visits from old friends.
There are a couple of surprises on the list, and a couple of places where housing is a bit more expensive, but it's a lot cheaper now than it was five years ago. Finally, these retirement spots have economies that have remained relatively vibrant, which means the lifestyle you see today is likely to be around tomorrow.
The 10 best places to retire
Austin, Texas
Austin is a big city in small town disguise. With a population of 790,400, the Texas capital is bigger than all of the "big cities" on the list. But it has managed to maintain the "Keep Austin Weird" credo that has made it a favorite among both retirees and young people.
The outdoors is the biggest attraction. The staggeringly beautiful, rough-hewn Hill Country, spring-fed swimming holes, a string of lakes along the Colorado River, and 10 months of warm temperatures (too warm in the summer) draw hikers and boaters and bikers outdoors. Lance Armstrong lives and trains here, and Lady Bird Johnson Lake (Town Lake to locals), which runs through the city's center, is a favorite training spot for rowers.
And of course there's the music. Willie Nelson and Alison Krauss music, to be consumed along with barbecued ribs and Lone Star long necks. Or, for the high-tech set, Norah Jones, to be consumed along with interactive startups, at the annual South by Southwest (SXWS) conference. There's also a lyric opera, a symphony, and a ballet company. But that's the icing. For the practical retiree, housing costs (median price: $235,000), good medical facilities, the many programs at the University of Texas, and no state income tax are the cake.
The 10 best places to retire
Clearwater, Fla.
Situated about midway up the Florida peninsula on the Gulf of Mexico, Clearwater is the postcard perfect coastal resort town: Sun-drenched beaches, sailboats cheek by jowl with yachts in the marinas that line Clearwater Harbor, well-traveled bike trails, and a plethora of public golf courses nearby. Now that real estate prices have plummeted throughout Florida -- they're down about 50 percent in Clearwater -- this idyll is available to a wider range of retirees. A two-bedroom condo on the beach can be had for about $200,000, a sum made even more affordable when coupled with a homestead exemption of up to $50,000 for residents and no state income tax.
With a population of 107,700, Clearwater is a small town, but should you need an experience that is available only in bigger cities, St. Petersburg, with its Museum of Fine Arts, the Florida Orchestra, and major league baseball team -- the Tampa Bay Devil Rays -- is only 20 miles away. And, of course, there's the annual rite of Spring Training with the Philadelphia Phillies taking up residence in Clearwater and New York Yankees descending on Tampa, 25 miles down the road.
The 10 best places to retire
Fort Collins, Colo.
More than 30 miles of bike roads. And roads is exactly the right word. Ft. Collins has many miles of separate, paved roads for bikers. It's as good a symbol as any for the way citizens of this small Rocky Mountain city (population: 144,000) see themselves. Summers are for biking, hiking, camping, golfing, and boating on 1,900-acre Horsetooth Reservoir, which sits at an elevation of 5,430 feet in the foothills. Winters are for skiing, snowshoeing, and partaking of the product of the city's highly regarded microbreweries. Median home price is $221,400.
An easy 70-mile drive gets you to Denver International Airport and a wide variety of cultural venues. Not to mention the MLB Colorado Rockies, the NFL Denver Broncos, the NBA Denver Nuggets, and the NHL Colorado Avalanche.
The 10 best places to retire
Marquette, Mich.
If you don't like snow, Marquette country is not for you. But the Upper Peninsula of Michigan is one of the most beautifully austere places in the U.S. If you like winter sports -- and don't like the fact that "Best Places to Retire" lists tend to be biased toward sun seekers -- you're looking at an average of 141 inches of snow for cross country skiing, snowshoeing, snow-man building, whatever your heart desires. In summer, head for the beaches along Lake Superior or out onto the water for every kind of water sport.
The city (population: 21,300) has a small airport with regular service to Milwaukee, Chicago, and Detroit, and Marquette General Health System is ranked as one of the top 50 cardiovascular hospitals by Thomson Reuters. Median home price is $130,000.
The 10 best places to retire
Pittsburgh, Pa.
Pittsburgh tops the small list of rust-belt cities that have cleaned up their acts, and it now ranks as a great place to live. One big change has been a dramatic drop in population - from 680,000 in 1950 to just over 300,000 today - that has transformed a once large industrial city into a smaller financial/high tech/health-care based economy. The old industrial facilities have been converted into shopping, restaurants, galleries, and living spaces. Although the steel mills that so defined Pittsburgh are largely gone, the symphony, ballet, opera, and museums that grew when the city was thriving live on. Add the Pittsburgh Steelers, the Pittsburgh Pirates, and the Pittsburgh Penguins, and the Steel City offers a rich and diverse lifestyle that would suit almost any taste.
Best of all, it is also a remarkably affordable city to live in. The median home sale price was $112,000 in August 2011, which is unusual for a city with top-notch hospitals and more than a dozen universities, art schools, and institutes.
The 10 best places to retire
Portland, Ore.
Two things about Portland: It boasts more than 40 small breweries, and is threatening Seattle as the country's coffee capital. The duality of hops and caffeine reflects the laid-back, easy going lifestyle of this small city, where craft shops and head shops and bicycle shops mingle with excellent restaurants and nightclubs that have spawned successful indie music bands (Nirvana played here).
A drop in Portland home prices offers an opportunity to grab a great deal on housing (median price: $263,300) -- in a spectacular part of the country. What's not to like about a city nestled along the Willamette River in the shadow of Mt. Hood and just 70 miles from the Pacific Coast? With a cool-summer Mediterranean climate, it's all here: Hiking, fishing, camping, biking, boating, vineyards.
As Oregon's largest city, Portland (population: 583,800) is also home to the Portland Art Museum, Oregon Ballet Theatre, Oregon Symphony, Portland Opera, a wide variety of traditional and off-beat theaters, five universities, and the NBA Portland Trailblazers.
The 10 best places to retire
Santa Fe, N.M.
The Santa Fe Opera House encapsulates all that is special about this oldest and most Western of Western capital cities. It's central to the city's image as a small, rustic town (population 144,170) with a giant cultural heritage. The opera season runs from June to August, and the opera house sits on a mesa, open on two sides to summer nights. The audience faces west toward awesome sunsets - and occasional thunderstorms - across the landscape captured in Georgia O'Keefe's paintings, which are on display at the museum that bears her name. Art is really the heart of Santa Fe's unique blend of three cultures, American, Spanish, and Anglo. And it is everywhere, in 10 art museums and literally dozens of art galleries.
Those looking for outdoor pleasures more strenuous than opera will find endless opportunity in 300 days of sunshine, on average; a mild climate summer and winter; and the nearby Sangre de Cristo Mountains for ample snow and winter sports.
All those amenities will cost you: $380,000 is the median home price.
The 10 best places to retire
Walnut Creek, Calif.
If you've long dreamt of living in California's Bay Area, Walnut Creek is the place. Conveniently located just 20 miles east of culturally rich San Francisco, and 13 miles from the wilderness of Mt. Diablo State Park, this East Bay town (population: 64,000) has everything your heart desires within half an hour, including a couple dozen parks, bike trails, easy access to public golf courses, and theater and gallery exhibitions at Walnut Creek's Lesher Center for the Arts.
It's pricier than most of the cities on our list. The median home price nudges just above $430,000. But an easy 20 mile commute on a Bay Area Rapid Transit train (BART) delivers you to all the amenities of San Francisco - the Major League baseball Giants and National Football League 49ers (and just across San Francisco Bay the Oakland Athletics), world-class opera, symphony, museums, and restaurants -- where median home prices top $680,000. Oh, and at the end of that BART ride is a first-rate international airport.
The 10 best places to retire
Washington, D.C.
The nation's capital may seem an odd choice as a place to retire. But if you think of it as a large amusement park for grown-ups, you'll see the logic. It's awash in museums -- including the incomparable Smithsonian -- historical monuments, parks, great restaurants, the National Zoo (think pandas), the John F. Kennedy Center for the Performing Arts and 39 other performing arts venues, libraries, and research centers. All of which makes it a volunteer's paradise.
The climate is mild, if sticky in the summer, and the opportunities for outdoor activities are endless. The city is actually smaller than Austin, Texas, and its population (601,700) has the largest percentage of adults with advanced degrees in the U.S. It is home to the NFL Redskins, Major League Baseball's Nationals, the NBA Wizards, the Women's NBA Mystics, and the NHL Capitals. Definitely a sports fan's Disney Land.
As for practicalities, the subway is convenient and accessible and offers reduced fares for seniors. There are excellent hospitals, 12 universities, and three major airports. The only drawback is the cost of housing: Median home price is $450,000. Still, you get a lot of bang for the buck.
The 10 best places to retire
Winston-Salem, N.C.
Winston-Salem (population 229,600) is part of the Piedmont Triad of cities along the northern tier of North Carolina that includes Greensboro and High Point, and in assessing one, you can include the benefits of all. For example, a unified mass transit system provides express service from all the cities to the Triad International Airport, which is located between Winston-Salem and Greensboro, and from all the cities to the Duke Medical Center in Durham and the University of North Carolina Medical Center in Chapel Hill.
As for the lifestyle, history is instructive. The city's lineup of universities is a testament to its diversity. There's Wake Forest, the nationally recognized private university; the historically all-black Winston-Salem State University; the oldest women's college in America, Salem University; and one of the most prestigious art schools, the University of North Carolina School of the Arts. Its symphony, founded in 1947, is the oldest in the state, and its arts council was the first in the nation. Which is not to say the city hasn't developed more contemporary outlets. It hosts an international film festival every spring -- RiverRun International Film Festival.
Best of all, Winston-Salem is affordable: The median home price is $137,000.