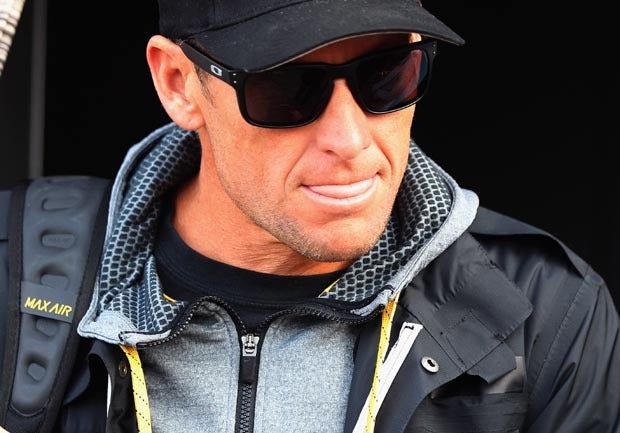 Athletes who've lost endorsements after scandals
Lance Armstrong
On Oct. 17, 2012, Nike severed ties with cyclist Lance Armstrong, citing insurmountable evidence that he participated in doping and misled the company about those activities for more than a decade.
The clothing and footwear company said that it was terminating Armstrong's contract "with great sadness."
Hours later, Anheuser-Busch also cut ties with the cyclist without giving an explicit reason. In a statement the company said: "We have decided not to renew our relationship with Lance Armstrong when our current contract expires at the end of 2012."
A week earlier, the U.S. Anti-Doping Agency released a massive report detailing allegations of widespread doping by Armstrong and his teams when he won the Tour de France seven consecutive times from 1999 to 2005.
Here's a look at other high-profile athletes who lost major endorsements in the wake of personal and professional scandals.
Athletes who've lost endorsements after scandals
Kobe Bryant
After the 2002 season, the Los Angeles Lakers had just come off three consecutive NBA titles and their star player, Kobe Bryant, was the face of the franchise - and countless endorsements. That changed in 2003 when Bryant was accused of sexually assaulting a 19-year-old woman in Colorado. Prosecutors dropped the case after the alleged victim refused to testify at trial but McDonald's, Coca-Cola, and Nutella all severed ties with Bryant. Even though the Lakers star lost up to $6 million in endorsement deals, by 2010 Forbes ranked him as the third highest-paid athlete with $48 million.
Athletes who've lost endorsements after scandals
Barry Bonds
Barry Bonds is the all-time home run king but after being the central figure in baseball's steroids scandal, the slugger lost a plethora of endorsement deals. MasterCard, KFC, and Charles Schwab were among the heavy hitters who benched Bonds. In 2007, SI.com estimated that with a spotless reputation and clean record, Bonds could have hauled in $28 million a year in endorsements.
Athletes who've lost endorsements after scandals
Ben Johnson
At the 1988 Olympics, Ben Johnson won the men's 100-meter sprint in world record time - only to have his gold medal stripped after a positive doping test for the steroid stanozolol. Eventually, five of the finalists of that race either tested positive for performance-enhancing drugs or were implicated in a doping scandal during their careers. In 1989, the disgraced Canadian athlete lost a $2.8 million deal with Italian sportswear maker Diadora.
Athletes who've lost endorsements after scandals
Floyd Landis
After testing positive for steroids, cyclist Floyd Landis lost his 2006 Tour de France title. His bank account took an even bigger hit. Sponsor Phonak terminated Landis' $3 million contract and the cyclist squandered millions more in potential endorsement deals with bike manufacturers and clothing companies. After maintaining his innocence for several years, in 2010 Landis admitted to doping throughout his career and accused Lance Armstrong and many other top riders of doping as well. Landis was one of 11 cyclists cited by the USADA in its 2012 report condemning Armstrong.
Athletes who've lost endorsements after scandals
Rashard Mendenhall
Shortly after Osama bin Laden's death in 2011, Steelers running back Rashard Mendenhall caused a stir on Twitter when he expressed sympathy for the al Qaeda leader and cast doubt on certain facts surrounding the Sept. 11, 2001 terror attacks. The comments not only angered many fans and players but also effectively killed his endorsement deal with Champion, as the athletic wear company severed ties with the player within hours of the tweets. In an interesting twist, Mendenhall ended up suing Hanesbrand, the parent company of Champion, arguing he was being punished for invoking his First Amendment rights.
Athletes who've lost endorsements after scandals
Michael Phelps
Michael Phelps has won more gold medals than any athlete in Olympic history and he made his biggest global splash at the 2008 Games in Beijing - tallying eight golds. A few months later, however, photos showing the American swimmer smoking from a bong at a party had sponsors shifting into damage control. Cereal giant Kellogg's decided not to renew Phelps' contract, saying: "Michael's most recent behavior is not consistent with the image of Kellogg." Unfazed, Phelps went on to cement his place in Olympic history at the 2012 Games and his agent said the now-retired swimmer could earn $100 million in endorsements over the course of his lifetime.
Athletes who've lost endorsements after scandals
Ben Roethlisberger
According to Sports Illustrated, Steelers quarterback Ben Roethlisberger made $2.5 million in endorsements in 2009. That number took a hit the following year when Roethlisberger was accused of sexually assaulting a 20-year-old college student in Georgia - the second time since 2008 that he faced assault allegations. Although no charges were filed, a Pittsburgh company that markets food products endorsed by local sports stars dropped its beef jerky sponsorship deal with the QB, saying Roethlisberger was "falling short" of the company's standards. How bad was the PR for Roethlisberger? After the sexual assault allegations, the Pittsburgh Zoo even did away with his likeness at an elephant exhibit.
Athletes who've lost endorsements after scandals
Wayne Rooney
Soccer star Wayne Rooney is no stranger to bad press in his native U.K. and in 2010, the tabloid headlines hurt his bank account. After allegedly cheating on his pregnant wife, the Manchester United striker was axed from a Coca-Cola ad campaign. Another sponsor, Tiger Beer, quietly pulled ads featuring the two-time England Player of the Year in the immediate aftermath of the scandal. Rooney still has lucrative deals with Nike and Electronic Arts and despite his off-the-field scandals, his annual income tops $26 million including endorsements, making him the fifth highest-paid soccer player in the world, according to France Football magazine.
Athletes who've lost endorsements after scandals
Mike Tyson
Former heavyweight champ Mike Tyson raked in nearly $300 million during his career but he actually shunned many endorsements while in his boxing prime. One notable exception was his contract with Pepsi. In one 1987 commercial he declared Diet Pepsi the "undisputed champion" over Diet Coke. However, after accusations of spousal abuse in 1989, Tyson's endorsement deal with the soft drink fizzled out. Tyson, who declared bankruptcy in 2003, recently starred in a one-man Broadway show and he is currently on a worldwide "Day of the Champions" tour to give inspirational talks about overcoming adversity in his life.
Athletes who've lost endorsements after scandals
Michael Vick
After Michael Vick's dogfighting ring in rural Virginia was exposed in 2007, the Atlanta Falcons quarterback lost his job and eventually his freedom, serving a 21-month prison term. He also lost millions of dollars in endorsements after Rawlings Sporting Goods terminated their contract with the QB, and Reebok suspended sales of his jersey. Nike, who signed the star to a contract during his rookie year in 2001, ended the deal after the dogfighting scandal. However, the company re-signed Vick, who now plays with the Philadelphia Eagles, in July 2011. Nike said at that time that it didn't condone Vick's actions, but was supportive of the positive changes he had made to better himself off the field.
Athletes who've lost endorsements after scandals
Tiger Woods
Perhaps no athlete's endorsement deals were more scrutinized in the wake of a scandal than Tiger Woods'. Once a marketers' dream, the golfer's extramarital affairs went public in late 2009, presenting a PR nightmare for companies with a financial stake in the world's former No. 1 golfer. Accenture, AT&T Inc. and Gatorade were among the corporate giants who severed ties with Woods - an exodus that cost him a reported $23 million in endorsement deals. EA Sports and Nike stood by the golfer - but his wife did not: Elin Nordegren reportedly got about $100 million in the divorce settlement.