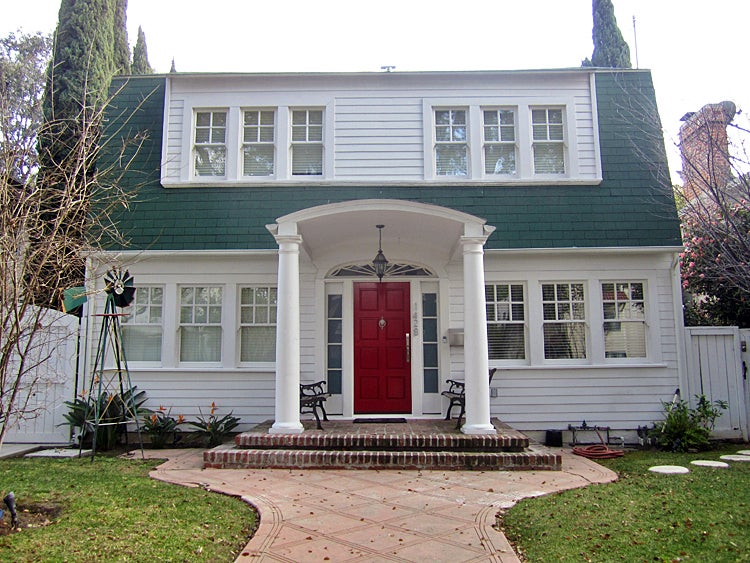 10 homes that had big roles in scary movies
(MoneyWatch) Most people are uncomfortable with the idea of living in a haunted house, but what about a home that was only fake-haunted?
A number of homes have made appearances in movies about ghosts, witches, killers and demons. Some are massive old estates that have acted as sets in many movies, while others are real-life homes that have transformed significantly since their days as movie stars.
Imagine living in "Halloween" killer Michael Myers's home or falling asleep in the basement of a home where Freddy Krueger once cinematically stalked -- even if the house has been brilliantly restored with a modern flair.
Check out these 10 movie homes, some of which are instantly recognizable, while others bear little resemblance to the house on film. Warning: spoiler alerts ahead.
10 homes that had big roles in scary movies
Dennison home in Salem, Mass.: Hocus Pocus (1993)

The exterior of this whimsical colonial on the North Shore of Salem, Mass., served as the home of brother and sister duo Dani and Max Dennison in the 1993 Disney cult classic "Hocus Pocus." The house, built in 1870, looks very much the same today as it did on screen. Landscaping updates aside, it is easy for fans to recognize this location where the Dennisons and their friends made plans to thwart the three zany, youth-sucking Sanderson witches on Halloween night.

10 homes that had big roles in scary movies
The home of U.S. Ambassador Thorn, Woking, Surrey, England: The Omen (1976)
Pyrford Court, a 21-acre Georgian-style English estate built in the early 20th century, appeared as the home of U.S. ambassador Robert Thorn, played by Gregory Peck, in the 1976 horror classic "The Omen." The home in Surrey, much of which was built for Lord and Lady Iveagh of the Guinness family, who lived there beginning in 1906, had been virtually abandoned when shooting began. It is now a restored private residence, boasting nine bedrooms and six reception rooms. People familiar with the film will have a hard time forgetting the image of 5-year-old Damien's nanny hanging from the top floor of this house.
10 homes that had big roles in scary movies
Hatley Castle, Colwood, British Columbia, Canada: The Changeling (1980)
British Columbia's Hatley Castle served as the location of Senator Carmichael's mansion in "The Changeling," a 1980 movie starring George C. Scott about a composer who encounters a murdered child and a lot of eerie secrets. The 82-foot-tall structure, completed in 1908, is now the administrative center of Royal Roads University and a national historic site. It has been no stranger to the film industry, or the faux supernatural, also appearing in the "Poltergeist" television series from 1996 to 1999, the "Smallville" television series from 2001 to 2011 and the X-Men movies.
10 homes that had big roles in scary movies
Mrs. Pickman's Hotel, Toronto, Ontario, Canada: In the Mouth of Madness (1994)
The charming Valley Halla Estate in Toronto, Ontario, was built for Dr. Robert Jackson, inventor of Roman Meal Bread, in 1936. It is now owned and maintained by the Toronto zoo and does not have any occupants. In 1994, director John Carpenter used it for "In the Mouth of Madness," in which Sam Neill plays insurance investigator John Trent and uncovers the real-world effects of a horror novel on its readers. As the site of Mrs. Pickman's Hotel, where the sweet elderly owner transforms into a ruthless murderer, Valley Halla works. It still looks very similar today, maintaining its off-the-beaten-path creepy quality
10 homes that had big roles in scary movies
MacNeil home, Georgetown, Washington, D.C.: The Exorcist (1973)
This unassuming townhouse in the Georgetown area of Washington, D.C., was a location for one of the scariest films of all time, "The Exorcist." Designing the set according to the story's specifications required some temporary alterations to the property, including a false mansard roof and an entire side wing that connected the house to the iconic outdoor stairs where Burke Dennings met his untimely end. The fence railings shown in the movie have also been replaced by a tall wooden fence, presumably to detract tourists from sneaking in and planting crucifixes.

10 homes that had big roles in scary movies
Belvoir Castle, Leicestershire, England: The Haunting (1999)
Belvoir Castle (pronounced "beaver"), one Leicestershire, England, location of the 1999 remake of "The Haunting," is rumored to be the former home of three real witches. According to haunted castle researcher Richard Jones, three 17th century women employed by the house cursed it when one was dismissed for stealing. While the real magic is debatable, digital magic enhancing the stunning 150,000-square-foot home of the Duke of Rutland makes the film come to life. Belvoir has also been featured in films such as "The DaVinci Code," "The Young Victoria" and "Young Sherlock Holmes."

10 homes that had big roles in scary movies
Nancy's home, Los Angeles: A Nightmare on Elm Street (1984)
Despite the film being set in Springwood, Ohio, the exterior of Nancy Thompson's house in 1984's "A Nightmare on Elm Street" was actually shot in West Hollywood. This home, built in 1919, was sold in March of this year for $2.1 million after the previous owner made significant renovations to the interior. The exterior, however, remains very true to its appearance in the movie, with the exception of a new red front door. It appeared in all eight films of the Freddy Krueger franchise in some capacity, including "New Nightmare" and "Freddy vs. Jason." Unsurprisingly, the home's most recent listing did not include any photographs of the notorious basement.
10 homes that had big roles in scary movies
Louis's estate (Oak Alley Plantation), Vacherie, La.: Interview with the Vampire (1994)
The 1994 hit "Interview with the Vampire" has many filming locations, but the Oak Alley Plantation is one of its first, acting as the home of Brad Pitt as Louis de Pointe du Lac -- before he burns it to the ground. The restored antebellum mansion, built in 1839, was named for its beautiful avenue of 300-year-old oak trees leading to the front door. This is another spooky film location that is reportedly haunted. Staff members have reportedly heard crying from the house and seen candlesticks flying, lamps illuminating, and the spirits of a young woman and man. In addition to its haunted reputation, Oak Alley's fame from roles in this and other films such as "Primary Colors" and "The Long Hot Summer" draws a great number of visitors.
10 homes that had big roles in scary movies
Greystone Park and Mansion, Beverly Hills, Calif.: Eraserhead (1977)
The 16-acre Gothic style Greystone Estate, now belonging to the city of Beverly Hills, Calif., used to be the home of the American Film Institute. During that time, acclaimed director David Lynch used its stables as a location for his 1977 post-apocalyptic feature film debut "Eraserhead." As a result of its location and relationship to the film industry, the mansion can be seen in more than 100 additional movies and television shows, including "The Big Lebowski," "There Will Be Blood," "The Social Network," and "Austin Powers: Goldmember." They may have location in common, but only "Eraserhead" has a creepy mutant alien baby.

10 homes that had big roles in scary movies
Michael Myers's house, Pasadena, Calif.: Halloween (1978)
Michael Myers, the terrifying killer from the 1978 John Carpenter classic "Halloween," is one of the most memorable characters in the entire horror genre. The location for his house in the film, this charming two-story in South Pasadena, has been moved from its original address at 707 Meridian Avenue to nearby 1000 Mission Street, across from the actual hardware store where the character found his iconic mask. Now it is a doctor's office with very few exterior changes -- although regrettably it belongs to chiropractors instead of surgeons. An identical replica of the Myers house was constructed in Hillsborough, N.C., and hosts events related to the movie.
10 homes that had big roles in scary movies
Bonus: The Murder House, Los Angeles: American Horror Story
Before this house was prominently featured on season one of the TV show "American Horror Story," Los Angeles residents knew it as the Rosenheim mansion. Architect Alfred Rosenheim designed and built the 10,440-square-foot Country Park house for himself in 1908, and it continues to operate as a private residence today (it was recently sold.) The home's stained glass windows were untouched in the show, which made for some beautiful interior shots in the pilot explaining why the Harmon family chose to buy it, but the exterior underwent a makeunder to appear creepier and more neglected in certain scenes.