Woman Reports Being Drugged During Party At Calabasas Home Of YouTube Star Jake Paul
CALABASAS (CBSLA) – Authorities are investigating a report that a woman was drugged during a huge party at the Calabasas home of YouTube star Jake Paul Saturday night.
The Los Angeles County Sheriff's Department reports that deputies were called to the 22-year-old Paul's home, located in the 23500 block of Park South Street, where they broke up the gathering. Videos posted to social media showed dozens of partygoers witnessing a boxing match in the backyard of the home.
On Sunday, a woman went to the Malibu/Lost Hills Sheriff's Station to report that she had been drugged at that same party.
Detectives are investigating a report of a single occurrence of "unwillful impairment", the sheriff's department confirmed to CBS2 in a statement.
"Detectives are in the beginning stages of information gathering for the incident," the sheriff's department wrote.
Meanwhile, the L.A. County Fire Department reports that it transported at least two patients from Paul's home that night. At 11:19 p.m. Saturday, and then again at 1:06 a.m. Sunday, two women in their early 20s were transported by ambulance to local hospitals with minor medical conditions.
Shortly after 3 a.m. Sunday, a partygoer allegedly jumped into the backyard of a neighbor's home and scared an elderly woman living there, causing here to fall, the fire department said. The woman was taken to a local hospital with moderate injuries. That neighbor shared a photo with CBS2 of her bruised face and has since pressed charges against the suspect.
A screenshot from an apparent post on the Instagram page for Fire Station 68 in Calabasas - which was subsequently deleted - indicated ambulances were outside Paul's party "transporting multiple patients"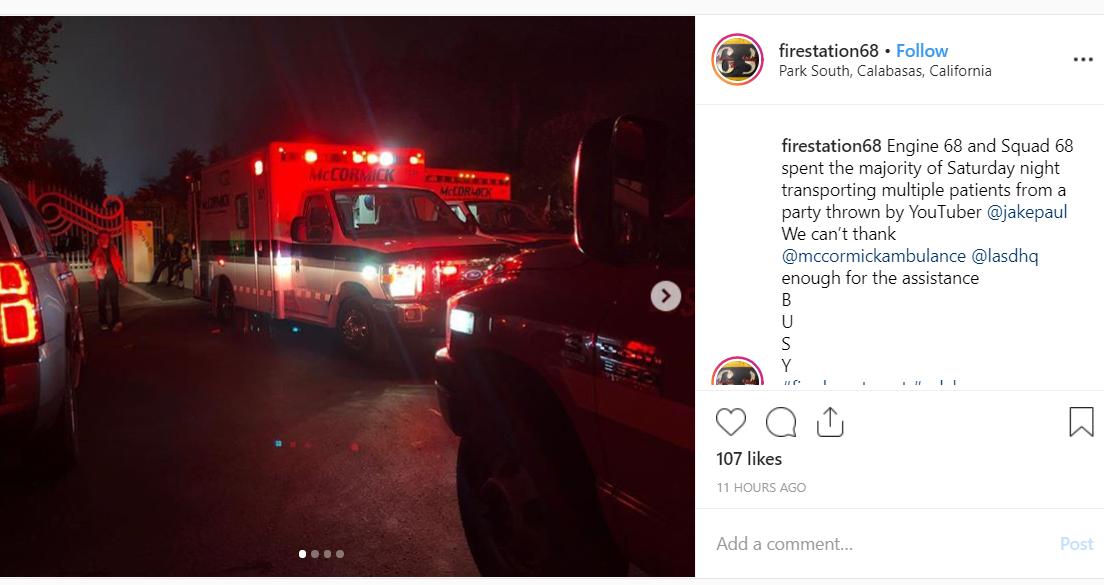 Another social media post -- this time on the Moms of Conejo Valley Facebook page -- alleged nine girls at the party "ended up in the hospital" after they were "drugged."
"The girls were all half naked and unable to walk or talk," read the post, which claims to have been written by a mother of one of the girls.
The post also states that attendees were required to sign a waiver to enter the party.
Jake Paul is the younger brother of controversial YouTube personality Logan Paul, who faced intense criticism after uploading video of a dead body in Japan's so-called "suicide forest" in December 2017.
Thanks for reading CBS NEWS.
Create your free account or log in
for more features.