Police ID Woman In Racist Tirade; Hundreds Descend On Torrance Park For Workout Protest
TORRANCE (CBSLA) — Just a couple of days after a woman was caught on video telling another woman exercising on the stairs of a Torrance park to "go back to whatever f—- Asian country you belong in," hundreds of people descended on the park Friday to take a stand against racism.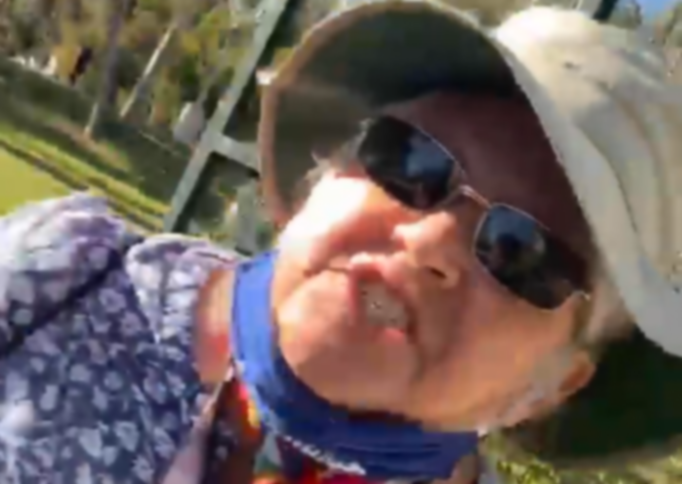 Since video of the Wednesday confrontation emerged between the unidentified woman and Sherry, the woman who was using the stairs to exercise, two more people have come forward with tales of their own confrontations with someone they believe to be the same woman.
Kayceelyn Salminao says she was physically assaulted by the same woman at the Del Amo mall last October, and photos she took that day appear to show the same person in Berry's video.
A man, who was not identified, said he and his son were targeted by the woman on the same day she confronted Sherry. He also took video of the confrontation, which showed the woman also hurling expletives at him and mocking Chinese accents.
Police reports have been filed in each incident, and the woman was later identified by Torrance Police Department as 54-year-old Lena Hernandez of Long Beach.
"The silence is not the answer. That's why we see that every day on the street people are marching because we want the actions," he said.
Outrage over the video prompted hundreds to come out to Wilson Park Friday to exercise and display signs decrying racism. Many who came out said the park is for everyone and that now, more than ever, people of all backgrounds should come together to promoted unity and peace.
"I'm glad that we came here as a community together to find this woman and bring justice," Salminao said.
Speaking to reporters Friday afternoon, Torrance Police Chief Eve Berg would not say whether the woman's speech rose to the level of criminal activity.
"We are talking to the city attorney's office as we speak," said Berg. "I don't know what sections there are because a lot of this might possibly not rise to the level of a crime, and yet some of it may.
"But I'm going to leave that to the investigators who have all the information. I don't have all that information."
Police are asking anyone who may have come into contact with Hernandez to contact the authorities.
Thanks for reading CBS NEWS.
Create your free account or log in
for more features.