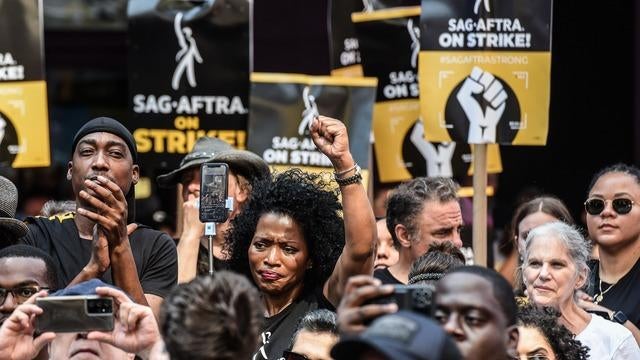 WGA, Studios could resume talks next week
Striking writers and Hollywood studios are expected to return to the bargaining table next week in hopes of making progress toward ending the work stoppage that began in early May.
The Alliance of Motion Picture and Television Producers, which is handling negotiations for studios, issued a statement Thursday saying the Writers Guild of America reached out Wednesday "and asked for a meeting to move negotiations forward."
"We have agreed and are working to schedule a meeting next week," according to the AMPTP. Every member company of the AMPTP is committed and eager to reach a fair deal, and to working together with the WGA to end the strike."
There was no immediate comment from the WGA.
The two sides are not believed to have met at the bargaining table since mid-August.
With negotiations seemingly stalled, the WGA negotiating team issued a statement last week suggesting that some traditional Hollywood studios should break ranks with the AMPTP and reach a deal directly with the writers' union. The WGA suggested it has spoken with some studio executives who believe a deal could be quickly struck.
"So, while the intransigence of the AMPTP structure is impeding progress, these behind-the-scenes conversations demonstrate there is a fair deal to be made that addresses our issues," according to the WGA negotiating team. "... We have made it clear that we will negotiate with one or more of the major studios, outside the confines of the AMPTP, to establish the new WGA deal.
"There is no requirement that the companies negotiate through the AMPTP. So, if the economic destabilization of their own companies isn't enough to cause a studio or two or three to either assert their own self-interest inside the AMPTP, or to break away from the broken AMPTP model, perhaps Wall Street will finally make them do it."
The AMPTP, however, issued a statement of its own last week saying all of its members are committed to working within the alliance to reach a deal for all studios.
"The AMPTP member companies are aligned and are negotiating together to reach a resolution," a statement from the alliance said. "Any suggestion to the contrary is false.
"Every member company of the AMPTP wants a fair deal for writers and actors and an end to the strikes, which are affecting not only our writer and actor colleagues, but also thousands of others across the industry. That is why the AMPTP has repeatedly put forward offers that address major priorities of the WGA, including a last round of offers on Aug. 17th and 18th."
Writers, who went on strike May 2, were joined on strike in July by the SAG-AFTRA actors' union. There have been no known contract talks between the studios and SAG-AFTRA since that strike began.
(This is a developing story. Check back for updates.)
Thanks for reading CBS NEWS.
Create your free account or log in
for more features.