Police: Garden Grove Crime Spree Suspect, Gang Member Zachary Castaneda Jailed 14 Times Since 2016
GARDEN GROVE (CBSLA) - A 33-year-old Garden Grove man suspected in a violent two-city crime spree that left four people dead and two others injured is a documented gang member with a violent past who should have still been in prison, police said Thursday.
Zachary Castaneda was taken into custody Wednesday in the attacks that left four dead and two more wounded, according to Garden Grove police Lt. Carl Whitney.
Detectives say in the span of a couple of hours, six stabbings and three robberies were linked to Castaneda, who was seen swinging a machete-style knife during the spree.
Police say it all began with a reported residential burglary in the 12100 block of Jentges Avenue in Garden Grove just after 4 p.m. Wednesday.
About 20 minutes later, a robbery was reported at the M Bakery about two miles west of the reported burglary, where a victim told police a Hispanic man armed with a gun robbed the business and left in a silver Mercedes.
Officers responded to both scenes to investigate.
It's believed that Castaneda then returned home, where he found two men outside an adjacent apartment, police said.
Around the same time, police received a report of two male roommates who were stabbed in front of an apartment back on the 12100 block of Jentges, where officers found one of the victims on the ground and another victim down inside the apartment, according to Whitney.
Erwin Hauprich says his father, 62-year-old Helmuth Hauprich, died at a hospital Wednesday after he and his roommate were attacked at their Garden Grove apartment.
"You don't put it together," said neighbor Chris Orta. "The moment I saw the shirt and his face, it was beyond disturbing...he was already in his mode."
A armed robbery was then reported at 5:39 p.m. at the Cash & More store at 12845 Chapman Avenue, followed by a second armed robbery and an attempted murder just after 6 p.m. at Best One Insurance at 12843 Harbor Boulevard. Police say a 54-year-old female employee was stabbed multiple times and was in critical condition as of Thursday morning.
Police say Castaneda then went to a Subway restaurant at 3835 W. First St. in Santa Ana where a customer was stabbed and killed.
About 10 minutes later, a male security guard was stabbed and murdered at the 7-Eleven store at 103 S. Harbor Blvd. in Santa Ana, police said. Witnesses told investigators Castaneda took the victim's gun after stabbing him multiple times.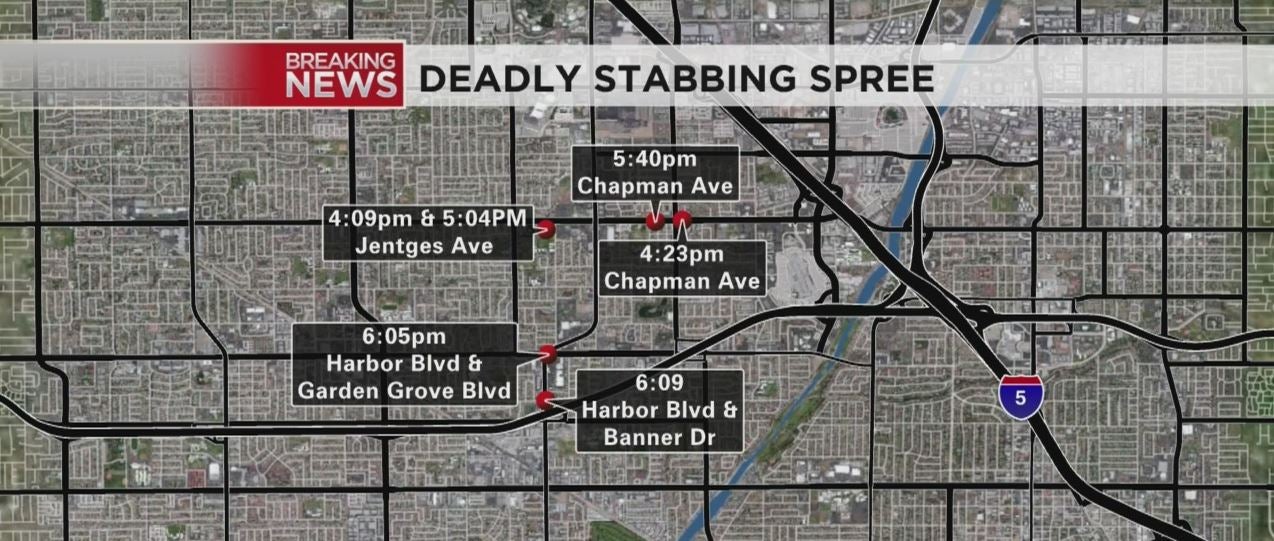 A map of all the locations where a police say a suspect attacked a killed four people and wounded two others in Garden Grove and Santa Ana on Aug. 7, 2019. (credit: CBS)
Castaneda was booked into the Orange County jail on suspicion of murder, attempted murder, armed robbery and burglary, police said. He was being held on $1 million bail.
No motive was immediately established, but Whitney told reporters it did not appear to be a hate crime.
"He remained violent with us through the night," Whitney said. "He never told us why he did this."
There are no outstanding suspects, police said.
During an afternoon news conference, Garden Grove police Chief Tom DaRe called Castaneda a "violent individual" with a long criminal history that should have kept him in prison, where he's been 14 times since June 2016, according to authorities.
DaRe said Castaneda was released from prison under AB 109, which California lawmakers passed in 2011 to reduce the state's prison population by shifting certain offenders into county jails or putting them under supervision of county probation officers.
"Based upon his prior arrest record, he is a violent individual who should have never been considered for early release based on Assembly Bill
109," DaRe said. "As a police chief, I implore our policy makers to reconsider their policies on criminal justice. The pendulum has swung so far
that it is increasingly difficult to keep our communities safe from the rise in violent crime. California law enforcement agencies have been crippled by Assembly Bill 109 and offenders are not being held accountable for their crimes."
Court records show Castaneda has a criminal record dating back to 2004. Back on July 22 - roughly two weeks before the attack - he pleaded not guilty to a felony count of carrying a knife as well as misdemeanor counts of possession of a drug and driving on a suspended license.
Earlier last month on July 9, he pleaded not guilty to eight felony counts of criminal gang vandalism and misdemeanor counts of possession of drug paraphernalia.
Castaneda has a brother who was killed in what Santa Ana Police Chief David Valentin said was an "incident" in Santa Ana, but no details were provided.
Throughout Thursday, family and friends of the deceased, as well as many police officers, questioned Assembly Bill 109. They said the bill allowed Castaneda to get an early release from prison on many of the 14 crimes he is accused of.
Police maintain the law is relatively new and didn't secure Castaneda an early release but likely contributed to him from going back to prison.
Tom Dominguez, president of the Association of OC Deputy Sheriffs, says "In Southern California, we've lost four police officers because of AB 109 and now here in Orange County, we have four innocent citizens just going about their business who were brutally murdered and it's terrible. It should not happen and it needs to stop."
Castaneda is expected to be arraigned Friday.
(© Copyright 2019 CBS Broadcasting Inc. All Rights Reserved. City News Service contributed to this report.)
Thanks for reading CBS NEWS.
Create your free account or log in
for more features.