Family Sues Police For Raiding Wrong Home, Pointing Guns At Woman Holding A Baby; 'Police Terrorized Another Innocent'
CHICAGO (CBS) -- Accusing officers of pointing guns at a young woman holding a baby, a Woodlawn family is suing the city of Chicago over another case of police raiding the wrong home.
"How many more innocent children of color in Chicago have to be traumatized by police excessive force in wrong raids before it's too many? How many more?" attorney Al Hofeld Jr. said Thursday morning, after filing the federal lawsuit on behalf of Toni Tate and her three children -- 22-year-old Cierra Harbin, 18-year-old Christopher Harbin, and 6-month-old Cali McCuller.
It is a story that our CBS 2 Investigators broke last month. CBS 2 Investigator Megan Hickey looked into why the family is alleging police misconduct.
Hofeld said Tate and her two adult children were getting ready for bed on Aug. 5, and Cali, who was 3 months old at the time, was already asleep in her crib, when several plainclothes officers broke down the front door of their apartment, executing a search warrant.
The problem: it wasn't the right address.
Hofeld said Tate asked officers several times who and what they were looking for, but her pleas were ignored.
Fearing for her baby sister's safety, Hofeld said Cierra picked up the infant from her crib, only to have police point a gun at her.
"A Chicago police officer pointed a rifle point-blank at the chest of an unarmed young woman, namely Cierra, who was at that moment cradling her baby sister, Cali," Hofeld said.
"I kept saying: 'I have a baby! I have a baby!' And it was like he wasn't listening," Cierra told CBS 2 Investigator Dave Savini. "So when the man came around the corner, he was pointing his gun at me while she was in my arms, and I just holding her and just crying and just praying that they didn't shoot me, because he didn't see what was in my arms."
Officers handcuffed Tate and her son, and detained the entire family for nearly two hours, refusing to answer questions or show the family a copy of the warrant.
Tate said it wasn't until officers had been in the apartment for five minutes that they turned on their body cameras. Hofeld said that was too late to capture the officers' use of force in the home, and a violation of CPD directives on body worn cameras.
[wufoo username="cbslocalcorp" formhash="x1ewdf860s5k3vz" autoresize="true" height="828" header="show" ssl="true"]
It turned out police had bad information from an informant. CBS 2 Investigators discovered that police failed to verify the informant's tip independently.
Records show the man they were looking for has never lived at the Tates' address and has an address in Milwaukee. That man did live in the neighborhood years before the Tates moved there, but never even lived on the Tates' block.
"Chicago police terrorized – and that's the right verb -- terrorized another innocent family of color for no reason. They conducted yet another sloppy search warrant investigation, and violated an innocent family's Fourth Amendment rights," Hofeld said. "Officers knew or should have known that this guy did not live in the plaintiffs' apartment."
Hofeld said police left the apartment without an apology or explanation, and didn't hand over a search warrant until Tate's husband showed up at the end of the raid.
"They made jokes at the family's expense, and then they left. They never explained why they had been there, or who they were looking for. They did not apologize to the family. They just left," Hofeld said.
Tate and her family have relived the trauma of that night ever since, according to Hofeld. Tate still has recurring nightmares of police raiding her home, and wakes up repeatedly in the middle of the night, thinking she's heard her door breaking down.
Hofeld said this is the 8th lawsuit his office has filed against the city in connection to wrong raids.
"They are just the tip of the iceberg in what is a longstanding silent mass trauma to kids of color across Chicago that is the direct result of officers' routine practice of pointing guns at children," he said.
Hofeld said his office is still seeking the body camera footage from the city. CBS 2's Freedom Of Information Act filing seeking police body camera video was denied late Wednesday. In a letter, CPD said it refused to release the video because there were no arrests or use of force. CBS 2 will appeal the decision.
CBS 2 has uncovered a pattern of police officers raiding wrong homes. Read about it here: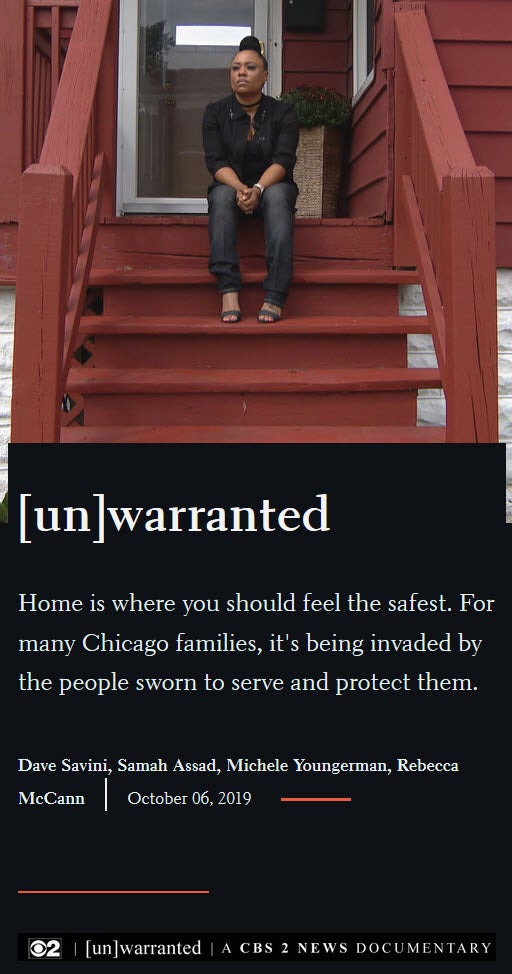 Thanks for reading CBS NEWS.
Create your free account or log in
for more features.