WINTER WEATHER UPDATE: Heavy Snow Blankets Chicago Area Ahead Of Extreme Cold Midweek
CHICAGO (CBS) -- Heavy snow brought several inches of snow to the Chicago area on Monday, ahead of a deep freeze that could send temperatures to record lows later this week.
The heavy blowing snow made for a rough commute Monday morning, as plows worked to keep up with snow drifts that made roads and expressways a mess.
As of 10:30 a.m., the storm had dumped 3.1 inches at O'Hare and 2.9 inches at Midway, according to the National Weather Service.
(Is your neighborhood affected by dangerous weather conditions? No heat, power outages or water main breaks, for example? Use this form to report it to CBS 2:)
[wufoo username="cbslocalcorp" formhash="xf693k41pm4fw4" autoresize="true" height="686" header="show" ssl="true"]
For the most part, snow stopped falling for the majority of the Chicago area by about 10 a.m., although blowing snow could be a problem throughout the day for some areas.
The northern and western suburbs have been hit hardest. As of 10:30 a.m., 7.3 inches had fallen in Waukegan, 7 inches had fallen in Gurnee, 6 inches had fallen in Algonquin, 5.2 inches had fallen in Palatine, 5 inches had fallen in Somoauk, 4.9 inches had fallen in Rockford, 4.9 inches had fallen in Romeoville, 4.8 inches had fallen in Mendota, and 4.5 inches had fallen in Batavia.
The Chicago Department of Streets and Sanitation deployed its full fleet of more than 280 snow plows overnight, in an effort to clear the city's main streets and Lake Shore Drive ahead of the Monday morning commute.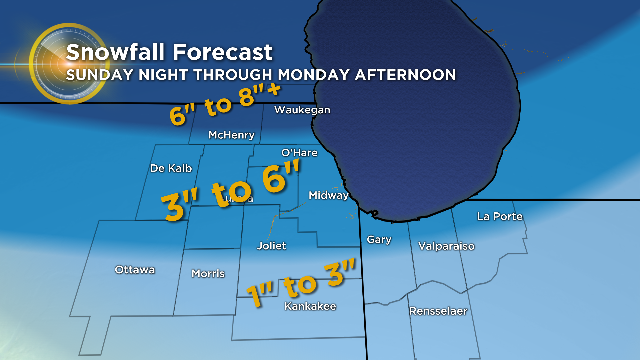 Clearing the roads was tough work through the morning. Most local expressways were covered in snow during the morning commute, because blowing snow was making it difficult for plows to keep the roads clear.
"Whatever we're plowing, more often than not, is winding up right back on the road," Illinois Department of Transportation spokesman Guy Tridgell said.
Hundreds of flights were canceled at O'Hare International Airport and Midway International Airport, due to the heavy snowfall.
Metra reported a handful of delays Monday morning, the longest coming in at 68 minutes on the Milwaukee District North line. Meantime, two Milwaukee District West line trains were cancelled due to mechanical problems.
The CTA was reporting significant delays on Howard-bound Red Line trains shortly after 7 a.m., following an earlier mechanical problem at the Clark/Division stop. Also, some 95th-bound Red Line trains were experiencing minor delays, due to an earlier mechanical problem at Sox-35th.
Hundreds of schools across the Chicago area cancelled classes on Monday, although the Chicago Public Schools said classes would be in session on Monday.
Check out latest school closings here.
A winter weather advisory is in effect for Cook, DuPage, Will, Kane, DeKalb, Grundy, and Kankakee counties, and most of northern Indiana until 6 p.m.
Further north, a Winter Storm Warning is in effect for northern Illinois counties, including Lake and McHenry, until 6 p.m.
Snow totals could reach 8 inches or more near the Wisconsin state line, 3 to 6 inches in the city, and 1 to 3 inches in the southern suburbs.
Temperature-wise, Monday's conditions won't be bad for January, with the temperature already around 20 degrees by 5 a.m., moving toward a high of around 34 on Monday. However, temperatures will quickly drop through the afternoon and evening, falling into the teens by 9 p.m., and hitting the single digits overnight.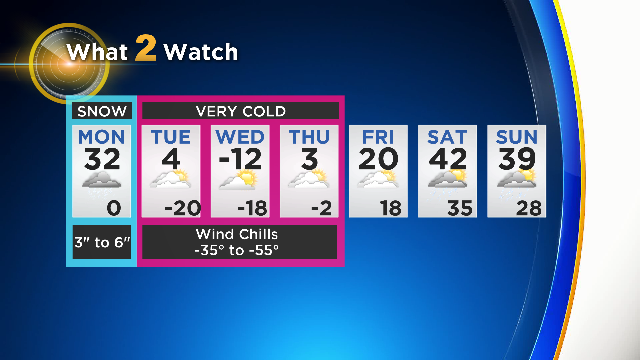 Tuesday's temperatures likely will linger in the single digits all day, and then fall below well below zero by Wednesday, when temperatures won't rise above zero all day.
Chicago could set several records for cold through the middle of the week, as temperatures could be in the negative range more often than not Tuesday through Thursday. Wednesday's high is expected to be 12 below zero, which would beat the record for the coldest high temperature in Chicago.
The current record for coldest high temperature in Chicago is 11 degrees below zero, which Chicago has seen twice – on Jan. 18, 1994, and Dec. 24, 1983.
RELATED What Are The Current Records For Cold Temperatures In Chicago?
Check out the current conditions.
City of Chicago Offering Assistance
City officials said they are deploying warming buses to assist homeless residents, adding shelter beds and making King Community Center's warming center open 24 hours a day.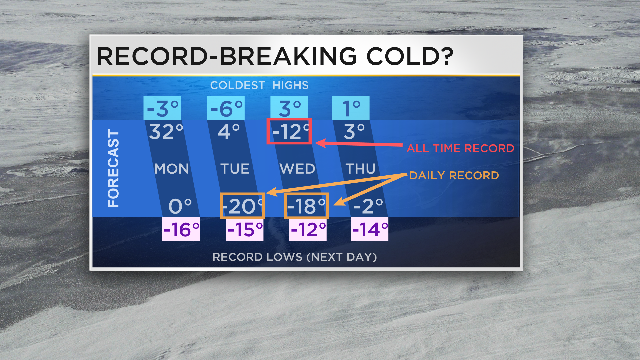 Thanks for reading CBS NEWS.
Create your free account or log in
for more features.