Storms Bring Torrential Rain, Strong Wind, And Hail To Chicago Area, Leave Trees Down
CHICAGO (CBS) -- Severe thunderstorms Tuesday afternoon brought sheets of rain, strong wind that ripped down trees, and enormous hailstones dropping onto the Chicago area.
CBS 2's Marie Saavedra captured video as the storms hit Wauconda. She reported the storms were dumping sheets of rain with a lot of wind as the temperature rapidly dropped about 15 degrees.
A similar sight was seen in an unspecified place in Lake County.
There were also reports of downed trees and branches in the suburbs, including Libertyville, Island Lake, Prairie Grove, Highland Park, and Woodstock.
A storm chaser's photo showed a tree down blocking Darrell Road south of Route 176 in Wauconda.
Sheets of rain came down in North Chicago, where winds whipped up to 70 mph. Golf ball-sized hail hit the windows of a home in Richmond in McHenry County, and streets were left flooded in Vernon Hills.
The storms also knocked down a big tree on Deerpath Drive in Vernon Hills.
In northwest suburban Woodstock, storms also apparently toppled a playground.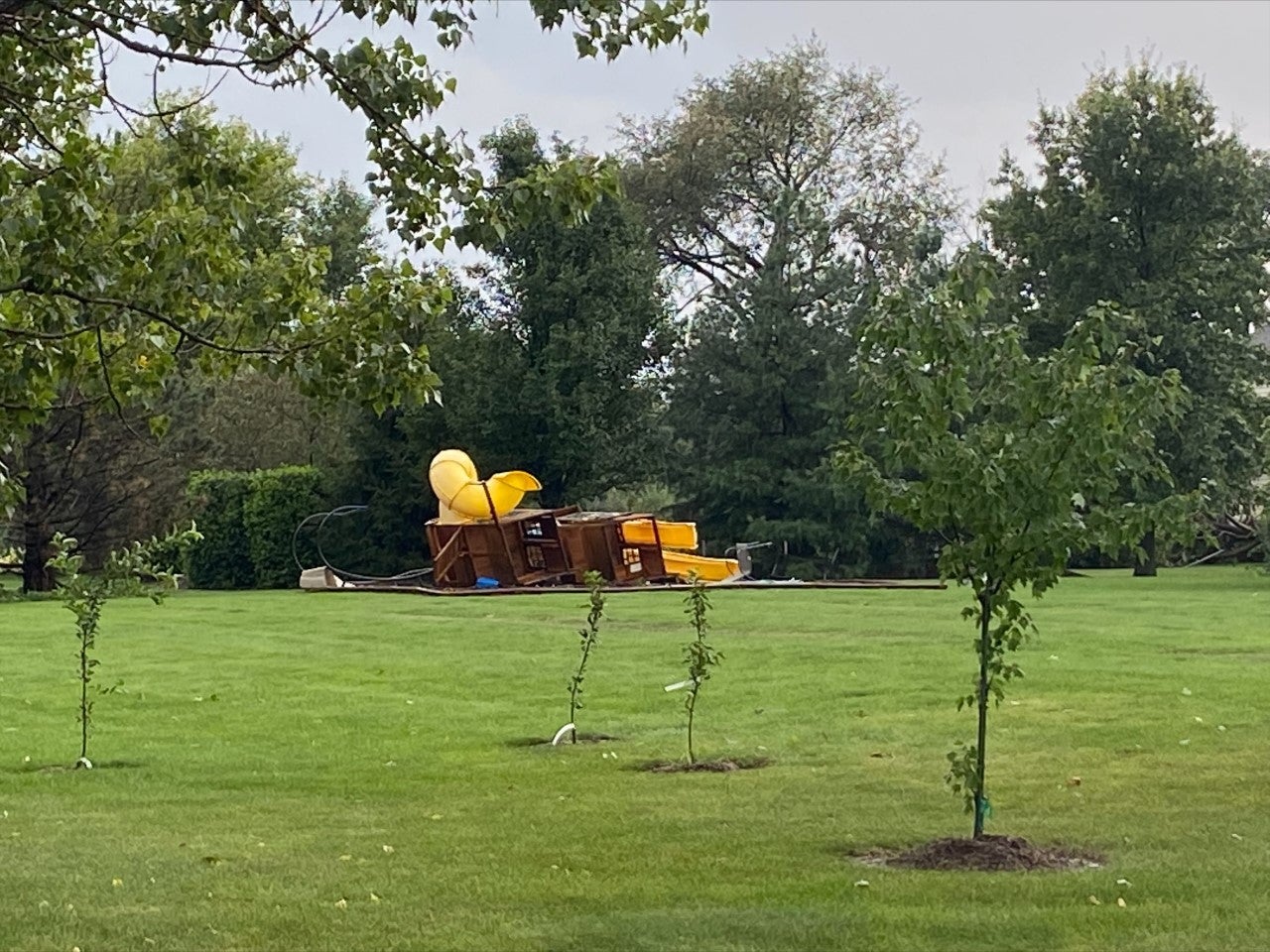 CBS 2 Meteorologist Tammie Souza reports the storms also have brought ping pong-sized hail to some areas in the northern suburbs. The National Weather Service said there also have been reports of egg-sized hail in Lee County, about 100 miles west of downtown Chicago.
On Twitter, Jake Smith reported nickel-sized hail in Wauconda, while Sarah Brown reported pea-sized hail in Cary.
Storm chaser Ethan Mok reported quarter-sized hail near the Lee County community of Compton.
Trees also snapped in Elwood where winds gusted up to 50 to 60 mph, and a 16-inch tree snapped in half in Peotone. In Wheeling, wind gusted up to 58 mph at Chicago Executive Airport in Wheeling.
Subsequently, there were also reports of downed power lines in Manhattan, Illinois, as well as reports of trees snapped between Morris and Seneca.
In Channahon, trees were down all over a neighborhood near Robin Court and Turnstone Boulevard. Robert Newman also sent these photos of damage in a neighborhood in Channahon.
A village board meeting in Channahon was also canceled after the severe thunderstorms, which involved a possible tornado in the area.
The Channahon village board said all items on the agenda for the meeting will be addressed at the next meeting, which is already scheduled for 6 p.m. Monday, Sept. 20.
Channahon Village Hall and Police Department administrative offices were down Tuesday afternoon.
A tornado warning was issued with the storms in Will County Tuesday afternoon, and there were reports of tornadoes on the ground there.
Thanks for reading CBS NEWS.
Create your free account or log in
for more features.