New Glenview Restaurant To Offer Cinco De Mayo Celebration
CHICAGO (CBS)--Tomorrow is Cinco de Mayo and there are several places across the Chicago area planning festivities.
One of the participating restaurants is Mercado Cocina Cantina in Glenview.
Mercado's co-owner Richard Vallejo and executive chef Yanni Sanchez joined CBS 2 Suzanne Le Mignot in the studio Saturday morning to discuss the new eatery.
Vallejo said the restaurant will host a weekend-long Cinco de Mayo celebration featuring street food specials.
Cinco De mayo is the celebration of the Mexican army's victory over the French Empire at the Battle of Puebla.
Some of the specials that will be offered at Mercado Cocina Cantina include duck bunuelos, lamb barbacoa and cochinita pibil as well as chicken tacos.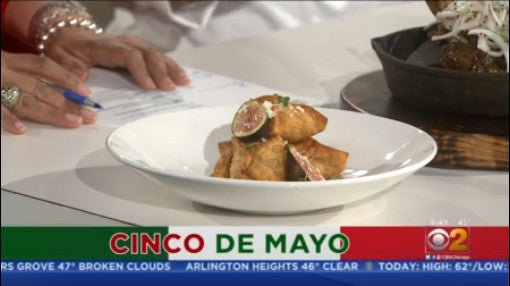 A variety of drinks, like margaritas, are also a key part of the celebration.
The Blood Orange Paloma recipe is listed below:
Ingredients:
2 oz Blanco Tequila
3/4 oz Blood Orange Puree
1/2 oz Fresh Lime Juice
2 oz Squirt
2 dashes Peychauds Bitters
Black Lava-Kosher Salt Blend (rim)
Blood Orange Slice (garnish)
Thanks for reading CBS NEWS.
Create your free account or log in
for more features.