Tens Of Thousands Of Customers Left Without Power In Northwest Indiana As Strong Wind Takes Down Trees, Power Lines
GARY, Ind. (CBS)-- Blasting winds have left tens of thousands of customers in Northwest Indiana without power on Monday, and Gary was hit the hardest.
As CBS 2's Jim Williams reported, massive trees were no match for the powerful winds, and power lines came down too.
According to NIPSCO, crews as of 4:30 p.m. were working to restore power to 36,690 customers affected by outages. Earlier, the total was closer to 50,000.
Residents have reported downed trees in Dyer among other Indiana areas.
The greatest number of outages were seen in Gary, which had 15,268 customers without power as of 4:30 p.m. At 10 a.m., Gary had 25,481 customers without power.
At 15th Avenue and Wallace Street in Gary, the wind was so strong that a tree was uprooted and carried part of the sidewalk up with it. The owner of the home the sidewalk fronts was at work late Monday afternoon and was sure to be shocked upon seeing what happened.
Fortunately, her house was left without much damage, as was a small light post on her front lawn. Crews later removed the tree, leaving only a stump.
The homeowner's sister lives next door.
"I called her. I didn't tell her what the extent of the damage was. I just told her that a tree had fallen on her home," said Earline Rogers. "She has not seen that. She's going to be shocked."
When Brandy Bailey saw a big tree on the street, she said she hoped no more would come down.
"Not falling on the house like that," she said.
Throughout Gary, traffic lights were out and trees were down, with some blocking streets.
Robert Harris grabbed his chainsaw and went to work for a neighbor.
"The big wind came through and knocked it down, and my neighbor's disabled. I live next door there," Harris said.
He said he was going to get the fallen tree out of the way before his neighbor's wife gets back from work.
Power at Paul Bellinger's home went out on Monday morning.
"This morning, I was getting up, getting ready to cook breakfast, and bam! We heard a big explosion," Bellinger said. "And the power went out, so you know, we had to go out for breakfast, because, you know, we had nothing to eat."
It was the result of 50 mph wind gusts. Another man, Tyler Price, had the good fortune to move his truck right before a tree in front of it snapped.
"I pulled up right here. I was parking to come – I'm working at this house over here, and I pulled up, and I was like, you know, I don't want to move, or I don't want to be parked too far away, so I backed up a few feet, and the next time I came out, this tree was right here," Price said.
Cedar Lake, Dyer, East Chicago, Griffith, and Hammond also all had greater than 1,000 customers without power earlier in the day. Hammond had 7,800 customers without power as of 10 a.m.
Some homeowners, who couldn't cook with no power, were hoping to get something to eat on 169th Street in Hammond. But there was no electricity up and down the busy street either.
Many restaurants were also closed and in the dark during the lunch hour throughout the area.
"At my house, it's been out since about 10:30, and it's well after 2, almost 3 now, and I'm trying to get something to eat and can't get anything done," one woman said.
According to a NIPSCO spokesperson, the areas affected by the outages largely concentrated in Lake, Porter and LaPorte counties. The spokesperson said the cause of the outages has been attributed to the high winds that went on throughout the day.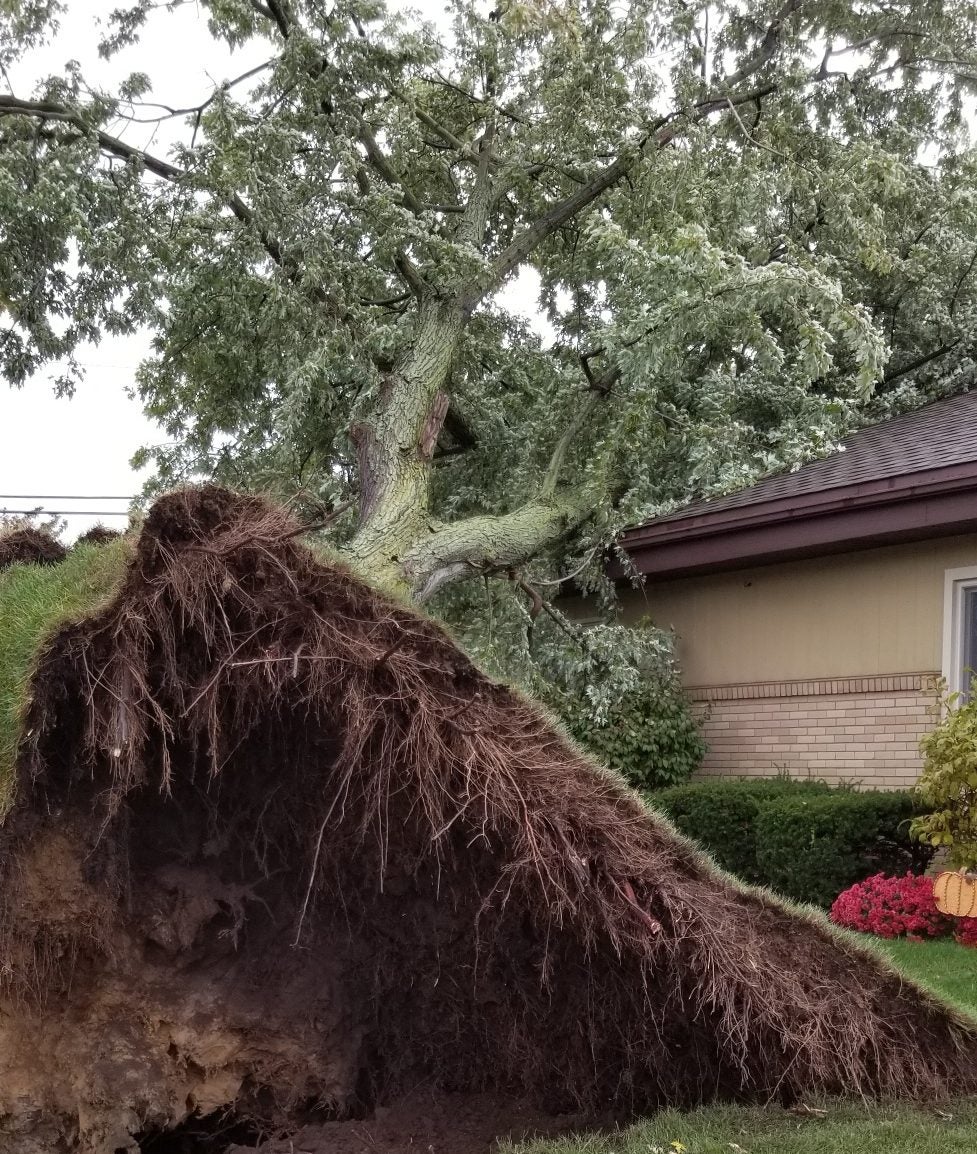 It was not known late Monday afternoon when the power restoration would be complete.
The winds also prompted authorities in Indiana to issue a wind ban on the Indiana Toll Road, from the Illinois State Line all the way to Angola on the other side of the state. Until 8 p.m. Central Time, trucks including triple trailers, long doubles, and high-profile oversize vehicles were banned from driving on the expressway, CBS 2's Ed Curran reported.
CBS 2 Meteorologist Mary Kay Kleist said we should expect a breezy evening as the night goes on, with wind gusts of 25 mph at Midway International Airport, 24 at O'Hare International Airport, 26 in Kankakee, 25 in Gary, and 24 in Valparaiso.
The highest wind gusts of the day Monday topped out at 55 mph in Gary, compared with 45 at Midway and 41 at O'Hare.
Thanks for reading CBS NEWS.
Create your free account or log in
for more features.