LIVE UPDATES: Chicago Police Release Hundreds Of Documents In Jussie Smollett Investigation
CHICAGO (CBS) -- Hundreds of investigative files in the Jussie Smollett case were released Thursday afternoon by the Chicago Police Department.
Smollett was accused of staging his own racist and homophobic attack in January and filing a false police report. In March, Cook County State's Attorney Kim Foxx dropped the charges.
RELATED: Timeline Of Events In The Jussie Smollett Case
The documents were be made public after a Freedom of Information request by CBS 2 and other media outlets.
CBS 2's Charlie DeMar and Megan Hickey are poring over the documents and offering live updates:
STATE'S ATTORNEY TIPS THAT IT WILL SETTLE CASE
On Feb. 28, the day Jussie Smollett was indicted, the Chicago Police Department was told by the Cook County State's Attorney that the case would be settled without going to trial.
According to the documents, Assistant State's Attorney Risa Lanier "informed detectives that she felt the case would be settled with Smollett paying the City of Chicago $10,000 in restitution and doing community service." A police spokesman said Thursday that police believed that a settlement would include some sort of admission of guilt.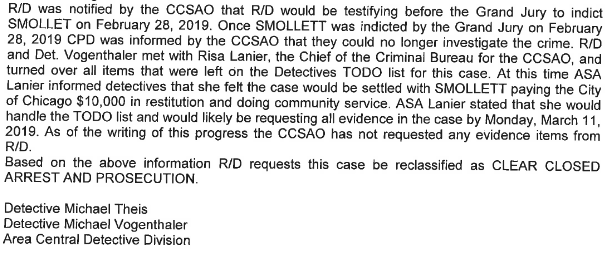 However, Kim Foxx made the decision public on March 26, to drop all 16 counts of disorderly conduct for allegedly lying to police about a hate crime.
When that decision dropped, Police Supt. Eddie Johnson said he had no advance warning of the decision.
[scribd id=411961860 key=key-HrG049Hgop6wF7SuZsiA mode=scroll]
[scribd id=411961946 key=key-DZd1O8F6u7McreprIDrI mode=scroll]
[scribd id=411962316 key=key-OwJ3YNk2Zpsh8qXqA1Oh mode=scroll]
CASE TAKES A TURN
The big break in the case came on February 13. Police interviewed Abel and Ola Osundairo, who confessed and told investigators Smollett staged the attack with them.
The next day, Smollett appeared on "Good Morning America"--his first television interview since the attack. He said "pride" made him reluctant to initially report in incident.
DRY RUN
Police were told that on January 27 Smollett used his vehicle to pick up the brothers from their home, and Smollett drove them to the location where the attack took place for a dry run, according to documents.
UBER AND TAXI DRIVERS QUESTIONED
According to the documents, on February 9 an Uber driver was provided with a photo array by police in order to try to identify one of the brothers. Due to redactions in the documents, which brother is unclear.
The Uber driver commented, saying "It looked like him" and "It looked like the passenger in my vehicle."
The cab driver was unable to make a positive identification of the passenger in his vehicle.
TIMING OF RELEASE
Chicago Police made the documents available electronically, around 2:20 p.m. Thursday. The files could include detective notes and reports.
Video related to the investigation, totalling nearly 70 hours, will be released later.
Officials still need to redact video that is not directly related to the investigation.
BACKGROUND
Smollett are accused of staging the attack on Jan. 29, which Smollett reported to police as a hate crime. Smollett said two men put a noose around his neck, and used racial and homophobic slurs as the hit him and poured a chemical on his body. In reality, police said, Smollett staged the attack with two brothers, Abel and Ola Osundairo.
Police investigate the incident as a hate crime for the next two weeks until the brothers are apprehended after police identify them as the "attackers."
After weeks of investigation, police determine that Smollett stage the attack and charge him with filing a false police report. Smollett is indicted, but then the charges are dropped by the state's attorney in March.
Thanks for reading CBS NEWS.
Create your free account or log in
for more features.