Illinois Trooper Posts Passionate Plea Urging Drivers To Pay Attention After Crashes
CHICAGO (CBS)-- An Illinois state trooper posted a passionate plea online, urging drivers to pay attention, after two fellow troopers were taken to the hospital following a crash during a traffic stop along Interstate 57 early Sunday.
ISP say troopers were working a traffic stop on I-57 near 115th early Sunday morning when a red car slammed into one of their squad cars.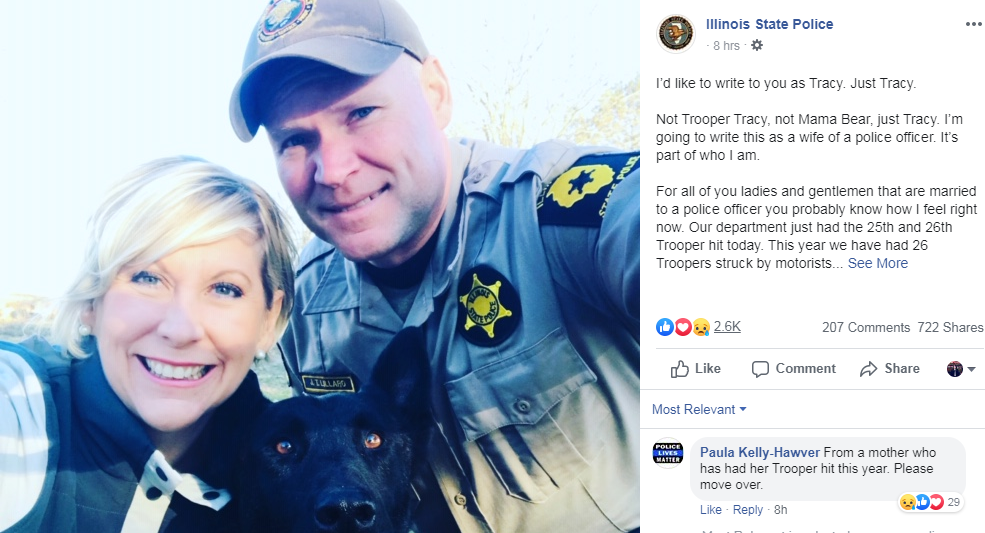 The crash sent the trooper's vehicle into a second squad car. Two state troopers and two other people were all taken to the hospital. The troopers have been released and the other people have minor injuries.
The driver who caused the crash -- Clarence P. Junius, 38, of Markham -- was arrested for driving under the influence.
Sunday night, Illinois State Police posted a long message from a trooper named Tracy Lillard. In the post, she urges people to drive like your life depends on it and follow the law.
"Looking for stranded motorists or emergency vehicles on the shoulder and then moving over for them. Moving over and slowing down is everything to us," she said in the post.
Lillard is the wife of a fellow state trooper and a mother. Her post has reached thousands.
"It's really frustrating, because I feel like the public doesn't understand the gravity of their actions when they get behind the wheel everyday," she said.
The law known as Scott's Law says drivers in Illinois have to slow down and move to another lane (if possible) if an emergency vehicle is stopped on the shoulder with its lights activated.
Four Illinois state troopers have died so far this year. Two troopers were in Scott's Law violation crashes, one was killed in head on crash with a wrong way driver, and one died in a shooting incident.
"There's no reason this should be happening over and over again," Lillard said.
It's the deadliest year in ISP history.
Thanks for reading CBS NEWS.
Create your free account or log in
for more features.