Indiana Sets Record For Daily COVID-19 Cases, Deaths Continue To Rise Sharply
CHICAGO (CBS) -- Indiana set yet another grim record, reporting the highest number of daily COVID-19 cases ever and the highest number of deaths since April,, state health officials said.
The 2,880 COVID-19 cases surpassed the old record of 2,489 set less than a week ago. The number of deaths reported (42) is near the highest daily numbers reported back in mid April. The daily average number of deaths is now 23 and has nearly tripled since Sept. 1. COVID-19 is now on track to be the third-leading cause of death in the state this year, behind heart disease and cancer, based on CDC data from past years.
Also From CBS Chicago:
Hospitalizations are also soaring, with 1,515 Hoosiers being treated for COVID-19. That number is coming dangerously close to the peak numbers seen early in the pandemic. Nursing homes are also being hit hard by COVID, and Gov. Eric Holcomb has enlisted the Indiana National Guard to help staff at long-term care facilities with data entry, administering tests and screening so that the workers can focus on caring for the residents. About 2,200 Hoosiers in long-term facilities have died of COVID, nearly 60% of the state's death toll.
State officials are also seeking more health care workers to help with the surge in cases.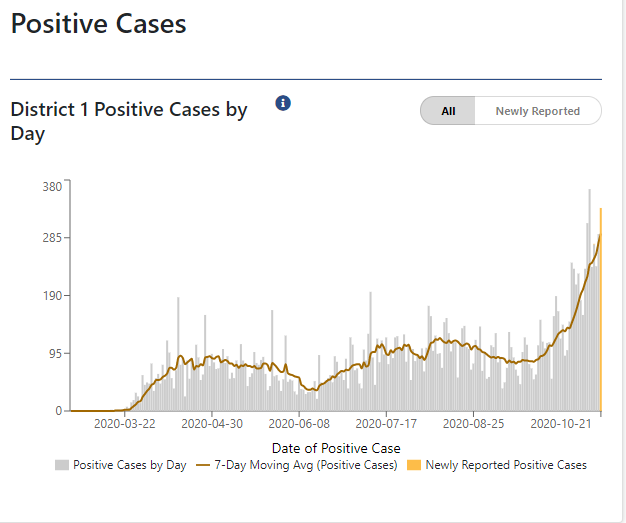 In Northwest Indiana, we are seeing similar trends. In the five-county region, a total of 335 cases and 5 deaths were reported on Thursday. The case count is the second-highest ever. Three of the five deaths were reported in Lake County, which also led the region with 192 cases
The region's positivity rate has risen to 8.8%, above the statewide positivity rate of 6.9%, despite an increase in the number of tests. Like the rest of the state, the number of people in the hospital for COVID continues to rise sharply and is coming closer to reaching the peak numbers seen in April.
Thanks for reading CBS NEWS.
Create your free account or log in
for more features.