Hoge: 2014 Bears Mock Draft 1.0
By Adam Hoge-
This is the first in a series of mock drafts for the Chicago Bears leading up to the NFL Draft May 8-10.
(CBS) It's that time of year again.
The Tuesday after the Super Bowl means it's time for the first Bears mock draft of the offseason.
This is the fourth year in a row I've done these, and the first three featured some correct picks (Gabe Carimi, Alshon Jeffery, Stephen Paea), a player flying under the radar that ended up on the Bears (Kyle Long), some talented players that didn't (Alec Ogletree, Kiko Alonso, Tyrann Mathieu) and some busts (Carimi should probably get a mention here, too).
Sounds like a pretty typical three-year draft history in the NFL, doesn't it?
The reality of the NFL Draft is that it's hard to have a high-hit rate. I've even heard it said that the hit rate in the late first round is 50-50 at best.
So I'll give the normal spiel I do for these each year: The point of this exercise isn't to successfully predict who will be wearing a Bears uniform next season. Rather, it's to simulate possible ways in which the Bears will execute their draft selections this year. The picks I make are not based on what I think the Bears will do — they're based on what I think the Bears should do based on my own evaluations. The Bears' scouts may agree with me on some of these picks, and they'll inevitably laugh at some others. Such is the NFL Draft evaluation process — the debates are endless.
Keep in mind that I'm simulating an entire draft class — thus, if I take a linebacker in the first round, chances are I won't take another linebacker in the second round.
And one last note before we get started: In the past, I listed players to "also consider" after I made each pick. I did so in an effort to provide more evaluation in each mock draft. This year, I'm not going to do that. Instead, I'm going to produce four mock drafts before May, instead of the usual three.
Deal? OK, here we go:
1st Round, No. 14: FS Ha Ha Clinton-Dix, Alabama (6-1, 208 lbs)

I fully understand the argument that defensive line is the biggest area of need for the Bears, but the Super Bowl champion Seahawks are proof that it's OK to build a defense outside-in. There's no question the Bears have to improve their pass rush, but they are extremely thin in their secondary and haven't had an impact safety since Mike Brown. The days of the Cover-2 shell are gone, and with that comes greater responsibility for the safeties. Right now, Chris Conte is the only legitimate option on the roster, and his starting spot is far from guaranteed in 2014. For a hybrid defense to work, you can't rely on second-tier safeties taken in the third round. You need to invest a first-round pick in a game-changer.
Ha Ha Clinton-Dix (birth name is Ha'Sean) is the top safety prospect in the draft, and there's a good chance he'll still be available at No. 14. There was little doubt he'd leave Alabama a year early, as his speed and quickness have scouts drooling. Clinton-Dix's agility gives him the range to cover both the flat and deep quarters of the field. His hips allow him to make fluid changes in direction and break on the ball. He even possesses man-coverage skills, which the Bears snuck in the Week 17 game plan when they lined Conte up in press-man coverage a few times against the Packers. There's plenty more of that to come.
Clinton-Dix compares to Eric Berry, who the Chiefs drafted fifth overall when Bears general manager Phil Emery was the director of college scouting in Kansas City.
2nd Round, No. 19: DE Chris Smith, Arkansas (6-1 1/8, 266 lbs)

The Bears haven't announced what defensive front they will be running in 2014, and they are probably still waiting to determine the specifics based on who they add to the unit in both free agency and the draft. But it seems pretty clear that there is a movement toward a hybrid defense, meaning you are likely to see multiple fronts not only within games, but within series.
Today, more and more players are being described as being able to play both defensive end in a 4-3 and outside linebacker in a 3-4, but as Bears fans have learned from Shea McClellin, it's not a given that those players can play either scheme. In most cases, these players are much better suited with either their hand on the ground or rushing from a two-point stance the majority of the time. Hybrid defenses typically have a defensive end and linebacker that can do both, but the defensive end tends to handle blockers better and work in tighter spaces, allowing him to put his hand on the ground more. The linebacker rushes better standing up with space to set up his moves and get around blocks with speed, rather than strength.
In my draft study, I've been labeling certain players with "H-DE", which stands for hybrid defensive ends. These are the guys I believe have the versatility to drop back into coverage when asked to, but they are going to have more success with their hand on the ground than the hybrid linebacker.
Arkansas' Chris Smith was the first player I marked with "H-DE" at the Senior Bowl. The knock on him has been a lack of quickness, but he showed a quick burst off the line of scrimmage in Senior Bowl practices and displayed a sick spin move that had opposing offensive tackles grasping for nothing but air. Smith's size will be questioned and is probably not ideal for a true 4-3, but he has the strength and athleticism to play as a hybrid defensive end who occasionally drops back into coverage. His arms measured in at 34 1/8 inches, which is above average and gives him the leverage to handle offensive tackles and get off blocks to defend the run.
3rd Round, No. 18: ILB Shayne Skov, Stanford (6-2, 245 lbs)

With the Bears admitting Jon Bostic might be better suited on the outside, they don't have a single middle linebacker on their roster at this time. This is another position that has be addressed in the draft, even if they re-sign D.J. Williams or look elsewhere in free agency.
Skov is an intriguing prospect but figures to slip in the draft because of a torn ACL in 2011 and a disappointing 2012 season. However, once fully recovered in 2013, Skov had a highly productive year in Stanford's 3-4 defense and showed the explosiveness he had in 2010 and 2011 before getting hurt. His athleticism is impressive, and he has the agility to move in all four directions, giving him ideal range in the middle. He also has proven to be an impact blitzer and can cause confusion when showing A-gap pressure.
Skov was a healthy scratch for the Senior Bowl and may have missed out on an opportunity to improve his draft stock. That might cost him money, but it will benefit whichever team lands him if he's still around in the third round.
4th Round, No. 17: DT Caraun Reid, Princeton (6-2 1/8, 301 lbs)
Continuing on with the hybrid theme on the defensive line, ideally you want a 3-technique who isn't just limited to playing one-gap. In other words, he can also play some 4-technique (heads-up on the offensive tackle) and five-technique (outside shoulder of the tackle).
Reid appears to possess these skills. He was impressive at the Senior Bowl, especially in the game, when he had back-to-back sacks. First, he used a quick move to discard Baylor All-American guard Cyril Richardson (who has 42 pounds on him) and then on the next snap, he lined up on the opposite side and blew past Miami guard Brandon Linder.
Because he played in the Ivy League, scouts are going to have a hard time trusting the tape, which is why he probably won't explode up draft boards. That said, at the Senior Bowl, I saw a capable defensive tackle who can be disruptive up the middle and stout against the run. He would provide good value in the fourth round as someone who could rotate in right away.
5th Round, No. 16: CB Pierre Desir, Lindenwood (6-1 1/8, 195 lbs)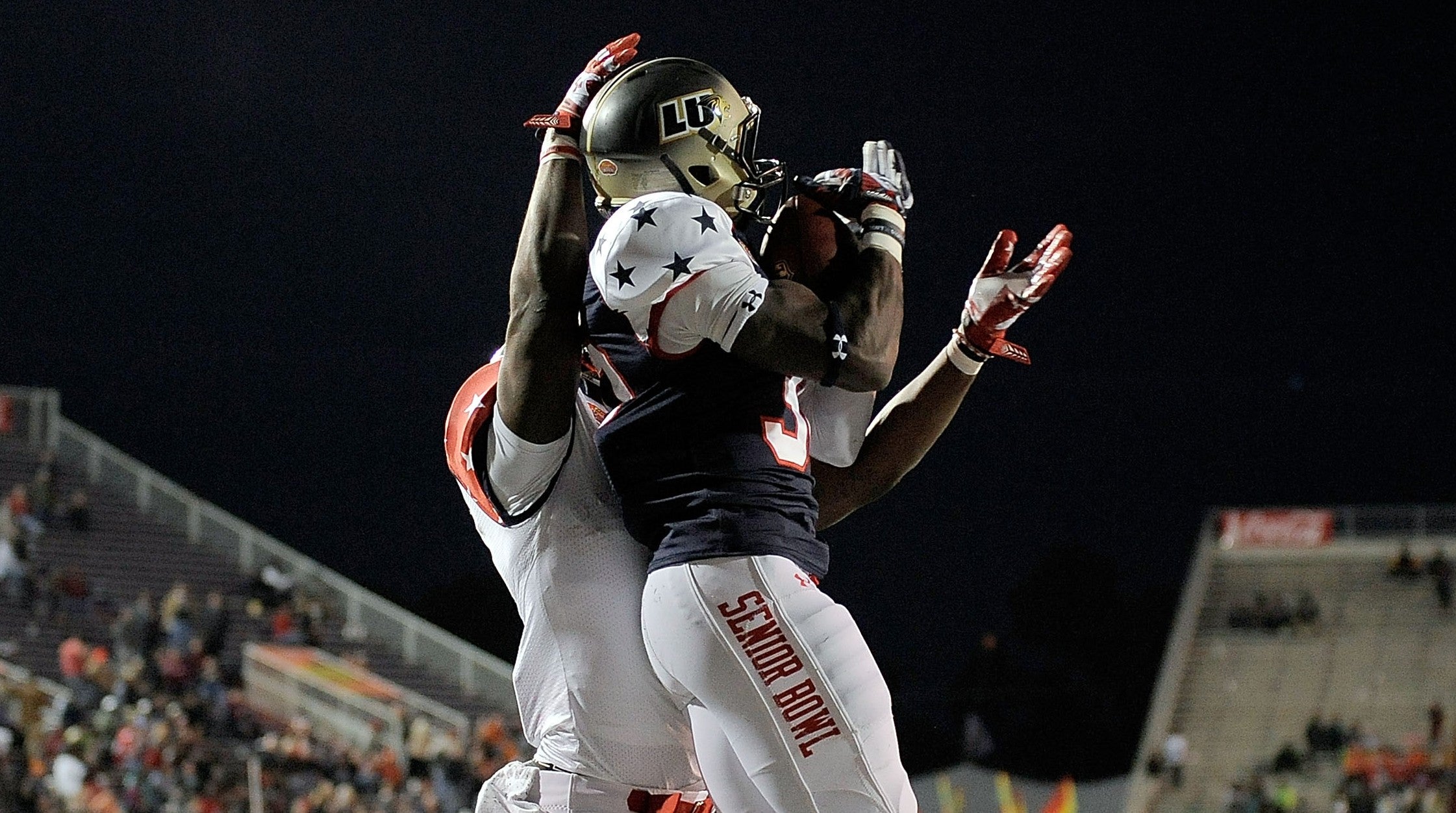 By not addressing cornerback earlier, there's going to have to be some luck involved to have one of the physical corners in this year's draft class fall to the fifth round. At this point, it's hard to know where Desir will land in the draft because he comes from a smaller school and is untested against better talent. At the Senior Bowl, I thought he looked overmatched at times, which is why I have a fifth-round grade on him at this point.
Ultimately, it wouldn't surprise me if he goes earlier, mainly because he has the size and speed to be an above-average press corner at the NFL level. He might need time to adjust and develop his techniques, but he does fit the physical mold to play man-coverage, which I suspect the Bears will play more of going forward.
6th Round, No. 7 (from Tampa Bay): SS Vinnie Sunseri, Alabama (6-0, 210 lbs)

Once we get into the sixth round, I'm looking for talented guys who have fallen for various reasons (injury, arrests, bad reputation, etc.). Last year's seventh-round pick, wide receiver Marquess Wilson, fell that far because he had quit his team at Washington State — a severe no-no in the eyes in the NFL. But there's two sides to every story, and Wilson had a ton of value in the seventh round, so why not take a chance on him?
Sunseri figures to be a late-round pick because he is coming off a torn ACL suffered this fall. That didn't prevent him from leaving Alabama a year early, however. He reportedly is ahead of schedule in his rehab, with his father — Florida State defensive ends coach Sal Sunseri — claiming Vinnie could have been medically cleared to play in the Sugar Bowl. If so, one would think he'll be able to go through a full workout at the NFL Combine, where he may be able to boost his draft stock.
Sunseri is a reliable tackler who also proved to be a playmaker in college. Before getting hurt this year, he had two interceptions returned for touchdowns. He's not necessarily reliable when asked to cover man-to-man, but he can be effective coming downhill against the run. The Bears need their safeties to take better angles to the ball and miss fewer tackles, and Sunseri can be that guy.
It might be odd to draft two safeties from the same school, but if you are going to do it, you can do a lot worse than Alabama.
6th Round, No. 15: TE Colt Lyerla, Oregon (6-5, 250 lbs)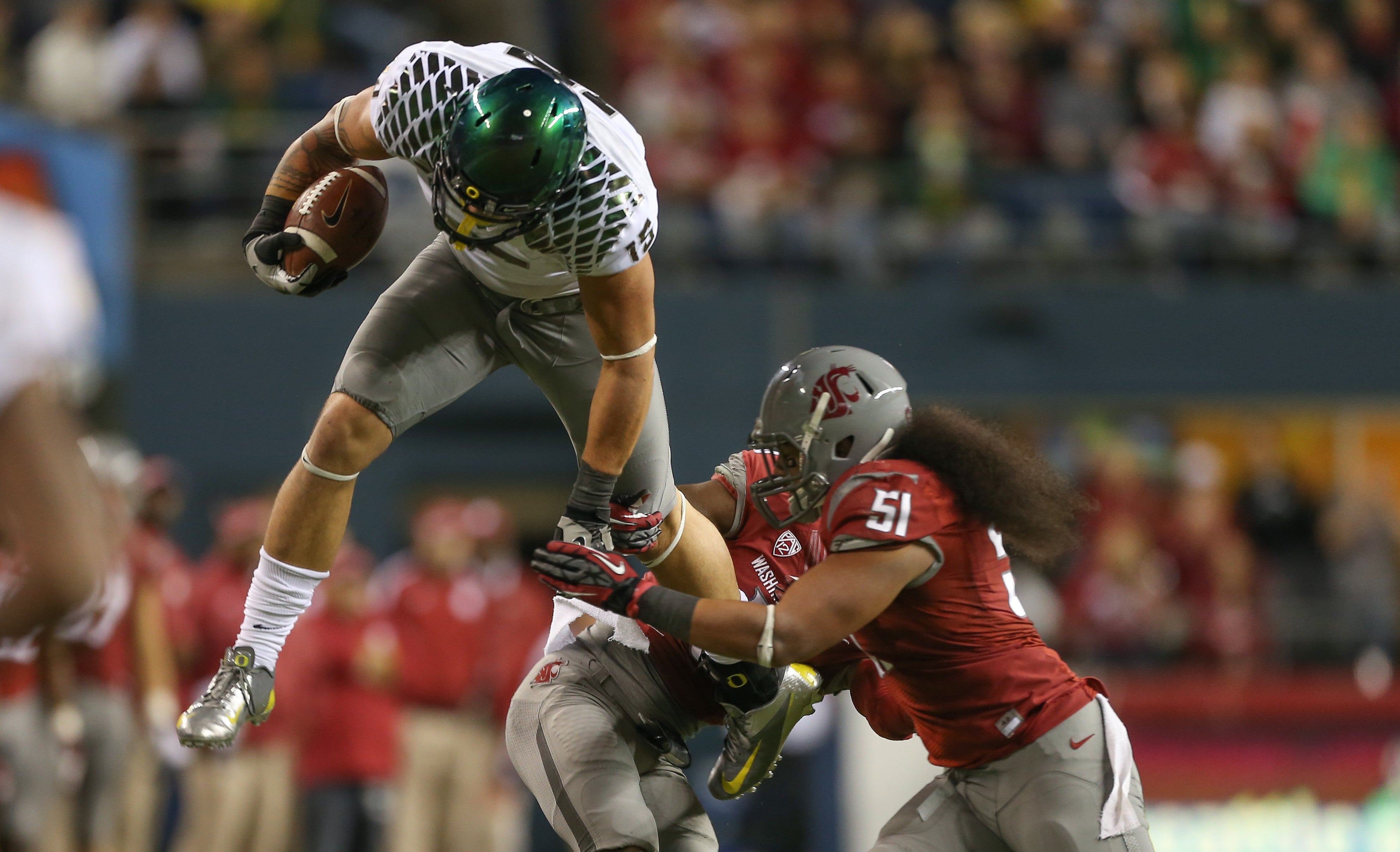 Last year, in my first mock draft, I had former LSU safety Tyrann Mathieu as my sixth-round pick. It was certainly risky with his history of drug problems, but it was a chance I felt was warranted when you consider he had first-round football talent. The Arizona Cardinals ended up taking Mathieu in the third round, and he was a strong rookie of the year candidate before tearing his ACL in December.
Colt Lyerla enters the 2014 NFL Draft with a similar story. He's a first-round talent, but his drug problems might be even worse than Mathieu's. Lyerla mysteriously left the Oregon football team Oct. 7 and then was arrested Oct. 23 on felony cocaine possession charges. He pled guilty to the charges in December, which allowed him to leave the state of Oregon and train in Las Vegas for the draft.
To be honest, I wonder if the Bears would be willing to draft Lyerla when you consider they took a chance on Evan Rodriguez in 2012 and he only lasted a year in Chicago after multiple arrests.
The upside on Lyerla is much bigger than Rodriguez's, though. At 6-5, 250, he has the size to go along with his freak athleticism. We know how much Phil Emery values big receiving targets, and the Bears could use another tight end to complement Martellus Bennett.
If Lyerla gets his life together, he's going to a legitimate weapon on an NFL team. That's a big if, but one that's worth the risk.
Adam Hoge covers the Bears for CBSChicago.com and is a frequent contributor to 670 The Score. Follow him on Twitter at @AdamHoge.
(All photos courtesy Getty Images.)
Thanks for reading CBS NEWS.
Create your free account or log in
for more features.