Chicago Police Officer Terrance Finley Posts Bond After Being Charged For Fatal Crash Where He Was Allegedly Driving 75 Miles Per Hour
CHICAGO (CBS) -- An off-duty Chicago police officer, who was charged in the crash that killed Marquita Reed, posted bond Tuesday afternoon.
Terrance Finley, 24, was charged with reckless homicide, aggravated DUI and failing to reduce speed. He was driving 75 miles per hour as he swerved to avoid another car and slammed into a building where Reed was sitting, prosecutors said. A judge set his bond at $40,000 after a hearing Tuesday afternoon.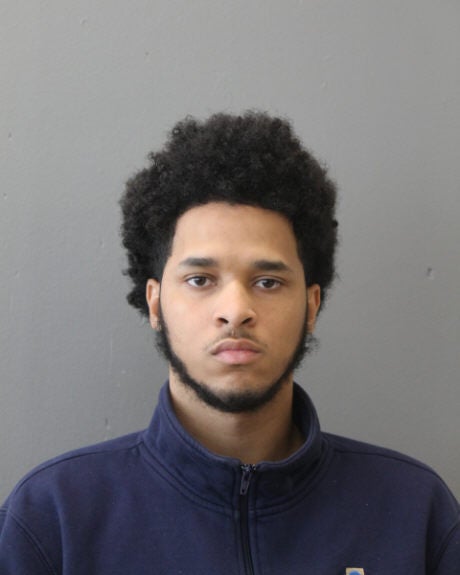 Investigators said Finley's blood alcohol level was just over the legal limit at .083, when he crashed into a Gresham restaurant early Sunday morning.
Finley's defense attorney, Tim Grace, said the crash happened when Finley took evasive action to avoid another car that turned in front of him at the intersection of 87th and Wood.
"It's tragic all around," Grace said.
"He's mortified. He's wrecked. He can't believe this happened. He didn't become a police officer to take a life. He feels horrible about this," he added. "He's a good kid and comes from a good family."
Finley allegedly told police he swerved to avoid hitting a car that turned in front of him at the intersection of 87th and Wood.
Reed, 35, was sitting inside Tony's Philly Steak, when the off-duty officer's Toyota came crashing through the wall.
Another woman was injured, but is expected to be okay.
Assistant Cook County State's Attorney James Murphy said Finley had left a birthday party and was driving to a friend's home at the time of the crash. Finley allegedly was driving 75 mph when he made a left turn to avoid another vehicle, according to data recovered from his car's air bag module.
"The module's data revealed that, within five seconds of impact into the restaurant, the defendant's vehicle's gas pedal was at full throttle, the RPMs were at 5,000, and the defendant's speed increased from 73 to 75 mph before he engaged the brakes and crashed into the restaurant," Murphy said.
Prosecutors said Reed was waiting for her food at the time of the crash, and had her back against the wall of the restaurant. She was pinned under Finley's car after the Toyota crashed through the wall. She was taken to Advocate Christ Medical Center, where she was pronounced dead.
"It really hurts. It hurt deep. Stuff like that happen to other people, but to other people you are the other people. Then when it hits close to home, it does something to you. All the neighbors here, they knew her," family friend Iona Bell said.
Bell watched Reed play on her block as a child and saw her grow up to be a woman filled with compassion for those in need. She says she knew her for more than 30 years.
"She was a wonderful person," Bell said.
Bell said she watched the little girl, who would grow up to become a nurse, thrive in the Wrightwood neighborhood.
"She was beautiful in and out," she said.
Bell said learning the mother of two was in the restaurant and killed by an off duty Chicago police officer driving drunk was tragic.
"She left two children here -- 11 and 13. That's what really hurts," she said. "It really hurts, you know. It hurts deep. It's sad, but I don't care if you're a policeman or not. If you're wrong, you're wrong."
Finley's attorney said he is a graduate of Western Illinois University, where he was on the track team. His mother is an ophthalmologist and his father is a surgical nurse.
Since becoming a police officer, Finley has had two other previous moving violations.
Chicago police officers have been involved in at least eight crashes in the past three weeks.
Thanks for reading CBS NEWS.
Create your free account or log in
for more features.