Azul 3D Printing In Skokie Using 3D Technology To Make Face Shields
CHICAGO (CBS)-- A company in Skokie is using 3D technology to make face shields for workers battling on the front line.
The 3D printed part of the shield is the blue headband. The shield part is a sterilized plastic.
The company is now producing in bulk. They've figured out a way to make 1,000 a day with one 3D printer.
This technology was invented at Northwestern University. Then they got together with Azul 3D in Skokie to commercialize and print part of the face shields that cover your eyes, nose and mouth.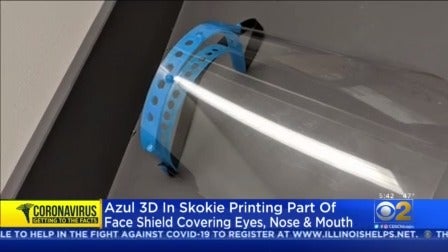 The company is working with the FDA to help fast-track the approval process to get this into hospitals as soon as possible.
"If you think about the 3D printer you could order from amazon or Home Depot, those types of printers are about 2,000 times slower than what we're talking about here," Director of the International Institute for Nanotechnology Chad Mirkin said.
This new type of faster 3D technology was just unveiled back in October.
Thanks for reading CBS NEWS.
Create your free account or log in
for more features.