NYC Food Truck Lunch: Pastrami On Rye From Katz & Dogz Truck
Perry, the voice behind New York Street Food, brings you his latest review on New York City food trucks.
New York City is known as the "melting pot" because of all the immigrants coming here from around the world, enlivening and enriching the fabric of the city.
While New York City has cuisines from all over the world, there are still some quintessential city foods. One is what people refer to as "Jewish soul food", or deli. That's what is served by the latest NYC food truck we are reviewing, Katz & Dogz.
The first obvious question is whether Katz & Dogz is affiliated with Katz's Deli, one of the oldest and best delis in NYC. The answer is a resounding "no," but they are affiliated with Adelman's Deli in Brooklyn, who are no slouches either.
At the top of the Jewish soul food list are pastrami and corned beef. Our personal preference has always been pastrami over corned beef. Of course, this cuisine was brought over by immigrants too, Jews from Eastern Europe. This is our heritage, and the food of our childhood, so we have a soft spot for it.
Katz & Dogs opened recently with both a food truck and a food cart, and on the side of the cart it says "The Pastrami Cart." Who are we to turn down one of our favorite foods, a pastrami sandwich for $10?
Pastrami comes from the Roumanian word "pastrama", which describes their method of curing or salting meat. We learned this from the Tour Guide at the Lunch Hour NYC exhibit that was at the NY Public Library earlier this year.
If NYC is famous for its deli sandwiches, it's infamous for the size of these sandwiches. All the great NYC delis serve overstuffed sandwiches, and this one was no exception. Our sandwich was approximately 2.5" tall.
As they say, size isn't everything. All that meat wouldn't make a difference if it wasn't so delicious.
The pastrami was nice and moist, with an unmistakeable brine taste, and a peppery edge around the meat. All it needed was some mustard and rye bread, and we had a great sandwich.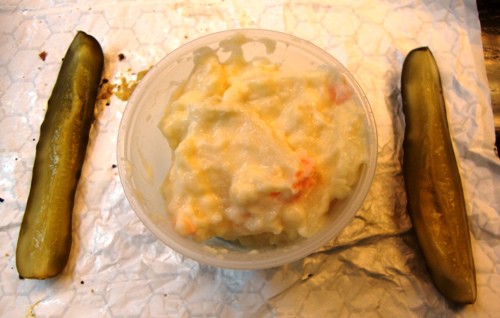 (credit: NYSF)
Unfortunately, we were not crazy about the side order of potato salad that came with lunch, but that's a minor issue. Next time we'll ask for cole slaw.
The sour pickle spears were appropriately tart, as they should be, making our mouth pucker.
Katz & Dogs doesn't seem to have the Twitter thing down, but you can find the cart daily on 47th St between Park & Madison Aves. The truck schedule is as follows:
Mon – 52nd & 6th
Tues – 23rd & Park
Wed – 22nd & 5th
Thurs – 46th & 6th
Fri – Williamsburg, Bedford St between 4th & 8th St, depending on parking.
If you like Jewish deli, you should like Katz & Dogz. Even if you aren't crazy about pastrami or corned beef, they also serve Hebrew National hot dogs, which we also love.
They even have Dr. Brown's Cherry Soda in the case (but we didn't see Cel-Ray, if Dr. Brown's they still make it.)
Thanks for reading CBS NEWS.
Create your free account or log in
for more features.