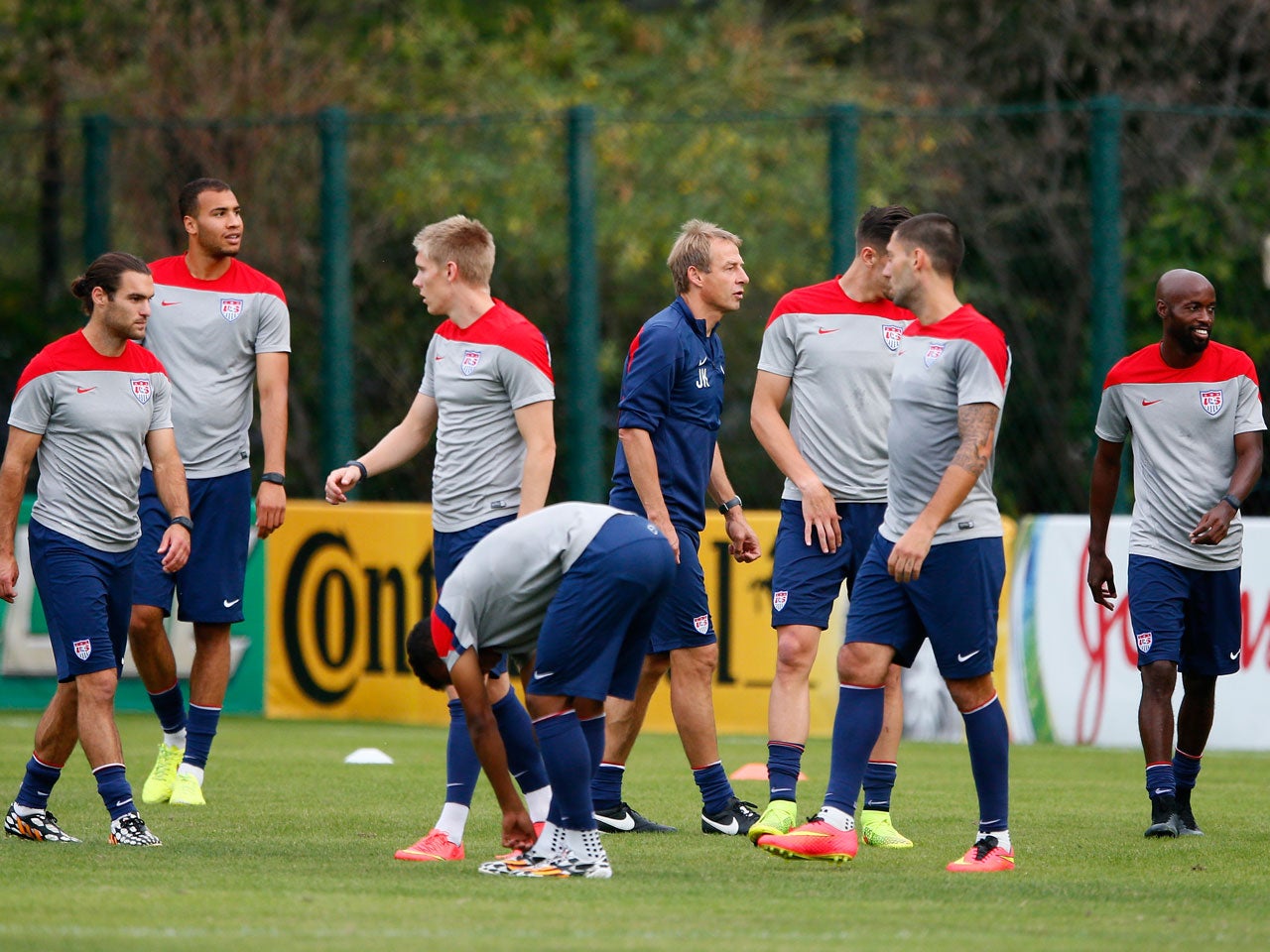 World Cup 2014: USA vs. Belgium preview
MOGI DAS CRUZES, Brazil - Highly physical, probably defensive and anxiety-ridden for sure. Not exactly the kind of happy football that fans have enjoyed so far at the World Cup, but it's the likely scenario for Tuesday's second-round clash between Belgium and the United States.
The stakes certainly are high enough. Belgium has not reached the quarterfinals since 1986 and the U.S. team has already exceeded expectations by emerging from a tough opening group and wants to ride that momentum.
Team USA goalkeeper Tim Howard told "CBS This Morning" that even though Belgium recently beat the U.S. 4-2 in a friendly and is "one of the up-and-coming superstar powers in Europe," he feels his team can "match up well against them."
"We relish the role of underdog," Howard said. "It keeps us hungry. It allows us to not be complacent."
Howard's coach has been preaching to his team to keep that fighting spirit going.
"Don't be content," U.S. coach Jurgen Klinsmann said. "Nobody can claim that he reached his 100 percent yet."
That was after the Americans played three grueling games in the Amazon jungle and Brazil's tropical northeast coast. The U.S. finished ahead of Cristiano Ronaldo's Portugal and Ghana, taking second place in Group G behind Germany.
Tuesday's winner will face Argentina or Switzerland in Brasilia on July 5. With support reaching fever pitch back at home, American players realize the increased attention that comes with each match is an opportunity not to be missed to promote the sport in the U.S.
"We want to obviously do well for ourselves, for our country, but it's a big step for the growth of soccer if we get past Belgium," defender DaMarcus Beasley said.
Getting past Belgium is no easy task. So far it has conceded only one goal - a penalty at that - in three games. And in Thibaut Courtois it has arguably the most exciting young goalkeeper in the world.
While team captain Vincent Kompany has been excellent in the two games he's played, the central defender has been struggling with a recurring groin strain and is a doubt for Tuesday's game.
Another starter, Thomas Vermaelen, has a hamstring injury and has resumed individual exercises. Whether he can play or not will be another last-minute decision.
Add to that the cracked fibula of right back Anthony Vanden Borre and an abductor strain for Laurent Ciman, and Belgium coach Marc Wilmots could be in trouble.
Belgium has treaded extremely carefully to line up three one-goal victories and emerge from its group with a perfect record. Holding back, avoiding errors and pouncing late has become its mantra, and if fans deplore the lack of joy - too bad. The satisfaction of beautiful football cannot match the thrill of victory.
"What counts - always - is to win and advance," Wilmots said. "Every error is paid cash at the tiller. So what does 'the most beautiful football' mean? You tell me."
And since the U.S. offense has often been anemic, don't bet on much of a goal-fest.
In the last two games, Klinsmann opted for a formation with five midfielders to feed lone striker Clint Dempsey. Jozy Altidore, the top American forward, has been sidelined since straining his left hamstring in the first half against Ghana and has been training on his own.
The U.S. hasn't played Belgium in the World Cup since winning 3-0 in its opening match of the very first tournament in 1930.
"We need to find a way to bottle up their key players," U.S. goalkeeper Tim Howard said, "but they have so many of them. It will be difficult."
Thanks for reading CBS NEWS.
Create your free account or log in
for more features.