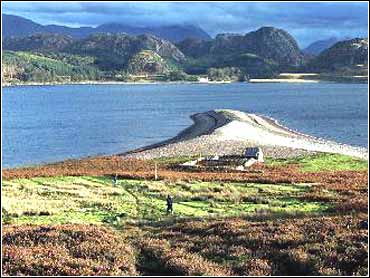 Tourist Temptation: Anthrax Island
It was here on this fern-covered island that British scientists first harnessed the deadly power of anthrax, wiping out herds of sheep with microbe-packed bombs in one of the more obscure episodes of World War II.
Sixty years later, as terrorists menace the United States with anthrax-laced letters, people are rediscovering the unique history of Scotland's uninhabited "Anthrax Island" — mostly from a distance.
Years after using the 520-acre Gruinard Island as a biological firing range in 1942, the government sterilized it with 280 tons of formaldehyde and declared it safe to visit in 1990. But until a month ago, few ever did.
"It's used as a grazing island for sheep. A local farmer takes his flock over by boat every summer," said Jane Richardson, who runs the only post office, shop and gas station for the 300-odd residents of Laide, the nearest village a half-mile from the wind-swept, humpbacked island.
Now scores of British and foreign journalists make the 700-mile journey from London to Gruinard, pronounced "grin-yard."
The Guardian newspaper of London, parodying the media's interest, said the island "provides a fertile nesting environment for a migrant population of London-based journalists desperate for a new angle on the war against terrorism."
Poking fun at a rival publication, the newspaper wrote: "Large, strange patches of lime-green vegetation struck fear into the heart of a Daily Telegraph reporter apparently unacquainted with the concept of moss."
The main beneficiary of the media invasion, it seems, has been local fisherman Fred Wiseman, a brawny wisecracker who charges journalists $700 for the hop offshore.
On the island, visitors can see rabbit holes, a shepherd's long-abandoned stone cottage and views back across Gruinard Bay and to the snowcapped Highlands beyond. Despite the history of Anthrax on the island, legions of rabbits and a couple of rare white-tailed eagles are thriving.
Most locals say they've never been on the island — not because they're afraid, but because there's no reason to go.
"There's nothing there," said Jill McClean, a recent English immigrant who stopped into Richardson's shop for some horsefeed. "So why take the chance?"
But the new visitors aren't taking any chances either.
Wiseman said some British journalists donned elaborate biological warfare suits when they traveled to the island. Hotel owner Frances Oates showed off two tabloid reports, one picturing a reporter in a gas mask, another headlined "Secret Stash of Deadly Soil" and claiming that Scottish terrorists had supplied Osama bin Laden with scoops of dirt from the island.
The northwest Scottish coast, with its mountainous terrain and deep harbors, played an important role in the war against Nazi Germany. After the war, it remained highly militarized as a refueling point for nuclear submarines and training grounds for NATO troops.
Signs from Britain's Ministry of Defense and NATO still warn passer-by to stay out of several areas. The roar of passing Royal Air Force fighter-bombers, concealed by gray October skies, shatter the rural silence.
In 1941, Britain bought Gruinard Island from its owner for the equivalent of $2,500 for use by Porton Down, Britain's secret center for biological research. The isle was christened Base X.
The following year, scientists packed anthrax-laced gruel into a variety of explosive devices and detonated them around sheep confined in boxes. The sheep died and were buried on the island. The key discovery was that anthrax survived the heat of explosions and was far more lethal than existing chemical weapons.
Anthrax apparently spread to the mainland in 1943 from a sheep carcass that floated across from the island, killing seven cows, two horses, three cats and more than 20 sheep, government records indicate. No humans were reported killed, and the spread was contained.
The government, which didn't reveal its germ-warfare tests until 1947, wrongly presumed that the anthrax would die off on its own. In 1979, scientists discovered anthrax spores still deep in the soil. For the first time, the government erected warning signs on the shoreline.
Scientists used 30 miles of perforated hoses to soak the topsoil in formaldehyde diluted with seawater, eradicating anthrax from the island.
Now the warning signs have become conversation pieces in hotel lobbies and bars, and there is no trace of the disinfecting operation on the island.
"Lovely fields of bluebells cover the island every spring," said the caretaker, a lanky Englishman with a mud-splattered Land Rover, knee-high boots and hunting rifle at the ready. Talking to a reporter only on condition that he not be identified, the caretaker said he visits the island every few weeks but spends most of his time hunting deer.
"I'm not afraid in the remotest of getting anthrax. Nobody here has ever come down with it, so I don't see why anyone ever would," he said. "I'd say there's more chance of a hind (deer) shooting back at me."
By SHAWN POGATCHNIK
©MMI The Associated Press. All Rights Reserved. This material may not be published, broadcast, rewritten, or redistributed
Thanks for reading CBS NEWS.
Create your free account or log in
for more features.